Centre Leon Draisaitl, the Edmonton Oilers third overall pick in the 2014 NHL Entry Draft, has had many highs and lows in his young NHL career.
He has also been the subject of much debate since being drafted last June.
It started with the discussion of whether he should have stayed with the Oilers out of camp (or after the nine game mark), or whether he should have been returned to his junior team, the Prince Albert Raiders.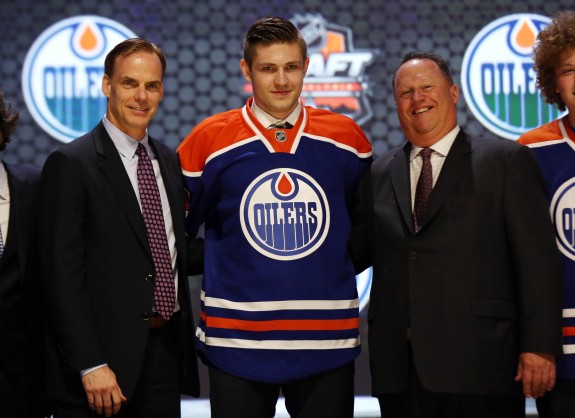 While many will say that looking back he should have been returned to the WHL, there are arguments to be made for both. Certainly playing in junior and being able to improve his game and putting up points, all the while staying out of a toxic losing environment in Edmonton, would have been beneficial in many ways.
In fairness to the Oilers, no one expected they would be THIS bad so far. Also, there would have been little to prove for Draisaitl in the WHL. He put up 105 points and the reason many kids are sent back, size and strength, aren't really factors for Draisaitl. So there is a legitimate argument supporting the fact the Oilers kept him in the pros.
Lack of Depth Hurts in Many Ways
The bigger issue is that GM Craig MacTavish has been unable to address the woeful lack of depth at the centre position that the Oilers have.
Draisaitl legitimately earned his spot on the Edmonton roster as he was probably the second best centre in camp for the Oilers. That in itself is a concern.
Dallas Eakins tried to shelter Draisaitl's minutes as much as possible, but when you play the middle in the NHL, you'll get exposed sooner or later.
Draisaitl has not looked completely out of place and has shown signs of definite improvement, however it's difficult to succeed as an 18 year old when you are part of a depth chart that has only Ryan Nugent-Hopkins ahead of you in terms of offensively gifted pivots.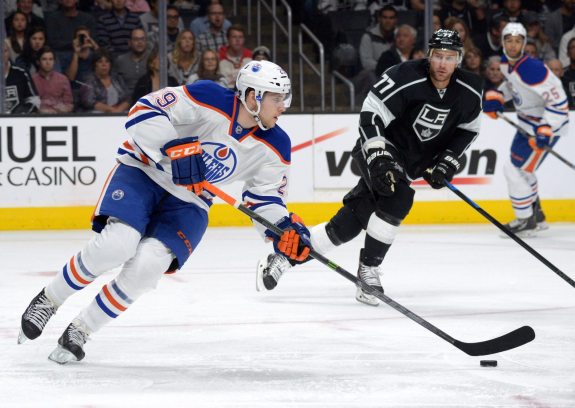 A better solution would have been to bring in at least one player with some experience as the No. 2 centre and have Draisaitl begin his NHL transition on the wing.
I realize that is easier said then done and MacT has publicly said he has been doing everything to remedy that situation, but the fact is, it hasn't happened.
Playing along the wall where he would not have the defensive responsibilities and less need of a complete 200 foot game on a consistent basis could have helped Draisaitl in the early going. He has the size and awareness to be able to handle it physically and would have enabled him to get his feet wet under less pressure, ideally playing beside a veteran centre.
There are plenty of examples of star centres getting their start on the wing and then transitioning back to the middle after some experience and maturity.
The most recent example is that of Tyler Seguin who played his first few years on the wing in Boston and is now excelling in Dallas.
First overall pick Nathan MacKinnon also played the wing last season as a rookie and was electric, and is now playing his natural position this year.
As mentioned, I see the merit in keeping Draisaitl in the NHL for his development, especially to start the season. His vision, awareness and offensive game are already NHL calibre and he isn't a player that needed to be sent back for physical maturity.
Why Not the World Juniors?
The most recent decision not to allow him to play in the World Junior Championships however is one I don't get.
Oilers should send Leon Draisaitl to play for Team Germany at World Jrs. @NHLMatty is right. Anton Lander can fill in. #EJlive

— David Staples (@dstaples) December 19, 2014
Players like Aaron Ekblad, Bo Horvat and Jonathan Drouin were not released as they are contributing to teams who are competing for playoff spots. Especially for Ekblad who is already one of the team's top defensemen.
That makes sense.
That is definitely not the case in Edmonton.
Draisaitl has 7 points in 33 games and is currently -15 while averaging just 12:43 of ice time. He has shown flashes of good progression, but also looks overmatched on many nights.
Sending him to play for Germany in a starring role where he would play 20 minutes a night and in every situation, may give him added confidence and a jolt of energy to finish out the year. That can't be a bad thing.
The Oilers play seven games between the time the roster freeze went into effect and the end of the tournament. Realistically, Draisaitl would likely have only missed five, as the odds of Germany playing in a medal game are slim.
To complicate matters the first of those games, last night vs Dallas, Draisaitl was a healthy scratch anyway.
"Leon looks a bit tired of late…it's always good for a young player to sit out and watch the game from above and get a different perspective. He was accepting of it and understands and he'll be back against Arizona (Dec. 23 at Rexall Place)," said interim head coach Todd Nelson
The Oilers obviously felt that staying with the team over that span is better for his long-term development than being released for the tournament.
There is no doubt a big picture reasoning by Oilers management behind the decision, but I for one can't see what it is.
___________________________________________________
Carl covers the Edmonton Oilers for THW as well as providing additional prospect coverage. Follow him on twitter @carlTHW, connect on Facebook or contact at carl.maloney@hotmail.com for questions, comments or if you're interested in him writing for you.