Five years ago, newly-appointed general manager Jim Nill forged his legacy with the Dallas Stars when he made "The Trade." On July 4, 2013, fireworks filled the skies, but none burned brighter than the fireworks at the Stars' front office in Dallas, Texas.
Nill pulled the trigger on a blockbuster seven-player trade, acquiring Tyler Seguin from the Boston Bruins. It was a move that changed the Stars from a fading team to serious competitors in just one offseason. Thanks to Nill, the Stars are still reaping the benefits of Seguin's elite talent while the Bruins have nothing left to show for the deal.
From hiring Nill, to striking out on the offseason's biggest free agent, to landing a franchise cornerstone, let's take it all the way back and revisit the prosperous offseason of 2013.
Just in the Nill of Time
Joe Nieuwendyk was a great Dallas Star. Acquired from the Calgary Flames in 1995 in a trade that sent recently-drafted Jarome Iginla to Calgary, Nieuwendyk brought a winning pedigree to Big D and forged a legacy over his seven years with the club. He appeared in over 500 games (including playoffs), recording 380 points (203 goals, 177 assists), good for sixth all-time on the Stars.
He served as the club's assistant captain, led the team to consecutive Presidents' Trophies in 1997-98 and 1998-99, and, of course, captured the Conn Smythe Trophy en route to helping secure the franchise's first Stanley Cup. Yes, Nieuwendyk was a great hockey player. He was not a good general manager.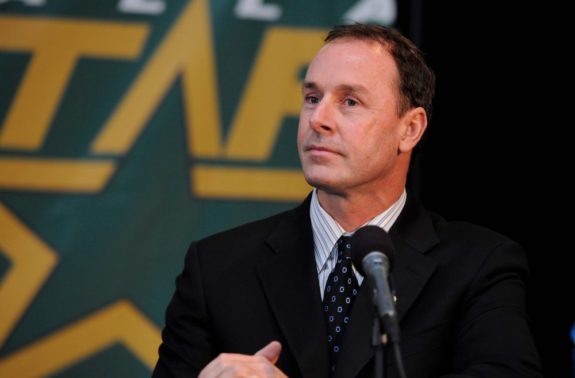 He returned to Dallas in 2009, a decade after winning the Cup, and was named the team's GM. While he did make a few decent moves, such as acquiring Kari Lehtonen, Cody Eakin, and NHL-legend Jaromir Jagr, they were offset by the number of infuriating moves.
During his four-year tenure as GM, Nieuwendyk traded away James Neal, Matt Niskanen, Steve Ott, and Brenden Morrow, and worst of all, he let Mike Modano walk to the Detroit Red Wings. The bevy of bad moves combined with five-straight non-playoff seasons meant Nieuwendyk got the boot and the Stars quickly moved to find his replacement.
Enter Jim Nill.
Nill joined the club in April of 2013 after spending 15 seasons as the assistant general manager to Ken Holland in Detroit. The Stars gained a valuable asset in the cool and calculating Nill, who went to work right away.
A Free Agency Swing and Miss
Just one month into his tenure, Nill was already making moves. He traded for veteran defenseman Sergei Gonchar from the Ottawa Senators in exchange for a sixth-round pick in the 2013 draft. While this was a nice move to bolster the team's mediocre blue line with an established veteran presence, Nill wasn't done yet.
He showed Stars fans his ability to court high-end, big-name free agents when Dallas was named one of the final three teams on the list of the biggest free agent name in the 2013 class: Vincent Lecavalier.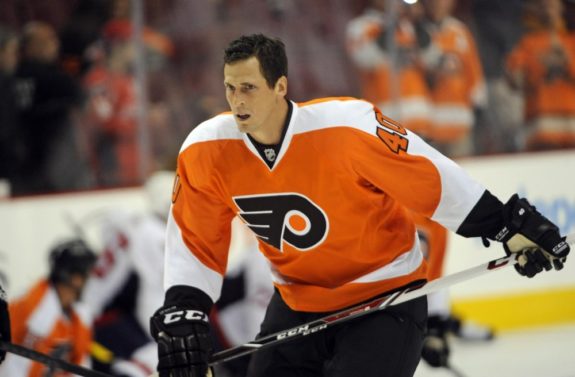 Related: How Vinny Lecavalier Saved the Dallas Stars
Ultimately, the veteran center chose the Philadelphia Flyers. He was only able to skate in 133 games and muster 58 points (28 goals, 30 assists) over parts of three seasons in Philly. In a way, the Stars dodged an aging bullet. Just days after Lecavalier spurned the Stars, Nill made the move that quickly changed the course of the franchise forever.
Nill acquired Tyler Seguin (and Rich Peverley and Ryan Button) in exchange for Loui Eriksson (and prospects Joe Morrow, Reilly Smith, and Matt Fraser) in 2013, and to this day, many consider it to be the steal of the century. It's safe to say Dallas fleeced Boston. It's a trade that keeps on giving for the Stars. Not so much for Boston.
The Bad Boy in Boston
Tyler Seguin was a bad clam in the Bruins' chowder. Perhaps the main reason Seguin was made available to the Stars was his reported immaturity and partying lifestyle that the budding center was known for in Boston. Like most 21-year-olds, he enjoyed having fun. Kids are going to be kids, after all. Partying and social life at that age are just as important as a career to most.
It's especially easy if you're a millionaire athlete with more money than you know what to do with and plenty of people to impress. That was Seguin's problem. He was as much a budding playboy party animal as he was a budding superstar center, which might have rubbed the Bruins organization the wrong way.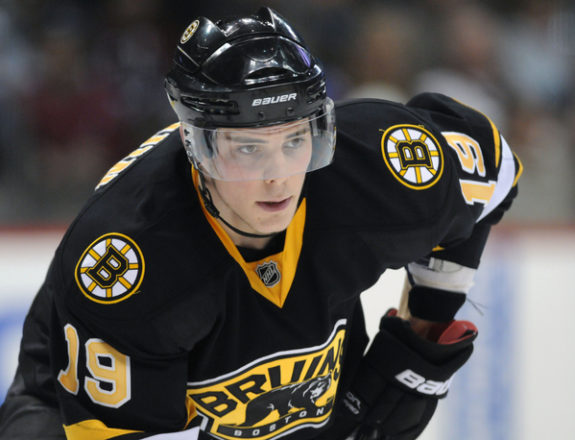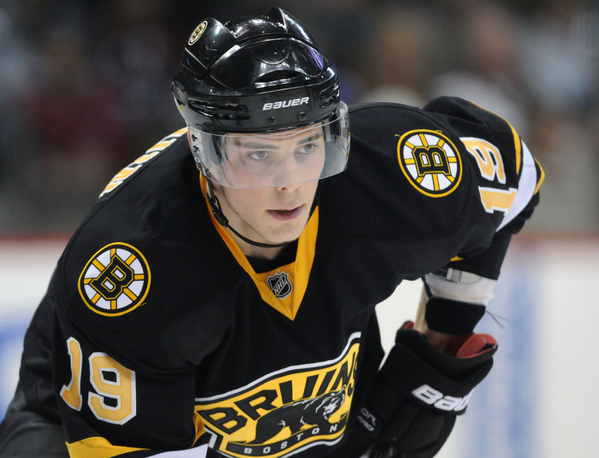 The Boston Herald's Stephen Harris wrote this the day after the trade:
"This trade might not be popular among all Bruins fans, who envisioned Seguin as a future superstar. But he might go down as a player who squandered his great gifts. Multiple sources said the 21-year-old Seguin crossed the line this season with reckless partying. It apparently got so bad that during the playoffs, the Bruins ordered Seguin to live in a hotel, where a guard was hired to make sure he stayed in his room."
OK, that all seems a bit extreme. Was it really ever that bad? Were there really guards hired to police the party animal? We may never know. But at this point, it doesn't matter for Stars fans.
Chiarelli later digressed from his stance on the trade being about Seguin's lifestyle off the ice:
"I don't want to really play [the maturation thing] up too much," the Bruin's GM told Larry Brown Sports. "He's a 21-year-old that played as an 18-year-old, and I think he was just a 21-year-old kid. He was maturing and growing up. He liked to have fun like the rest of them…I don't really think it was such a big deal. But when I said earlier about focus, [it was] just about little things, about preparing to play. It was nothing about extracurricular activities."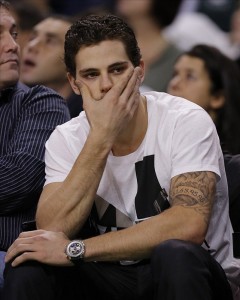 In his piece in The Players' Tribune, Seguin admitted he partied. "I admit there were probably some decisions I could have made better," Seguin said. "But I also highly doubt that anyone would endorse every choice they made in their late teens. It's part of growing up. I was living on my own for the first time and was the only single guy on the team. On off-nights, when the other guys would go home to their wives and families, I would go out."
He added, it "didn't affect my play on the ice." And he wasn't wrong about that.
During his rookie season, Seguin notched seven points (three goals, four assists) in 13 playoff games en route to helping the Bruins capture the 2011 Stanley Cup. The following season, he led the team with 29 goals and 67 points. During the lockout-shortened 2012-13 campaign, his final season in Boston, Seguin finished second on the team in goals (16) and tied for second in points (32) in 48 games.
"When I got traded to the Stars after only three seasons in Boston, there were a lot of articles and rumors about how I was pushed off the Bruins because I was some kind of immature, unfocused party animal. Looking back, based on the way the Bruins were situated at the center position and the realities of a salary cap system, it's clear that the business side of hockey played a big part in why the trade happened. But that doesn't make for a very interesting headline or Tweet." (From 'Moving On,' The Players' Tribune – Jan. 23, 2015)
What did make for an interesting Tweet was the one he sent—or a "hacker" sent—from his account the day he was traded to Dallas. It referenced an infamously homophobic line from Stanley Kubrick's 1987 classic "Full Metal Jacket." Without transcribing the quote, Seguin's tweet in question mentioned that only two things come from Texas, and he certainly was no bovine.
As it turns out, Seguin was throwing a party at the time the Tweet in question was sent out. The 21-year-old reported it was "hackers" trying to ruin his reputation.
The Tweet was alarming and worrisome for Stars fans as it seemed that any concerns Chiarelli and the Bruins might have had about the young center being more trouble than he was worth were valid. His career was off to a rocky start in Dallas and he hadn't even arrived yet. Lucky for Nill and the Stars, however, Seguin became a changed man in Dallas.
A Star Arrives in Dallas
Seguin went from the problem child in Boston to a more mature man in Big D. It's amazing what a fresh start can do for a kid.
Perhaps the reason Seguin struggled in Boston was that he wasn't playing his natural position at center. Given the talent and depth that the Bruins had in Boston, the youngster was relegated to the bottom two lines and was often forced on the wing due to the amount of depth the Bruins had down the middle. In Dallas, it was made clear that Seguin was traded to become the Stars' top-line center, returning him to his natural role.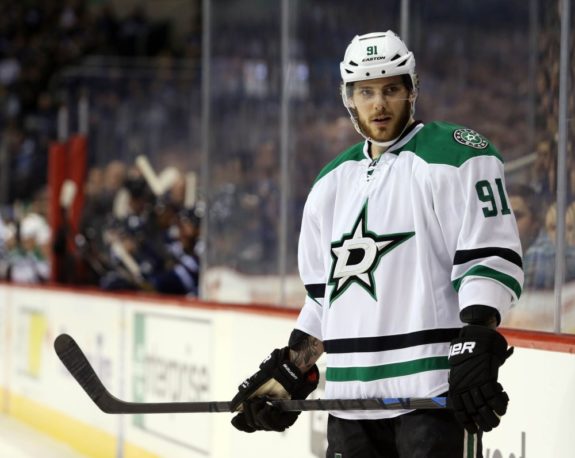 When Seguin arrived in Dallas, he made it very clear he wanted to change his ways and start fresh.
Just seven months before the trade went down, Seguin's childhood best friend was in a car accident that paralyzed him from the waist down. His first order of business in Dallas was to remove himself from the bad boy image he had in Boston and become more active in the community. The newest Dallas Star created "Seguin's Stars," a foundation in honor of his paralyzed friend that recognizes those with physical disabilities.
In addition to his foundation, Seguin is still very active with the Dallas Stars Foundation, hosting a number of sled hockey tournaments and community events as well as helping to build a number of ball hockey courts with the Boys and Girls Club of Dallas and to help grow the game of hockey in a non-traditional market like Texas.
Related: Tyler Seguin Shining On and Off the Ice
At this point, Seguin has more than shed the party-boy-disappointment status that was bestowed upon him in Boston. In Dallas, it's a completely different story. Seguin was making a positive impact both off the ice and on it.
It didn't take him long to catch fire with Dallas on the ice either. In just his third game in a Stars sweater, Seguin notched two goals and two helpers for a four-point performance in Winnipeg, starting a five-game point streak that totaled nine points (four goals, five assists). In his first season in Dallas, Seguin paced the Stars team in goals (37), assists (47), and points (84) in 80 games, all of which were career-highs.
Seguin's arrival in Dallas also coincided with the first time the Stars made the postseason since the 2008 Conference Finals run. Coincidence? I think not.
Seguin brought speed, scoring, and structure to the Stars. It's something he's maintained and even gradually improved upon. In all five seasons as a Star, Seguin has finished No. 1 or No. 2 in goals, assists, and points in each of his campaigns in Dallas. In total, the sixth-year Star has skated in 387 games for Dallas and has recorded 173 goals and added 211 helpers for a grand total of 384 points, just three shy of a being a true point-per-game producer for the Stars, something that's hard to come by in today's NHL.
The Trade Revisited
Now five years removed from "The Trade," the Dallas Stars emerge as the clear winners of the deal. As of July 4, 2017, the Bruins officially have nothing left from the trade.
So where are they now?
While he is entering a contract year ahead of the 2018-19 season, Seguin still remains a Star. With talks of a big contract extension, Stars fans can (hopefully) expect him to finish his career in Big D. The same can not be said for any of the pieces from Dallas that went to Boston.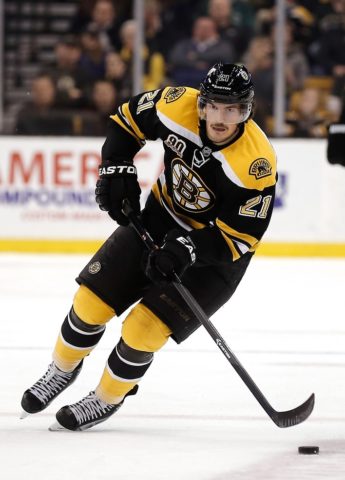 The biggest piece that went from Dallas to Boston was Loui Eriksson. After putting up four-straight 26-plus goal seasons and three-consecutive 70-point campaigns (excluding the lockout-shortened 2012-13 season) in Dallas, Eriksson arrived in Boston to a disappointing 10-goal, 37-point season. Over the next couple of campaigns he showed steady improvement, however, recording 47 points (22 goals, 25 assists) in his second season in Boston and then 63 points (30 goals, 33 assists) during the 2015-16 season. But unable to find a trade partner as his contract was expiring, the Bruins let Eriksson walk in free agency, where he signed a six-year, $36-million contract with the Vancouver Canucks on July 1, 2016.
In total, Eriksson only managed 147 points in three seasons in Boston. Meanwhile, in Dallas, Seguin was wrapping up his third-straight 73-plus point season, totaling 234 points in the same three-year span that Eriksson had with the Bruins.
Reilly Smith may have arguably been the best piece given to the Bruins. In his first year after the trade, Smith managed 20 goals and 51 points while appearing in all 82 games for Boston. The next year, he showed some regression to the tune of 13 goals and 40 points, so naturally, Chiarelli and the Bruins traded him. The season after he was traded, Smith set a career-high in goals (25) in his first season with the Florida Panthers and put up a total of 87 points in two seasons with Florida. Exposed by the Panthers in the expansion draft at the start of the 2017-18 season, Smith was picked up by Vegas and set a career-high in points (60) and assists (38) en route to helping the Golden Knights to a Stanley Cup Final berth, where he led the club with 22 points in the postseason.
The last remaining Dallas Stars' piece in the trade was the young defenseman, Joe Morrow. Morrow only managed to appear in 65 games for the Bruins over three seasons and recorded just nine points in that span. Boston let Morrow walk in the 2016-17 offseason to sign with the Montreal Canadiens and, naturally, the defenseman had a career year after leaving Boston, recording five goals and 11 points in 38 games. Morrow was traded to the Winnipeg Jets and helped the team in its most recent Stanley Cup run.
By the end of the 2016-17 season, the Bruins had nothing left to show for in the Seguin trade. Meanwhile, Dallas was still reaping the benefits of an elite scorer who's appeared in four-straight All-Star Games, has solidified himself as a fan favorite, and is an excellent community advocate.
So much for a disappointment, eh Chiarelli?
What's Next for Seguin?
Given the elite numbers and level of play that Seguin has brought, what's even more exciting is that the Stars have gotten all that value for the low low price of a $5.75 million cap hit, courtesy of the six-year, $34.5 million contract that Chiarelli gave him while in Boston. This upcoming 2018-19 season is a contract year for the now-26-year-old.
By most accounts, Seguin loves it in Dallas. An extension is on the horizon for the young Star and both Nill and Seguin would like to get a deal done this offseason rather than a bidding war for his services with other teams next offseason. Contract talks are already taking place.
Both Nill and Seguin's legacy in Dallas may rely on if the forward signs a contract extension. On the off-chance he doesn't, it'll still be considered a very successful six years with the Stars. The work he's done in the community and what he's done to grow the game in the market of Dallas, Texas, deserves some thanks from us Stars fans. So thank you, Tyler Seguin, for all you've done for hockey in the state of Texas.
If he can return the cup to the city of Dallas, Seguin may just cement his legacy as one for the best Dallas Stars in franchise history.
Growing up an avid fan of the team, Scott joins THW as a contributor for the Dallas Stars. During the 2017-18 season, Scott interned with the Colorado Avalanche and was a contributor for ColoradoAvalanche.com.