When looking back at the Edmonton Oilers haul from the 2018 NHL Draft in Dallas, general manager Peter Chiarelli and the scouting team essentially put all their eggs in three baskets. The other two picks are throw-ins that might one day become useful assets, but sixth and seventh round picks usually are long-shots at best anyways.
Chiarelli essentially traded out of the third, fourth, and fifth rounds of the draft, ironically with all of those picks going to the Montreal Canadiens. To recap, the Oilers initially traded the fourth round selection to the Habs back at the trade deadline for Al Montoya. On the draft floor, they packaged the third (71st) and the fifth (133rd) to move up in the second (62nd).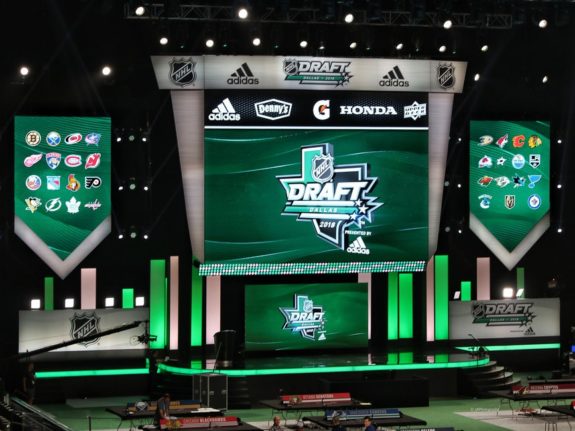 That's not all. The Oilers also traded next year's fifth-round selection to (you guessed it) the Canadiens for NCAA goaltending prospect Hayden Hawkey. The 23-year-old was a sixth-round pick back in 2014 and has played the past three seasons with Providence College. He has one more year of college eligibility.
That allowed the Oilers to swing hard in the first three rounds of the draft walking out with three significant pieces. The first is a stud right-shot puck mover in Evan Bouchard from the OHL's London Knights. Bouchard was the top scoring defenseman in the OHL this year.
EDMONTON OILERS- 2018 NHL DRAFT PICKS

Pick
Player
Pos
Drafted From
GP
G
A
PTS

1, 10th

Evan Bouchard

D

London (OHL)

67
25
62
87

2, 40th

Ryan McLeod

C

Mississauga (OHL)

68
26
44
70

2, 62nd

Olivier Rodrigue

G

Drummondville (QMJHL)

53
31
2.54
.903

6, 164th

Michael Kesselring

D

New Hampton (HS)

38
11
23
34

7, 195th

Patrik Siikanen

C

Blues (Liiga- Jr A)

24
10
7
17
The also got a smooth skating center/winger who's poised to break out, again from the OHL (Mississauga Steelheads), in Ryan McLeod. They also got the top-ranked North American goaltender in the draft according to NHL Central Scouting, Olivier Rodrigue. Put those three together alone, and this can be considered a successful draft for Edmonton.
This is the fewest number of picks the Oilers have had during Chiarelli's tenure. The Oilers had six in 2015, nine in 2016, and seven in last year's draft. It's a calculated risk to make fewer selections, but Edmonton's general manager might hope quality outweighs quantity in this scenario.
Here's a full recap of the Oilers 2018 NHL Draft performance.
Author's Note: The following sections are snippets from each player's draft review published during draft weekend. For full details, click the first related link for an in-depth analysis, historical value of the pick, and various scouting reports regarding these players.
Evan Bouchard (London Knights)
Drafted: 10th overall, 1st Round
Position: RD | 2017-18 Stats: 67 GP – 25 G – 62 A – 87 PTS
NHL Central Scouting (NA) Final Ranking: 4th
ISS Final Ranking: 6th
The Oilers get that elusive right-shot, puck-moving defenseman they've been searching for. Whether he jumps into the lineup for 2018-19 will be determined in training camp. Edmonton has Adam Larsson, Kris Russell, and Matt Benning already on the right side, so Bouchard would have to perform to show he can make a difference.
Related: Oilers Draft Evan Bouchard 10th Overall
The club also just re-signed Benning to a two-year extension, so Bouchard doesn't have the inside track to an NHL job barring a trade. Edmonton would likely be better off trying to trade the 2019 first rounder in their attempt to lure another GM into accepting a deal for a rearguard that can help the Oilers now (ala Colton Parayko).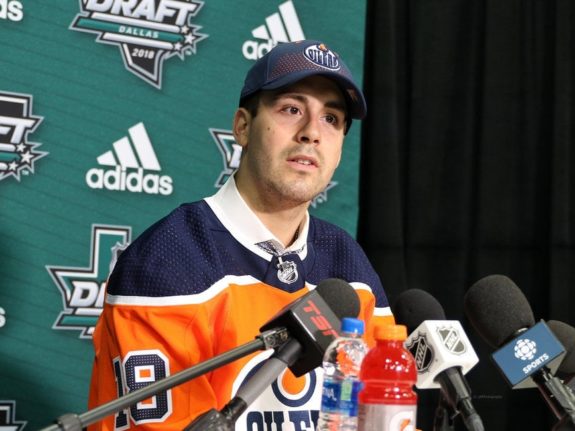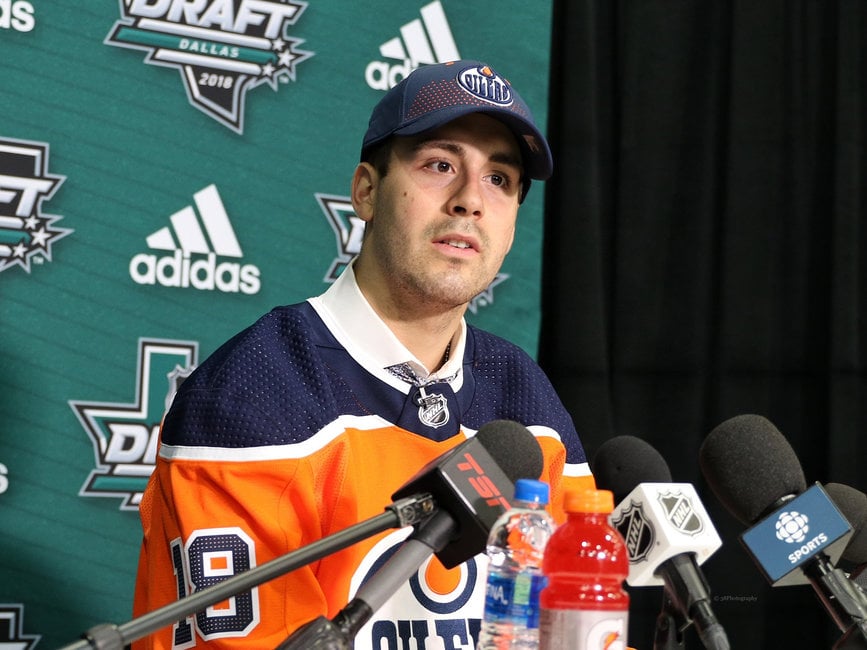 Bouchard has promising upside, and he compares well to former NHL defender Wade Redden. He was a scoring machine in the OHL, and eventually, he can help the Oilers correct their scoring woes from the backend. Bouchard projects as a No. 3 defender in the NHL. If he exceeds those expectations, the Oilers have hit a home run here.
Related: Evan Bouchard – 2018 NHL Draft Prospect Profile
He's got a great point shot, he moves up the ice better than people give him credit for, and he's got some of the best offensive instincts amongst the blueliners from his draft class. If he ends up back in junior, Bouchard has a shot at playing for Team Canada at the 2019 World Junior Championship in Vancouver.
Ryan McLeod (Mississauga Steelheads)
Drafted: 40th overall, 2nd Round
Position: C | 2017-18 Stats: 68 GP – 26 G – 44 A – 70 PTS
NHL Central Scouting (NA) Final Ranking: 16th
ISS Final Ranking: 26th
By all accounts, the luck on draft day continued for the Oilers as they got a projected first-round selection in Ryan McLeod at 40th. The Mississauga Steelheads center is the brother of New Jersey Devils prospect Michael who went 12th in 2016. Ryan fits the Chiarelli-mold for bigger players (6-foot-2, 202 pounds), but he can flat out skate like his brother.
Related: Oilers Draft Ryan McLeod 40th Overall
There are questions when it comes to how high his offensive upside is and how well his scoring in junior projects at the NHL level. Best case scenario he ends up becoming a No. 2 center for the Oilers down the road. The more likely scenario is he develops into a No. 3 center. It's the same narrative folks had with Tyler Pitlick back in 2010.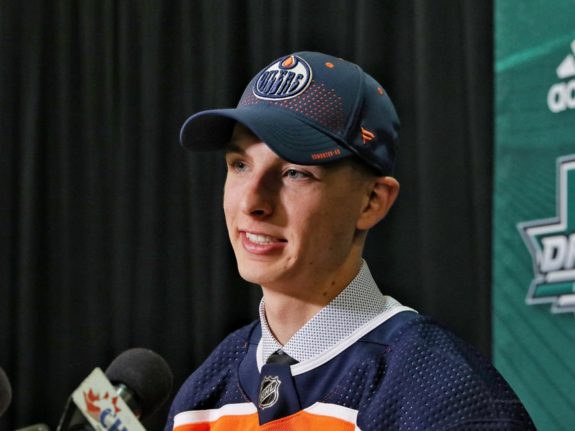 With a late-1999 birthday (September), he's one of the older players available within the draft class. Size, speed, and a high hockey IQ make this a safe pick for the Oilers. He's likely two-four years away from making Edmonton's main club roster, but there's a ton of upside with this selection.
Related: Ryan McLeod – 2018 NHL Draft Prospect Profile
McLeod can skate through you, or slip around you. For trivia purposes, his favorite player growing up was Ryan Smyth. If he has the Oiler legend's work ethic, it'll bode well for his future in Edmonton. Fans should be over the moon that a late first-round caliber talent like McLeod fell to them at 40th. That was a continued theme through the second round.
Olivier Rodrigue (Drummondville Voltigeurs)
Drafted: 62nd overall, 2nd Round
Position: G | 2017-18 Stats: 53 GP – 31 W – 2.54 GAA – .903 SV% – 3 SO
NHL Central Scouting (NA) Final Ranking: 1st (Goaltenders)
McKeen's Hockey Ranking: 65th
The Oilers traded the 71st and 133rd selection to move up in the draft order. That would've been the Montreal Canadiens fifth pick in the draft up to that point. Edmonton would use that 62nd pick on goaltender Olivier Rodrigue. If you remember leading up to the draft, this was not considered a goalie draft.
Related: Oilers Draft Olivier Rodrigue 62nd Overall
There was no real stud netminder at the top of the draft. Rodrigue was projected to be the top goaltending prospect in the draft but ended up being the second goalie taken off the board. The New York Rangers took Olof Lindbom with the 39th pick, leaving Rodrigue on the board to close the second round.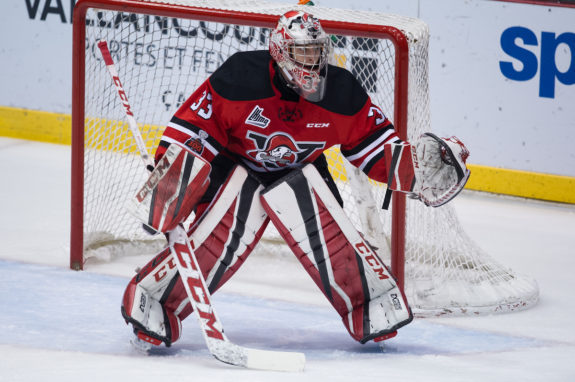 This is an exciting pick, there's a ton of upside, and decent numbers when compared to the rest of the QMJHL. Rodrigue is a very raw goalie, something you'll hear a lot from this point forward in Edmonton's draft analysis. He went 31-16-3 in 53 games this season and boasted a 2.54 goals-against average (GAA), and a .903 save percentage (SV%).
Related: Olivier Rodrigue – 2018 NHL Draft Prospect Profile
He's the starting goalie for the Drummondville Voltigeurs and like Bouchard, and McLeod is described as a smart player. There's belief that Rodrigue (who happens to be the son of Oilers goaltending coach Sylvain) has No. 1 potential. With Stuart Skinner (79th, 2017), Dylan Wells (123rd, 2016), and Rodrigue, Edmonton has excellent prospect depth between the pipes.
Michael Kesselring (New Hampton School)
Drafted: 164th overall, 6th Round
Position: RD | 2017-18 Stats: 38 GP – 11 G – 23 A – 34 PTS
NHL Central Scouting (NA) Final Ranking: 75th
McKeen's Hockey Ranking: 167th
Kesselring is a right-shot, right-side defenseman with a 6-foot-4, 191-pound frame. He played a significant portion of the 2017-18 season with a high school prep program out of New Hampton School where he scored 11 goals and 34 points in 38 games. He also made a brief appearance in the USHL with the Des Moines Buccaneers playing 12 games.
He was committed to Merrimack College in the NCAA for next season but asked to be released from his National Letter of Intent (NLI). Instead, he'll return to Des Moines for the 2018-19 season. Kesselring was also the 75th highest ranked player according to NHL Central Scoutings North American rankings.
In high school hockey he's been a near point-per-game player, so he fits the continued theme of Oiler acquisitions over the past few seasons; puck-moving blueliners that can put up points. Kesselring is far from being the saving grace of the Oilers franchise, and whether he has NHL upside is questionable.
At this point in the draft, you're taking flyers on prospects. Only nine defensemen have ever been selected with the 164th pick in NHL Draft history. Seven of those rearguards never played in the NHL. The other two were Stephane Robidas (1995, Montreal) who played 937 games in the pros, and Christian Proulx (1992, Montreal) who played seven games.
Patrik Siikanen (Espoo Blues U20 – Junior A)
Drafted: 195th overall, 7th Round
Position: LW/C | 2017-18 Stats: 24 GP – 10 G – 7 A – 17 PTS
NHL Central Scouting (Europe) Final Ranking: 70th
McKeen's Hockey Ranking: 200th
The 6-foot-1 and 198 pound Siikanen is a left winger playing for the Espoo Blues Junior A program. He scored ten goals and 17 points in 24 games, which gives him an NHL Equivalent (NHLe) of 20.9 points when calculated. He was ranked 70th by NHL Central Scouting amongst European skaters.
He was also ranked 200th by McKeen's Hockey, so he went right around where he was projected to go. As hoped, Siikanen has shown year after year improvement slowly graduating through the Blues program from their U16 team playing Junior C to now being on their Junior A squad (as mentioned).
He's also played for Finland at both the U-17's and U-18 tournaments respectively and scored three goals in five games in the latter competition. From the limited information available on Siikanen at the moment, he's described as a duel center-winger with a good shot, but is skating is a work in progress.
Likely projects as an NHL depth player if he pans out. It's surprising considering some of the names that were left on the board, and yes it's the seventh round we're talking about after all. Trey Fix-Wolansky, Jordan Kooy, and Austin Wong were all notables that were still left on the board.