For the past five months, the Vegas Golden Knights have been connected to Erik Karlsson. The two-time Norris Trophy winner is on the trading block for the Ottawa Senators as they look to rebuild, and according to rumors, the Golden Knights came very close to landing Karlsson at the trade deadline this season before time ran out. With the season over, general manager George McPhee is back on the phones trying to get his team a franchise defender. Now, with other teams going all in on the trade, have the Golden Knights lost out on their chance?
Related – NHL Rumors: Pacioretty, Duchene, Lehtonen, More
Golden Knights Face New Challengers
Since the draft, teams who called about the price of Karlsson have been named. The Tampa Bay Lightning, Dallas Stars, New York Islanders, and San Jose Sharks are among a flock of teams who have thrown their hats into a crowded ring. Earlier in the year, the Golden Knights only had to make the price work. Now they have to compete against other teams, a few coming off of losing out on John Tavares. Steve Yzerman and the Lightning, in particular, seem dead set on a drastic move this offseason. For the Golden Knights, the price just got higher.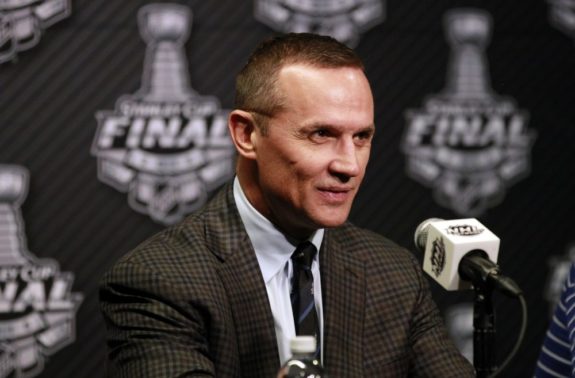 Recently there has been concerning news for Vegas. Seemingly out of nowhere the Stars joined the race and jumped to the head of the pack. Talks between Dallas and Ottawa progressed throughout July 3 and 4, seemingly about to close a deal at any moment. Fortunately for McPhee, any potential deal fell through and looks as though it will not work out over a difference in asking price. A collective sigh of relief from Golden Knights fans was audible.
Lightning Jump Ahead
Then suddenly, the Lightning swooped back in and became the leading team to land Karlsson. With their deep pool of prospects and proven young players, the Lightning could make a better offer than Vegas. Add to that the desperation shown by Yzerman so far this offseason, and you have a recipe for the Golden Knights missing out on yet another top target. Once again the Golden Knights were fighting from behind; as of Thursday evening, a deal with the Lightning seemed to be on the verge of happening, but it has not been completed yet.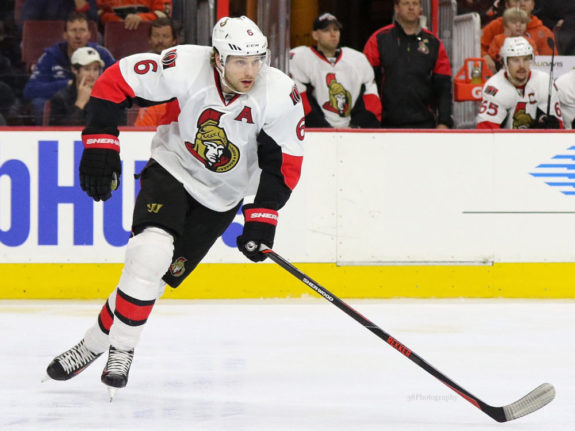 One advantage the Golden Knights have over most other teams in this race is their ability to take on the massive contract of winger Bobby Ryan. Ryan is signed to a contract worth $7.25 million per season for the next four seasons and the Senators are desperate to rid themselves of his contract. For a cash-conscience team like the Senators, having Vegas step forward to take Ryan's contract is a big deal. For Vegas, taking on Ryan's contract also lowers Ottawa's asking price, putting them on equal levels to a team like Tampa Bay, which has a more fleshed-out prospect pool.
Related: Ottawa Senators 3 Biggest Questions
Golden Knights Want to Avoid Senators' Situation
Vegas and McPhee are looking to stay aggressive to avoid exactly the scenario that Ottawa went through this past season. After the Senators were a single goal away from the Stanley Cup Final in 2017, their 2017-18 season was a collapse of epic proportions. The team ended the season second-to-last in the league during a year that every Senators fan would like to forget, and now they are in a situation where they basically have to trade away one of the league's best defensemen.
The Senators:
-About to lose their captain, best player and soul of the team
-Traded 2nd best forward for peanuts
-Fans hate owner
-Owner blames fans
-Poor arena location
-Court case against Lee
-Might get sued
-Attendance collapsed
-Goalie wants out

And that's just 1 year.

— Marc Dumont (@MarcPDumont) July 4, 2018
The Golden Knights do not want to find themselves in the same camp. Instead of sitting back on their successful core, the team's management plans on improving the team immediately to take advantage of their open window. Despite the cost of a Karlsson trade, the Golden Knights have to focus on a win-now mentality. Even taking on Ryan's contract satisfies this mentality, as he is a useful winger that just doesn't produce to his contract demands. Without James Neal and David Perron, the Golden Knights need another winger and they have plenty of cap space to take on Ryan on top of Karlsson.
Vegas in Danger of Letting Karlsson Slip Away
Despite how perfect this scenario may seem, the Golden Knights clearly are not on the same page as the Senators. If that was the case the deal would have already happened. Instead, teams have jumped in front of Vegas, including both the Stars and Lightning, rendering the chances of a second Karlsson in Vegas lower every day.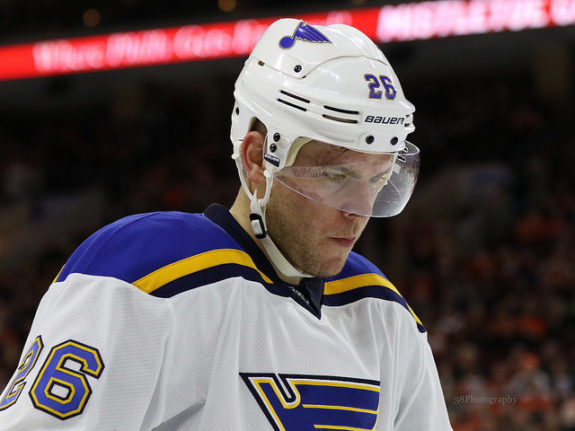 McPhee cannot afford to lose another one of his offseason targets. He has already seen both Tavares and John Carlson sign with other teams while most of their own unrestricted free agents have already left. Although he was able to get a win with the signing of Paul Stastny, his team's defense is still in need of a boost, and they have an open spot on the wing. Without Karlsson, it would seem as though this team is destined for a step backward.
Related: Golden Knights Get a Passing Grade in Free Agency
Golden Knights Can't Be Known as One-Off Success
While the core remains the same, the threat of ending up like the Senators of last season looms above. There have been numerous scenarios in recent years of teams that overachieved one season, only to come crashing down the next. It seems as if there is one every season: in 2013-14 it was the Avalanche, in 2014-2015 the Flames, in 2015-16 the Panthers, and in 2016-17 it was the Senators themselves. Vegas can't afford to be this season's example. Especially not with the Raiders coming into town within the next couple of years.
None of this is to say the sky is falling even if the Karlsson trade can't be solidified, but it is still a legitimate concern. Either way, the team will be a playoff contender next year considering the weaker Pacific Division and an intact core group from last season. But teams know that in today's NHL the window to win a Cup doesn't stay open for long. The Golden Knights have to take advantage of this opening, and acquiring Karlsson would put the odds back in their favor for another run at the Stanley Cup.
Mike was born and raised a big hockey fan. He is a recent Sports Management graduate from the University of Massachusetts at Amherst, and is now a writer for the Vegas Golden Knights. More of his work can be found at https://michaelmanleyahs.wixsite.com/mysite/work-samples.