What a very eventful year 2014 was for Ryan Johansen.  His 33 goals last season helped lead the Columbus Blue Jackets to the playoffs for only the 2nd time in franchise history.  He was also due for a new contract as a restricted free agent.  At first, it seemed academic that the contract would be done in a fairly quick amount of time.  As it turned out, that was anything but true.  It took the entire summer, and then some, to get a new deal signed.

The season began with Johansen in the lineup. After a strong start to the season, the Blue Jackets went into a major slump, losing 15 of 17 games.  Since then, they have gained at least a point in 9 straight games, and look to make it 10 straight when the Nashville Predators come into Nationwide Arena tonight.
I had the chance to spend a few minutes talking to Johansen about this past year and being able to move on from the events of this past summer.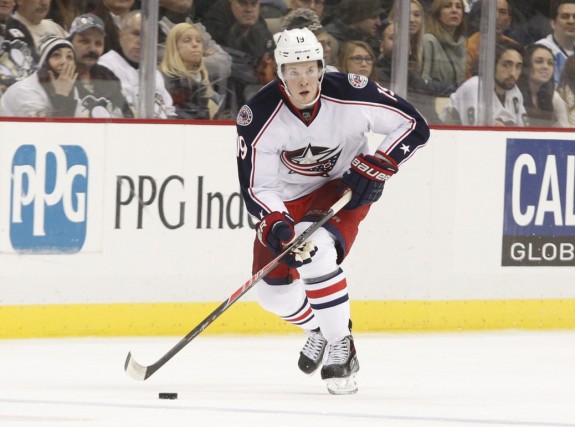 A Big Relief
THW: We are over a third of the way through this season.  Give me a sense of just how big a relief it is to focus on hockey in light of the events of the summer?
Ryan Johansen: Yeah, it was very relieving. I don't think anybody wants to be in that situation, on both sides.  The best part about the whole situation was when the deal got done.  I was playing the next day. There wasn't much time to sit at home and really think about ok I'm coming back.  I just had to get on a flight and start playing basically, and just jump into the fire right away.  I was just thankful I was able to get back for game 1 and be with the guys.
THW: The Jackets now have points in 9 straight games.  What would you say has been the biggest key to this recent turnaround for you guys?
RJ:  You know there's a lot of things. We were struggling early on in the year. We were talking a lot about playing together and playing for each other. I think that there is some consistency now.  Seems that a lot of our guys are sticking together out there, and really doing their job and executing as well. It's about doing all of those things, and just elevating our game as a team, as we go along here, hopefully we can keep being successful.
Johansen Alone With His Thoughts
THW: During the losing streak, I noticed a camera shot of you sitting alone on the bench, with the look of someone who was looking for answers.  What things did you guys learn about yourselves during that losing streak?
RJ: It was a tough stretch there, we were losing a lot of hockey games. It felt like we were unable to win no matter what. It was a tough time, with a lot of injuries.  We really had to battle back. I like the way the guys have stepped up and been playing this month. We need to keep trying to get better as year goes on.
THW: What do you think is the key to reversing the trend of being last at home in goals against?
RJ: Lots of things. We need to be better in our D zone. It takes everyone to be on the same page. We just need to be sharper.
THW: Does last season's comeback give your team the confidence that you can do it again this season?
RJ: Lots of confidence. We basically have the same group in here, so we know it can be done.  It is just about us sticking together, and getting it done on the ice.
THW: And finally, what are most thankful for this holiday season?
RJ: Family and friends, and knowing that there are many close people that are supporting me.
I want to thank Ryan Johansen for taking a few minutes to talk with us.  There is a new confidence that has come from the things he has had to overcome.  It shows in everything that he does.  He knows what he, and the team, needs to do to be successful.  He is a big reason why Columbus is where they are at today.