Whether it be rumours, reports, speculation, or the truth, there is a whole lot of talk about the potential changes coming to the St. Louis Blues this offseason. As of June 22nd, St. Louis has about $13 million in cap space to work with. That is without the salaries of notable names like captain David Backes, Troy Brouwer, Steve Ott, and Kyle Brodziak (all eligible UFAs).
Those four players alone add up to $11.6-million of the team's cap. While some of these names may not return, there will be a balancing act that general manager Doug Armstrong will need to play. There are RFAs like Jaden Schwartz — who Armstrong has said is his #1 priority this offseason — who need to be signed. So what do the Blues do? How do they manage their cap space and who could they possibly sign when free agency opens up on July 1st?
What's On the Table
The biggest potential free agent from the St. Louis is clearly David Backes. He has been the team's captain since 2011, leading the team through a historic Stanley Cup Playoff run this year, and publicly saying he'd love to return to the city and team. The 32-year-old power forward earned an average of $4.5 million the last five seasons and will be looking for a raise.
Whether Backes hits the open market or stays put, he's going to see a raise in the ballpark of $6-7 million per season. That would leave the team with about $7 million in cap space left.
Though Armstrong has said he fully expects his captain to head to free agency, it doesn't mean the talks haven't been ongoing and won't continue.
At the same time, Schwartz (Armstrong's #1 priority this summer) will be looking for a raise on his previous 2-year $4.7 million deal. The speedy forward had a tough contract season as he missed most of the year with a broken ankle. If we are to assume Schwartz signs for about $6 million, St. Louis has a very small amount of cap space to work with. Which is why interest and talks about Kevin Shattenkirk have been popping up in the last few weeks.
The Blues' Shuffle
Shattenkirk has been a force of offensive power on the St. Louis blueline since he joined the team. But if Backes and Schwartz were to sign for the hypothetical amounts above, that leaves the team with less than $2-million in cap space and more free agents to sign like Brouwer, Brodziak, and Ott.
The Blues front office and coaching staff can breathe a small sigh of relief if a player like Shattenkirk were to move though. The emergence of Colton Parayko this past season may have given the team something they didn't know they needed; a younger, bigger, offensively-minded defenseman. Until this points, Alex Pietrangelo and Shattenkirk were the two leading offensive forces on the back end, but with Parayko in the fold, maybe moving #22's contract is for the best.
The Hypothetical Calculations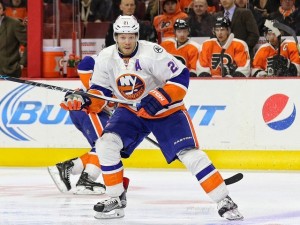 If the previous chips fall into place, St. Louis is looking at roughly $6 million in cap space. Other than signing centre Paul Stastny to a massive contract two years ago, the July 1st market hasn't been a big place for Armstrong to hang out in.
Two players come to mind when thinking of the available space and Blues' style of play. Islanders forward Kyle Okposo has been rumoured to be on the move for a solid 16 months now. The 28-year-old right winger won't be someone who can replace a centerman like David Backes, but he adds an offensive threat the team needs alongside the likes of Alexander Steen, Schwartz, and Vladimir Tarasenko.
Okposo has been a top-six forward for the New York Islanders for years, and he could be in the same boat in The Gateway City.
Andrew Ladd is another winger that stands out. The former Winnipeg Jets captain moved back to the Chicago Blackhawks at the trade deadline, but the team came up short, losing to St. Louis in the first round. Ladd isn't the biggest guy on the ice and he won't tally the most points either. But even if Backes is a player who doesn't return, Ladd can throw his weight around, help lead a team, and score a consistent 60 points.
Testing, Testing
The Blues are going to go through changes this offseason, it's a given. All the scenarios listed above almost completely pass over the fact that Brouwer, Ott, and Brodziak are all going to be looking for new contracts. Those are sure to eclipse what the team is able to spend. It could be a surprise Draft Day acquisition, a free agency signing, or maybe finding a way to make the same roster work all over again. Either way, St. Louis' doors and phone lines will be open for the next few months.