Buffalo Sabres defenseman Rasmus Ristolainen may be playing fewer minutes next season according to head coach Dan Bylsma.
In an interview with Buffalo's WGR 550, Bylsma said that the 21-year-old blueliner may have played too much last season after leading all Sabres players in ice time with 25:16.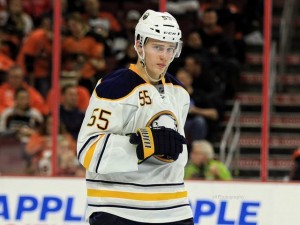 "We asked a lot of him. We put him into a lot of tough situations and I think some of the numbers that roll out on him as far as Corsi and possession do reflect that, but frankly we played him too much at times," Bylsma said.
"He's not going to like to hear this, but he's not a guy that should be getting 28 to 30 minutes per night although we did it to him and we put him in those situations," Bylsma added. "His number should be in the 24 minute per game range and that's where you'll see him be at this next year and his numbers will improve too because of that."
Ristolainen completed his third season with the Sabres in 2015-16 and skated in 82 games while posting career-highs in goals (9), assists (32) and points (41). However, he was a minus-21 rating and according to Bylsma, Ristolainen experienced fatigue because of how much he was playing.
A native of Turku, Finland, the 6'4″, 207-pounder was selected by the Sabres 8th overall in the 2013 NHL Entry Draft.
Steven is a lawyer and writer with a passion for the game of hockey. He's the Lead Writer covering the Tampa Bay Lightning with THW. He's also been press credentialed through the Lightning since 2016. His work has been published at The Fourth Period, LightningInsider.com, Bolt Prospects, The Sports Daily Network, U.S. College Hockey Online and College Hockey News. He's had radio appearances on TSN 690 in Montreal, Lightning Power Play Live and multiple podcasts to give insight and analysis on the team. He can be reached on Twitter @StevenDiOssi and by email at sdiossi@gmail.com.