Calvin Petersen THW Close-Up:
Date of birth:  October 19th, 1994
Place of birth:  Waterloo, IA, USA

Ht:  6'1″   Wt:  174
Shoots:  Left
Catches: Right
Position:  Goalie
NHL Draft Eligibility: 2013 1st year eligible
Twitter:  CalPetersen40

THW The Next Ones Ranking (January 2013):  NR
CS Midterm Ranking:  4th among NA Goalies
Other Rankings (If available)
·                       THW War Room Rankings (April):  Not Ranked
·                       ISS:  Not Ranked
·                       Future Considerations:  Not Ranked
·                       Craig Button:  Not Ranked
·                       CS Final Rankings:  (4th among N.American goalies)
***
[NHL 2013 Draft Guide – The Next Ones Draft Headquarters: Your quintessential draft resource]
***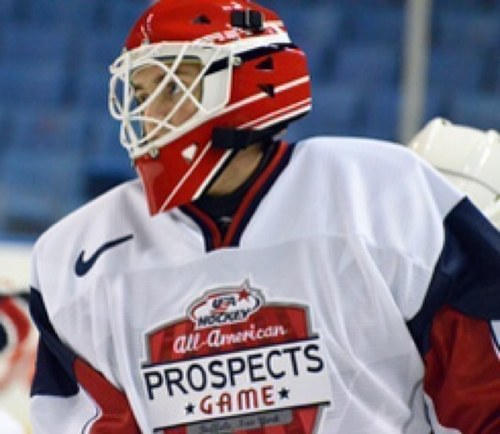 Petersen Can Be "The Stopper"
All things considered, Cal Petersen has a lot of potential as scouts rank him rather highly despite being on only a slightly above average Waterloo (USHL) squad. There will be some debate but that is for another time. There can be a case made where numbers are not the end all especially this year for Petersen. He was kind of the 1b in Waterloo and used that time well to work on the weaker points of his game. They were 29-23-4 before reeling off eight straight wins at the end of the regular season. Also, defensively, Waterloo could be an adventure and that made it difficult on Petersen at times but he persevered. Eamon McAdam was the 1a in Waterloo and made an impression on Cal as they worked together.
That should serve him well as Cal heads to Notre Dame next Fall. While his GAA (2.97) and save percentage (.906) may not seem overly impressive, he did post three shutouts in 33 starts for a team that routinely gave up three and four goals on an almost nightly basis. His instincts and especially lateral movement improved as the year went on. Petersen definitely played his best hockey at the end of the regular season before facing a tough first round opponent in Fargo. Losing the deciding fifth game in overtime may be a good learning lesson. Notre Dame has a solid defensive system which will only aid in the goalie's development going forward. In the meantime, another year in Waterloo will only help Petersen gain more confidence.
Where Will He End Up in June:
This is not going to be an easy one to gauge but Cal Petersen by all accounts should go higher in the draft than he ultimately will. The 2013 NHL Draft probably has him going somewhere in the middle rounds. It would not shock me if he was taken sometime in the fourth or fifth round.
Scout's Honor:
Calvin Petersen is a good butterfly goalie who plays an aggressive, athletic style and takes up a lot of net. He plays calm and does a good job controlling his rebounds. Calvin has a sense of calmness whenever he's in the net.
Mike Dunham, NY Islanders Goalie Coach
***
Statistics:
Bio/Interview(s)/Link(s):
International Tournaments:
2012 Junior Club World Cup — Silver medal
ETA :
4-5 years
Risk-Reward Analysis:
Risk = 2/5   Reward = 4 /5
NHL Potential:
If he can grow into it, Petersen has the ability to become a number one in the NHL. This will take patience by whomever drafts him as the goalie has to work on a few things when he plays for Notre Dame including making that game changing save. With Cal's focus and attention to detail, there seems to be no doubt that he will be able to set his mind to things and buckle down. The journey will begin at the 2013 NHL Draft.

Strengths:
Focus
Leadership
Work Ethic
Above average hands
Competitiveness
Resourceful especially on broken plays
Improved lateral movement
Flaws/Aspects He Needs To Work On:
Playing a string of games without tiring
Needs to learn to push off edges a bit better.
Must watch more video to develop game.
Strength and weight training are absolutely vital.
Fantasy Hockey Potential:
Goaltending — 8/10 ….. a rather high upside.
NHL Player(s) / Cross Training Comparison:
—   Petersen reminds me of Ryan Miller in some ways as far as ability to play like a slinky yet remain just firm enough in net. If there was a cross training comparison, it might be to a guy like Hakeem Nicks of the New York Giants, who appears to have a slight frame but athletic like Petersen with very good hands.
Video(s):
Off The Iron (Interesting Notes):
– Cal has a unique knack for being a bit of a "social butterfly" when it comes to the other goalies that are either draft eligible or ones that were just drafted. His twitter account almost reads like a who's who of prospects at times on and off the ice. Maybe at the 2013 NHL Draft, he will have a camera or cell phone with him taking pictures and video because that would just be Cal.
Q&A with Cal Petersen:
1. The hardest thing to do is critique oneself. What is the one aspect of your game you absolutely know you need to work on?
Communication with my defenders. I can occasionally get into a zone wear I am fully concentrated on stopping the puck and I need to add a means of communication with my defenders about the positions of opposing players or directions on where to go.
2. What is the one attribute that makes you stand out from this year's crop of goaltenders?
I believe I have the best skating ability among the crop of goaltenders this year. My confidence in my skating helps me become quicker and more explosive with my movements around the crease.
3. What is the NHL Combine like for those who have never seen or experienced it? 
It is a very demanding experience, but that being said it is extremely fun and exciting. You are expected to act like a pro and to bring and display a high manner of professionalism into every interview with a team or every fitness test.
4. If there was one thing you could tell a prospective NHL team, what would it be?
My story and how much I want to play in the NHL and win Stanley Cups. Coming from a non-traditional hockey background, a lot of sacrifices have been made by my family and I to pursue my dream. All of this instilled a desire for perfection and ultimate success.
5. Your first full season in Waterloo was a successful one? What can you do in year two that you did not in year one?
My ultimate goal this year was to win a Clark Cup (USHL Championship) but we, as a team fell short. Individually I was very happy with how the season went. I was honored with a selection to the USHL All-Rookie team as well as learned invaluable experience that will help me be even more successful next year. I will get another shot at a championship this year, so again that is my ultimate goal. I hope I can be a true leader this year and carry the team for long stretches of games this year.
6. Lastly, if there was one NHL team you would want to be drafted by, who would it be and why?
Personally, I would be extremely honored to have any one of the 30 NHL teams's jersey on by the time I leave the draft on June 30th. Each team is so unique and provides endless opportunities for development and paves the way for future success in the NHL.
***
THW's The Next Ones prospect profile template design architect: Chris Ralph
***
Simply a hockey writer who is a jack of all trades. No question is too big or too small and in fantasy hockey there is no such thing as a stupid question. Now a proud, accredited member of the FSWA. I am also a New Jersey Devils lead writer, prospects writer, humorist, and so much more. You can find me on Twitter at @ChrisWasselDFS