By Mike Miccoli
Let me set the tone right now. It's 7pm on a Monday night and after a weekend at an out-of-state wedding, I'm running on about 14 cumulative hours of sleep in the past three days. Of course the hockey gods would schedule a playoff game tonight, a night when I was looking forward to catching up on laundry and going to bed early. God bless 8pm starts.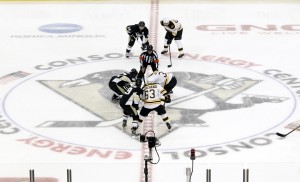 But it's playoff hockey–the best time of the year–and when the two best teams in the Eastern Conference go head-to-head, it's must-see-TV and nothing else really matters.
So here is how this thing will work. In an effort to stay coherent and awake for the duration of Game 2, I've housed copious amounts of caffeinated beverages from the time I woke up this morning until very recently. Good to go, laptop open, ready to write.
So why Game 2? Easy: storylines. The Bruins have a chance to go back to Boston up two games in the series against the juggernaut Pittsburgh Penguins. Who saw that coming? Not many. While the Bruins didn't dominate Game 1 entirely, they did enough to pull out the win. Tuukka Rask earned his first, career postseason shutout stopping all of the Penguins' 29 shots and was the biggest key to the game not named David Krejci, who had two goals, further his NHL league-leading totals to 19 points this postseason.
Game 1 was not a good example of how the Penguins will continue to play in this series. Game 2 should be different. Maybe.
—
7:42 pm: I should mention that I'll be watching this game with a big plate of Wings Over Somerville to be shared with my roommate Greg, a big Rangers fan. The last time we watched a game together, this happened. It started out as a pretty pleasant game, us exchanging compliments about the others' teams, and ended with Greg throwing his hat across the room and disappearing for the rest of the night. I'm not sure why this keeps happening to me and to my New-York-sports-loving roommates.
7:51 pm: Greg: "I'm rooting for the Rangers tonight." The day after the Bruins beat the Rangers, he sent me this GIF of what he was going to do to me in our men's league hockey game later that night. When I had him lined up in a corner for a hit, I lost an edge and fell. Everybody loses.
19:30, 1st: Oh my God. Brad Marchand, on the first shot of the game. 1-0, Bruins.
15:21, 1st: This has got to be the worst possible start Pittsburgh could have imagined, right? Marchand past Tomas Vokoun? That's like if Matt Cooke scored within 30 seconds in Boston after skating over a puppy wearing a Marc Savard shirt. Sad feelings everywhere. The amount of "FEED ME FLEURY" texts I've received in the past five minutes are a little much.
10:20, 1st: It's also funny, because the Penguins are outplaying the Bruins again. They've had insane pressure in their own zone and they have the Bruins scurrying. The Bruins first line gets the puck out and continues to have the prettiest breakout in the NHL.
5:16, 1st: Nathan Horton scores as the power play expires. Torey Krug gets an assist. The amount of urban legends on this team continue to grow. FleuryWatch is about to begin at any moment, right? Also, why hasn't there been more chatter about how brutal Kris Letang has been this series? Also, my mouth is on fire from these wings.
3:29, 1st: David Krejci scores now, after one of the prettiest plays of the season. Just textbook passing and dazzle from the Bruins' top line in the Penguins' zone. Greg thinks that was an effin' sweet goal. I agree. Here comes Fleury…uh oh.
0:33, 1st: Breaking: Pittsburgh just won the Stanley Cup with Brandon Sutter's goal, cutting the Bruins lead to two. Shh. Don't tell Doc Emrick and Edzo that it's only Game 2. 3-1, Bruins.
0:00, 1st: Marchand responds seconds later and Boston goes to the locker room after the 1st up 4-1. I'm not sure why the NBC guys sounded so solemn after Marchand's goal when they were so excited after Sutter's. Hockey is funny sometimes.
20:00, 2nd: I've misjudged how much I would need to update this running diary. In the first period, I juggled between eating wings, wiping my hands on six napkins as to not smudge my computer keys, texting friends and trying to keep this running–all while, you know, watching the hockey game. I feel like the intermission served me well. I'm as awake as I've been all day and am feeling it more than Tyler Seguin has all postseason. That said, the Bruins can't let up. I know it sounds simple, but the Penguins are a good team that had a bad period. One bad bounce or bad judgment call and Pittsburgh is back in the game, momentum on their side. The Bruins have been playing excellent hockey, even though the Penguins have the equivalent of a squirt youth hockey goalie in their net, but need to keep it up. No lead is safe in hockey. After all, it was Boston who taught us that.
18:01, 2nd: Save, Fleury! Figured that should be noted.
14:01, 2nd: Greg just compared my back-checking in men's league hockey to that of Jaromir Jagr's. Spoiler alert: it's bad. Really bad.
13:00, 2nd: Nominee for text of the night, from one of my best friends: "The Jagr play defense? Ugh. But the Jagr need to save the energy for the late night tush tush party with Doc Emrick." That journalism degree is looking really good, Mike.
12:25, 2nd: The Penguins are trying really hard to draw a Bruins penalty. Normally, the Bruins would take that bait but tonight, this is a different team. Smart hockey and cooler heads prevailing so far.
5:53, 2nd: The Rangers had better power plays than that. Still, stupid penalty from Marchand slewfooting Crosby. The Penguins had an incredible opportunity to put one on the board with the man-advantage but failed to generate enough chances. The Bruins' defense did a great job getting in front of shots and cutting off passing lanes, even if meant Boychuk throwing his body in front of the puck.
20:00, 3rd: The last five minutes of the second period were a perfect example of why Pittsburgh can't be trusted. Boston started to get a little comfortable and the Penguins were able to generate more pressure in the offensive zone. Though, Rask and the B's defense were able to stifle any chances and keep the Penguins off the scoreboard. The start of the third will be the most important here. Crosby and Malkin are frustrated and desperate to do something and Fleury hasn't let up a goal in one whole period (!!). That's a perfect recipe to start to turn things around–the Bruins just have to continue to pester and keep up the pace. The Bruins had this stigma around them that they couldn't close out the hockey game. Up three with 20 minutes to go against one of the best teams in the league, this might help to quell those whispers.
19:15, 3rd: Had my head down typing away and had no idea the Bruins scored. Is this the most sullen Emrick has ever been? Zero energy, zero passion. Just doesn't want to be there. Sounds just like the Pittsburgh Penguins. Emrick's great, but as soon as he loses interest in a game, there's nothing worse. I'm not about to start crying biases but when you're calling a game, whether it's 1-0 or 11-0, call a game.
14:28, 3rd: Shot on goal, Seguin! (Just keeping this fair. Rare occurrence.)
10:24, 3rd: Let's remember this moment in time:
Malkin,Letang,Neal,Crosby,Martin,Iginla..are a combined -21 vs #Bruins after only 2 games in this series and have yet to register a point.

— Aaron Ward (@NHL_AaronWard) June 4, 2013
7:30, 3rd: Greg, a Rangers fan, is rooting for "the game of hockey" tonight. Meaning, he wants to see a Penguins goal. I knew I heard him take a sigh during that last Pittsburgh offsides.
5:49, 3rd: A sad montage from NBC depicting a group of lost, downtrodden Penguins, close to be down 2-0 in the Eastern Conference Finals, narrated by a lonely Emrick and a meek Pierre McGuire. This is what it has come to. I'll be honest…I never saw this coming either.
2:30, 3rd: Since NBC has gone completely off the trails tonight, I will, too. The storylines before Game 3 should have everything to do with the Bruins maintaining this level of play. That's it. Nothing else. The Bruins flat out dominated Game 2, powering forward with no passengers in sight. You can talk about effort or lack of points from some players, but when a team goes up against 2-0 in a series after outscoring their opponent 8-1, it says something. It says something about the coach, the players, and the general chemistry and support that's around the team. This is a good team.
1:02, 3rd: Excuse me, outscored 9-1. Boychuk with his fifth of the postseason (that's just insane, too) and the Bruins go up 6-1. Might as well just shut the lights off at the Consol Energy Center now. All done.
0:00, 3rd. Hey, six more wins. Let's do this again soon.
Follow Mike on Twitter for more Bruins updates, news and commentary.
Mike Miccoli covers the Boston Bruins for The Hockey Writers and has been a credentialed member of the media for all Bruins' home games for the past five years. As a former player, coach and official, Miccoli has been around the game of hockey since the age of three. Along with his work on THW, Miccoli has also been published in the New England Hockey Journal, Improper Bostonian magazine and on BostInno.