A year ago, the Calgary Flames saw the forest for the trees and officially embarked upon their long-awaited rebuild. As the club enters the summer of 2014, new general manager Brad Treliving inherits a team that's had a surprisingly good season. Despite dismally low expectations, progress was made in a few areas.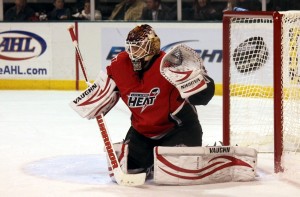 For the rebuild to continue to progress, and for the team to move from the stage Brian Burke terms "crawling" towards the "walking" stage ("running" and "sprinting" eventually follow), is to continue to solve problems. And despite the strong stretch of play to close out the 2013-14 season, the Flames still finished 4th-from-last in the NHL, so they've got problems.
So what's on Brad Treliving's to-do list?
MORE GOALIES
Calgary has one bonafide NHL goalie signed to a deal – Karri Ramo. Ramo and Reto Berra competed for the #1 job last year, and Ramo won, so Calgary traded Berra to Colorado for a draft pick. And Joni Ortio, who made his NHL debut when Ramo was injured and looked good most of the time, is a restricted free agent. Ramo'll be in Calgary this year, while Ortio will probably start in the AHL, as Flames president of hockey operations Brian Burke wants him to play a lot.
So that's two goalies. But Calgary needs more; a back-up for Ramo in Calgary and a back-up for Ortio next season in Adirondack to push him to keep improving.
DEFENSIVE DEPTH
After a lot of tumult in the past, the Flames had a strong top defensive pair emerge in the form of Mark Giordano and T.J. Brodie.
That's the good news.
The rest of the organization's NHL-ready defenders list shakes out like this: Dennis Wideman, Kris Russell, Ladislav Smid and maybe rookie Tyler Wotherspoon. Nobody else is either under contract or has shown the ability to withstand regular NHL minutes. That's the bad news.
The upside is there are a lot of different defensemen available on the free agent market, even beyond the big names like Matt Niskanen or Brooks Orpik. Treliving can hopefully find some useful gems in the summer to fill some gaps.
TOUGH MINUTES FORWARDS
In 2013-14, the Flames were either the fourth-worst (in Corsi) or fifth-worst (in Fenwick) in the NHL in even-strength possession stats, making the team incredibly reliant on their special teams to keep their heads above water. Among the regular Flames players, only four (Mike Cammalleri, T.J. Brodie, Mikael Backlund and Mark Giordano) drove play at even-strength. And Cammalleri's probably gone, leaving Backlund as the only Flame forward left to move the dial.
Unless the Flames want to be completely reliant on their power-play to bail them out (again), they'll need to find some help for Backlund.
FACE-OFF WINS
For yet another season, the Calgary Flames were among the NHL's worst in face-offs – seemingly losing every key face-off in third periods especially. If the Flames want to be more effective late in games – and throughout games – they need more face-off wins.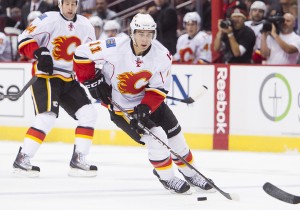 The difficulty here is the team's centers for 2014-15 seem to be set: Matt Stajan, Mikael Backlund, Sean Monahan and likely some combination of Markus Granlund, Corban Knight or T.J. Galiardi (if he's re-signed). Only Granlund won more face-offs than he lost, and that was in 7 NHL games, so you can't conclude that he's (a) a strong NHL face-off guy or (b) the answer.
And finding a solution for this problem on the free agent market may be tough, as teams don't quickly part with their face-off aces. The solution will likely need to be an internal one.
SALARY TO REACH THE CAP FLOOR
The Flames have roughly $38 million committed for 2014-15 based on players on one-way contracts and those (like Sean Monahan) virtually locked into the NHL roster. That fills 13 roster spots and leaves 10 spots and roughly $15 million (at minimum) that the team is required to spend to hit a forecast $53 million cap floor.
Treliving inherited an ownership group with notoriously deep pockets and a team that sold out (on-paper at least) every single game last season. When they finished fourth-last in the first year of their rebuild.
Long story short: the Flames need to spend money and the Flames have money to spend.
Ryan Pike has covered the Calgary Flames and the NHL Draft extensively since 2010 as a Senior Writer for The Hockey Writers and Senior Contributing Editor of FlamesNation.ca. A member of the Professional Hockey Writers Association, he lives in Calgary.