Although the dictionary's definition may be different, many people still think of Albert Einstein's definition of "insanity": Doing the same thing over and over again and expecting different results. While legally incorrect, this has somehow become an accepted definition and when it comes to the Florida Panthers, it seems to be a succinct overall description of the organization at times. Despite years of either not making the playoffs or being eliminated in the first round, the organization doesn't show any signs of changing their routine, causing fans to wonder what they could be thinking.
They obviously aren't truly insane, but it's time to take a long, hard look at what's happening and break some patterns. After the incredible 1995-96 season, when the three-year-old Panthers went all the way to game 4 of the Stanley cup finals before losing to the Colorado Avalanche, the organization gave the team just one year before starting a trend that hasn't stopped. It began in 1997 with the trade of their beloved captain, Brian Skrudland (who is now an Assistant Coach), that tore apart the chemistry of a young, hungry team. 17 years later, this is still a struggling team who hasn't won a championship, has never won another Conference title and has only made a few first round playoff appearances. At some point, shouldn't someone notice that what they're doing isn't working?
Another Early Farewell
In one of their last practices before the end of the 2013-14 season, the Florida Panthers looked as focused and intense as they ever had. In fact, maybe even more. The season was basically over for them, yet they acted like they had a whole new beginning to look forward to. While the focus of late had essentially been all about the addition of super-goalie Roberto Luongo, the truth is that though he's a superb net minder and team leader, he isn't what's going to bring the Cup to South Florida. At least not all by himself. There have been many a superstar on the team over the years, but what's different now is the mix of old and new. Older players, new additions, and the incredible layers of talent in their younger guys.
As practice got underway during the last week of regular season hockey, interim Head Coach Peter Horachek seemed confident and looking forward to getting right back to work, despite the early end of their season. In an interview with the press, he appeared prepared for summer and even next season.
"I think when they leave here the first thing I guess is about conditioning and quick self-analysis," he said. "We're going to have to have a sit down and talk about how we felt our season was, what they felt about their season, where we think their improvement needs to be if they're going to be full-time players here… We already have a customized program for conditioning and what they need to improve on. Whether it's upper body strength, or explosive speed or acceleration, or those first few steps. All those things when we start customizing it, they're going to go away with that. There's going to be a communication program where we talk and we evaluate where you are in your summer programs."
These were the words of a man ready to take this team and run with it. Yet once again, the Panthers organization plucked a key part of their slowly blossoming team and let it go. Florida's GM, Dale Tallon, said that he wanted a coach with more NHL experience. Once again, despite the many ownership and leadership changes they've already had, the Panthers organization continues to make the same types of decisions over and over–with decidedly unfortunate results.
Same Old, Same Old
The Panthers tend to change ownership, coaches and players like some people change undergarments–regularly. Sometimes it's necessary, but sometimes a team just needs time to meld. While there will always be some changes due to finances and other non-playing-related items, the bulk of this team needs to just stay put. Horachek may not have had a ton of NHL experience, but he seemed to fit well with the players and with the addition of Luongo, the team was just starting to get a feel for being a cohesive group. The truth is, Horachek may not have a ton of NHL experience as a Head Coach, but he spent nine years as a head coach in minor leagues, as well as seven years as Asst. Coach and two years as Associate Coach for the Nashville Predators. With the amount of young talent on the Panthers, Horachek could have been exactly what the team needed considering his experience in the minors. Not only did he have a good rapport with the young players, he also had a vision of where the team needed to go.
"Going forward there's the free agency part that's going to be very important this summer in surrounding the guys with a group of leadership character veteran players that are interested in growing with these young players." Horachek spoke like a man with the foresight of an NHL Head Coach. Instead, he was let go. Although Tallon hinted that Predators Head Coach Barry Trotz was at the top of his list, nearly a month has gone by since Horachek's departure and there appears to be a lot of other interest in Trotz, leaving the Panthers floundering once again.
A month into their summer break, a team full of young players don't have a real leader guiding their training and preparation for next year, although several talked about having plans of their own. Center Brandon Pirri, also acquired just before the trade deadline, said he was going to go home to Chicago to work with the same trainer he used last summer. Also a center, the team's top scorer, Nick Bjugstad, planned to return home to Minneapolis and relax for a couple of weeks before getting back into it. He said he was hoping to get a little bit better and stronger over the break.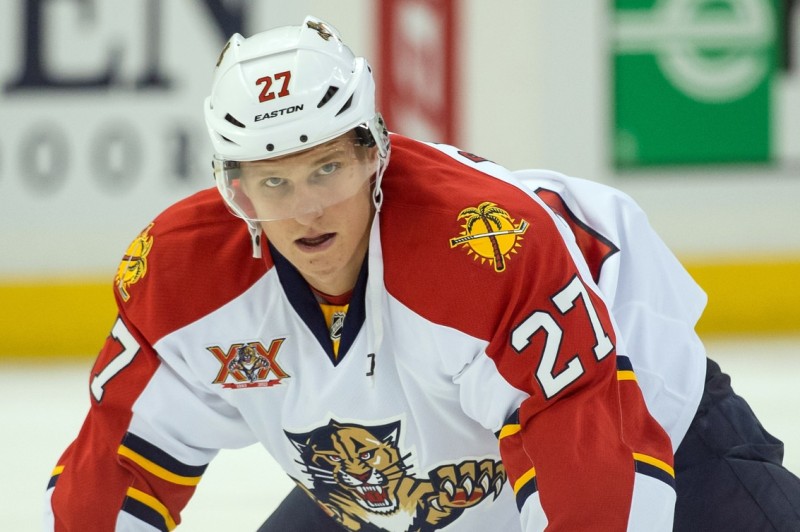 Deja Vu?
Instead of working with the young team that had done the improbable in 1996, they started looking for big names that would bring glory to the team. When that plan didn't work, they changed General Managers, coaches and even ownership without any success. Today's organization continues that same style of management: looking for some sort of golden ticket that's going to present them with the Stanley Cup, rather than gathering up the tickets they already have. While in years past this has been done by finding big names like Pavel Bure, this time around it's in the form of a top notch coach.
With a first-round draft pick that can be traded for a solid scorer or two that could help create the big plays (and points) they desperately need, the team has remained fairly quiet about their plans to put together trades in exchange for that first-round pick. In reality, the Panthers don't need anymore budding young stars and they had a coach who might just have been a different kind of golden ticket.
It's time for the Panthers to stop the insanity.