The Calgary Flames have shown a little bit of everything to start the 2017-18 season.
After opening the campaign with a 3-0 shutout loss to the Edmonton Oilers, the Flames bounced back with a six-goal outburst in their home opener, which kickstarted a three-game winning streak, involving wins over the Winnipeg Jets, Anaheim Ducks, and Los Angeles Kings.
The three-game run then came to an abrupt halt in a 6-0 home loss to the visiting Ottawa Senators. But again, they rebounded the following night with a 5-2 over the Vancouver Canucks.
When all said and done, it equals four wins in six games, and an overall good start for the Flames.
1) Smith Shining
To say Mike Smith has been good for the Flames so far would be an understatement.
He has been the best player on the ice to start the season, continually making big save after big save and giving the team a chance to win each game.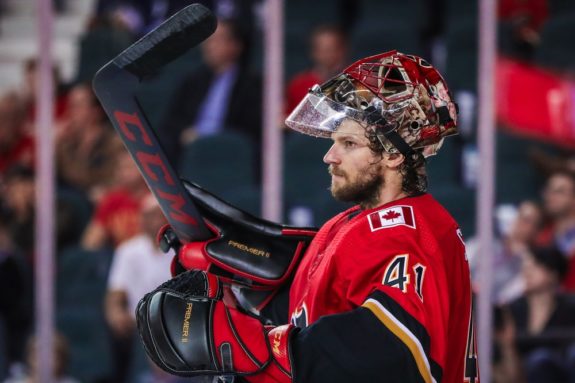 Although his 2.59 GAA and .929 save percentage may not jump off the page, his league-high 196 saves do.
So far, he has faced a whopping 211 shots, also a league-high. The next closest is Anaheim Ducks goaltender John Gibson with 185.
Given the tremendous amount of shots he's faced, to come away with four wins, including a shutout, to kick off his Flames career is impressive.
If the defense can begin to limit the number of shots getting to Smith, the results will only improve.
Related: Smith Primes Flames for Deep Playoff Run
2) Jagr Catching His Breath
There are a lot of people already saying the Jaromir Jagr signing was a mistake.
But relax, he's 45 years old and it's only been three games.
At his age, he's going to need a little longer than most to get acclimated to game-speed, and when he does, it's going to become clear why GM Brad Treliving pulled the trigger on him.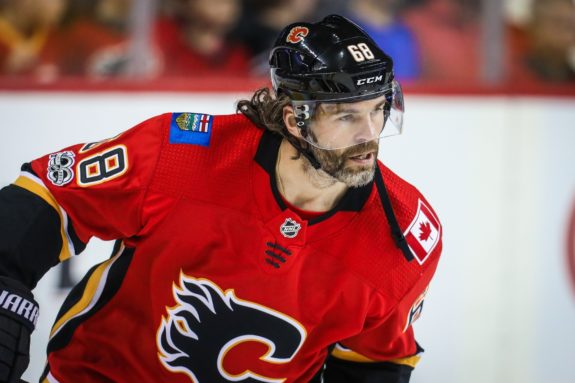 He's not going to post 50-plus points anymore, but he is going to provide a wealth of experience and knowledge that can't be found elsewhere, and could eventually become a permanent fixture on the top line alongside Johnny Gaudreau and Sean Monahan.
"He kind of reminds me of when I was playing with Huds (Hudler)," said Gaudreau in a Calgary Sun article. "He's skilled, he's smart with the puck and he can protect the puck down low like no-one else. I think it's going to be a good fit. Hopefully we can build some chemistry and go from here."
Related: Flames Addition of Jagr Changes the Team Narrative
3) Special Teams
The Flames currently boast a top-five penalty kill in the NHL, operating at an 89.6 percent efficiency rate.
There's no question Smith's play is a large contributor to the early success killing penalties, but regardless, it's a nice turnaround for a unit that, other than last season, has struggled in recent years.
As for the power play, it hasn't been great, but it hasn't been bad either. The Flames currently rank 15th out of 31 with the man advantage, operating at 20.0 percent efficiency.
Similar to the number-one line at even strength, many different faces have been seen on the right side of the top power play unit. Jagr, Curtis Lazar, Troy Brouwer, and Michael Ferland have all seen time at right wing on the first unit.
Eventually, it should be Jagr who grabs a firm hold of the right side, and, although he may not skyrocket the Flames power play to the top of the league, he will certainly provide an upgrade over the other three options.
4) Jankowski on Fire in Stockton
There were many surprised and upset fans and analysts when Mark Jankowski was sent back to the Stockton Heat, the Flames' AHL affiliate.
The youngster did everything he needed to do during the preseason to earn a roster spot, including scoring three goals in five games, but Matt Stajan, Freddie Hamilton, and Tanner Glass all made the Flames roster over the young center. Between the three of them, they have one point and a -4 plus/minus rating.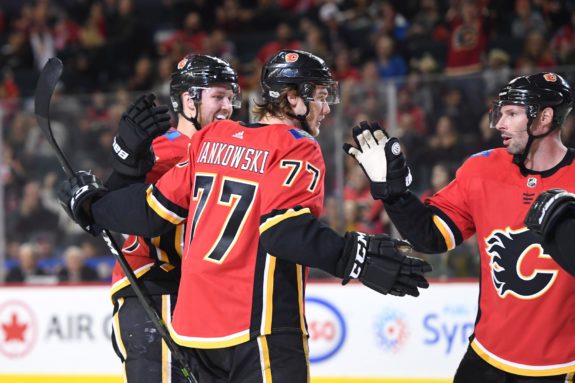 Jankowski has continued his spectacular play into the AHL season where he's notched five points (four goals, one assist) in three games.
Given the talent and growth he continues to display, the Flames need to find a way to make room for him on the roster. But unfortunately, it may take an injury for that to happen.
Related: Can Jankowski Ignite the Flames?
5) Gaudreau's Hot Start
Lost in all the Smith and Jagr chatter is Gaudreau's best start of his career.
The 24-year-old came flying out of the gates, notching nine points (two goals, seven assists) in six games.
Perhaps even more impressive than his point total is he's been producing at this rate without a consistent linemate on the right side.
So far, Gaudreau's seen five different faces across the face-off circle (Lazar, Kris Versteeg, Ferland, Brouwer, and Jagr), which normally wouldn't be a recipe for the type of early success he's having.
But somehow, he and Monahan are making it work.
"I try to just play my game every single night," said Gaudreau in a Calgary Sun article. "Whether I get a point or not, or get on the scoresheet, I think it's most important if the team wins."
6. One Sizeable Weakness
When your goaltender is facing an average of 36.3 shots per game, you have a problem.
Luckily, due to Smith's stellar play, this weak spot has yet to affect the win/loss column in a worrying way.
But he can't be expected to make 35-40 saves every game he plays. It's unrealistic and won't lead to long-term success.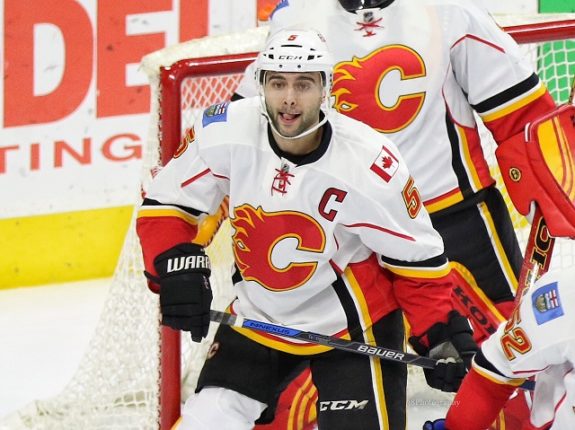 After the off-season acquisition of Travis Hamonic, the Flames boast arguably the best defensive corps in the NHL, and it's about time they start playing like it.
If the forwards and defensemen can come together and allow fewer pucks to get to the net, it will allow Smith to be even sharper when he needs to be, and the wins will continue to pile up.