Yesterday, amid the hype surrounding the Young Stars Classic in Penticton — we learned that the Flames cap took a hit. In a bad way.
Correction: #Flames have $7.87m in cap for Gaudreau, 14th forward, and flexibility. Bad news.

— Ryan Pike (@RyanNPike) September 16, 2016
From the previous $8.5 million, the Calgary Flames lost a total of $630,500 in cap space. Due to an overage penalty resulting from seven players hitting bonuses.
The most interesting part of all of this hoopla, or perhaps the most rage-inducing (depending on who you ask), is the 2014 buyout of Shane O'Brien — previously believed to be a compliance buyout, was a regular buyout.
What does this mean in terms of relative cap damage for the Flames?
Instead of having to pay Shane O'Brien two-thirds of his remaining contract — the Flames have been saddled with the full hit. Which is why this problem, now two years later; comes back to bite the Flames.
What was once believed to be a tentative situation cap-wise, has now become even tighter. With reports of Gaudreau's agent seeking eight-million AAV (Average Annual Value), this puts a choke-hold on current negotiations.
Now well into September, the Calgary Flames are in a less than ideal situation.
The Little Guys
As we know, or at this point should know: Freddie Hamilton has received his qualifying offer from the Flames. Although this may not hold much significance in terms of immediate roster decisions; it directly affects the contract negotiations of Johnny Gaudreau.
Keeping Freddie Hamilton in mind, Gaudreau's reported ask has to be dealt with accordingly to allocate money for Freddie.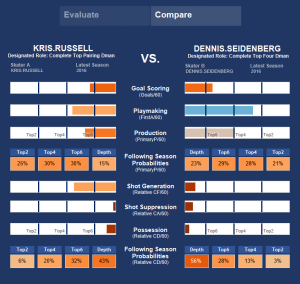 With talk of players such as Dennis Seidenberg, Kris Russell, and Jakub Nakladal being linked to the Flames in some way, it just got a lot harder to envision how they fit in.
My allegiances lie with Nakladal as his offensive ability outshine the aforementioned Russell and Seidenberg.
Nakladal's ability to drive offense (52.7 CF%) while remaining sound defensively (90.1 oiSV%) gives him the edge.
These supplemental (arguably 7th d-man) signings revolve around the uncertainty created by Ladislav Smid. Which also factors into Calgary's cap relief quite heavily.
Ladislav Smid at this point is nothing more to the Flames than a burden.
Issues regarding his health have sidelined the 30-year-old for the better part of two seasons and have relegated him to the relative obscurity of limbo.
Best hopes for Smid at this point (in terms of cap relief) would be for him to hit LTIR, adding an estimated $3 million on top of the cap.
That added room could prove to be the difference maker.
Long-term health effects of such an injury could be life-altering. Especially considering he re-aggravated that injury shortly after returning from his first extended trip to the IR.
Vertebrae issues are no joke, and in a game that is only getting faster and more physical — it's hard to imagine a world where Ladislav Smid is relevant again.
The Solution
Theorizing the Flames cap creativity can prove to be a long-winded discussion — looking at a multitude of different options. Most revolving around signing Johnny Gaudreau to a lower price, shorter-term contract.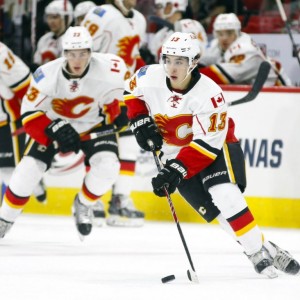 Comparing Gaudreau's situation to that of Patrick Kane circa 2010, we see a budding superstar making a name for himself in the NHL. What does he do? Signs to a five-year, $6.3 million AAV contract, totaling 11.09% of Chicago's salary cap (at the time).
Looking at the comparable, if Johnny was to sign a $6.5 million dollar deal, at a shorter term — that would equal 10.09% of the Flames current salary cap.
Signing Gaudreau to a shorter-term, fairly-priced contract could prove to be lucrative for the Calgary Flames and Brad Treliving.
Though, I will concede — it doesn't necessarily imbue me with the most confidence. This deal could come back to haunt the Calgary Flames where in three to four years, it comes time to fork over the big bucks.
Much like Kane's current contract; $10.5 million, until 2022-23 (15.22% of Chicago's cap).
Signing Gaudreau to a short-term deal would provide the Flames with much more flexibility to bring in players to be successful immediately.
As the season draws near, signs are beginning to point towards this.