After a quiet first month of the season, trade talks have begun swirling in Calgary following the Flames conducting a pair of trades this week. First they sent veteran winger Tim Jackman to the Anaheim Ducks in exchange for a sixth round pick in 2014's draft, then they sent their own sixth rounder to Dallas for winger Lane Macdermid. Since then, rumours have been swirling around the Flames regarding what trade they'll make next.
4 or 5 teams have kicked tires on Calgary's Mikael Backlund. Flames willing to move him.

— Darren Dreger (@DarrenDreger) November 23, 2013
The Ottawa Sun's Bruce Garrioch reports that teams may be talking to Calgary about blueliner Shane O'Brien, while it's entirely probable that the Flames will entertain phone calls about any of their pending unrestricted free agents (including Mike Cammalleri, Lee Stempniak or Matt Stajan).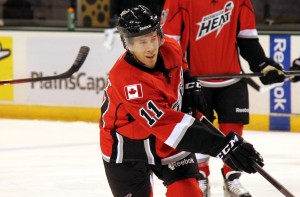 The question remains, though: why would the Flames make any trades this year at all?
The simple answer is: auditions.
Mikael Backlund is just 24 years old and one of Calgary's best possession players, especially when you consider he's primarily played on the fourth line and been deployed in the defensive zone. But he's also been on the NHL roster for going on five seasons, and at this point, perhaps Calgary's coaching staff and management have seen everything they need to see from Backlund to know his potential as an NHLer. O'Brien, himself an NHL veteran, has emerged as Calgary worst possession blue-liner, despite being shielded heavily in terms of strength of opposition and zone starts. Most importantly, both are waiver eligible.
Calgary only has three players on their NHL roster that are waiver exempt: Reto Berra, Sven Baertschi and Sean Monahan. None of the three are likely to be demoted to give promising players on Calgary's AHL team, the Abbotsford Heat, a quick taste of the NHL. The Flames have a young group in Abbotsford, featuring a lot of waiver-exempt players like goalie Joni Ortio, blueliner Chad Billins, and forwards Markus Granlund, Ben Hanowski, Corban Knight and Max Reinhart. Blair Jones, while waiver eligible, impressed the big club by being perhaps Abbotsford's most dangerous offensive threat and earned his way back to the NHL. And first-year pro Corban Knight, in particular, was brought into the organization with great anticipation and has impressed so far in the AHL. But with Backlund, Joe Colborne, Matt Stajan and Sean Monahan on the NHL roster, there's no place for Knight but in the AHL. At least, for now.
The Flames probably know what Mikael Backlund is like as an NHLer. They have an entire roster full of players in Abbotsford who've had some success so far at the AHL level, but who they know nothing about as NHLers. To give those players a taste of a greater challenge, they have to make some room.
Tim Jackman's departure may be the first step towards doing just that.
Ryan Pike has covered the Calgary Flames and the NHL Draft extensively since 2010 as a Senior Writer for The Hockey Writers and Senior Contributing Editor of FlamesNation.ca. A member of the Professional Hockey Writers Association, he lives in Calgary.