For the past three seasons, the Calgary Flames have been a playoff bubble team that has found themselves finishing just outside the annual Stanley Cup tournament with respective finishes of 10th, 10th, and 9th.  While the preceding three seasons certainly birthed expectations of playoff contention, the Flames currently find themselves not just under the .500 mark but dead last in the conference.  At exactly the halfway point of the lockout shortened season, the Flames are in 15th place.
This is obviously a disappointing development and the franchise is simply lagging in many areas within their own conference.  Fresh off a disastrous Californian road trip that saw the Flames finish 0-3 while being outscored 13-3, the Flames are looking to rebound at home tonight against the Detroit Red Wings.  Before that game takes the Flames into the second half of the season, it is fair to evaluate the body of work of the team thus far this season in the form of midseason awards.
Most Improved Flame: Matt Stajan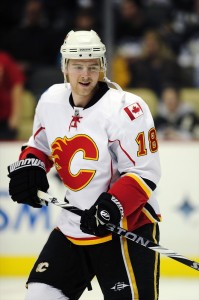 Matt Stajan's tenure in Calgary has been tenuous and it is fair to say that he has served as both a lightning rod for criticism as a well as a frequent whipping boy among the fan base.  Not only was he under-performing after signing a 4-year deal that would deal a $3.5 million cap hit in the 2010 offseason, but he was the lone lingering reminder of the Dion Phaneuf trade that saw Calgary receive Niklas Hagman, Jamal Mayers, and Ian White along with Stajan in exchange for Dion Phaneuf, Frederick Sjostrom, and minor-league defender Keith Aulie.  He was practically symbolic of the Flames fall from grace, consistently underperforming despite lofty expectations.
However, something clicked for Stajan once he returned from an ankle injury late last season as he found himself playing upwards of 20 minutes a game and producing offensively.  This play has carried forward into this season as Stajan finds himself playing quality minutes.  He is producing moderately offensively with 12 points in 24 games (which prorates into a 41 point performance over a full season) but is a stalwart defensively.  He leads all Flames forwards with 24 blocked shots and leads the entire team with a plus/minus rating of +6.  This is impressive not only because Stajan is one of two players with a positive rating (the other being Lee Stempniak with a +3) but because the Flames goal differential sits at -18, ahead of only Florida's -35.
Playing defensively responsible and showing flashes of offensive creativity makes Matt Stajan the most improved Flame this season.
Honourable Mention: Lee Stempniak, Jay Bouwmeester
Best New Flame:  Jiri Hudler
Signed to a 4-year deal this past offseason, former Red Wing Jiri Hudler has brought an offensive creativity that the Flames have lacked arguably since the departure of Kristian Huselius.  While not a physical presence and sometimes can find himself manhandled by physical defenders, Hudler is able to find open players with impressive passes and create offensive chances during odd-man rushes.  He is also skilled at keeping possession of the puck, which generates pressure in the offensive zone on both the power play and even strength.
While he certainly has had some growing pains, Hudler is consistent in all areas of the rink.  He has most impressed playing alongside Matt Stajan and Roman Cervenka, and despite the latter's disappointing North American debut the line has easily been the Flames most exciting to watch.  Chances are consistently generated and the opportunity for increased production is certainly there.
Consistently a creative force and playing on the most entertaining line, Jiri Hudler is the best new addition to this year's roster.
Honourable Mention: Dennis Wideman, Steve Begin
Most Valuable Flame of the First Half: Jay Bouwmeester
Jay Bouwmeester certainly has his detractors.  He isn't very physical, has never lived up to his gargantuan contract, and holds the record for playing the most regular season games in the NHL without appearing in a single NHL playoff game.
Despite all this, Jay Bouwmeester is simply having his best season as a Flame and is the most valuable player to their team at the midway point.  The new system employed by Flames coach Bob Hartley has been a boon for displaying Bouwmeester's offensive talents, as he already has tallied 4 goals this season after registering 5 all of last season.  He continues to be a leader in terms of ice time and plays in all situations.  Even his -4 plus/minus rating is respectable given the Flames' aforementioned poor goal differential and that he consistently plays against the top players every game.
Due to a combined statistical boost and yeoman's workload, Jay Bouwmeester is the Most Valuable Flame for the first half of the season.
Honourable Mention: Colorado Avalanche GM Greg Sherman, for matching the Ryan O'Reilly offer sheet.
Most Disappointing Flame: Miikka Kiprusoff
While it may be in poor taste to dissect a goaltender's performance who has been limited to just 10 games due to injury; Kiprusoff has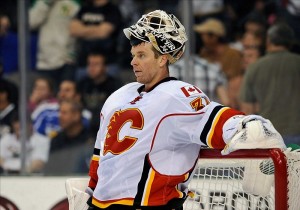 simply been that in the first half for the Flames.  Normally the most consistent performer year in and year out for nearly a decade, Kiprusoff is putting together his worst season ever this year.  Sure, an MCL injury took him out of the lineup for a significant chunk of time but the Flames managed to stay afloat by utilizing Joey MacDonald, Danny Taylor, and Leland Irving to forge a record of 6-5-2 in his absence.
Kiprusoff did garner a respectable 4-1 win in his return against San Jose last week, but proceeded to follow that up by letting in 10 goals over his next two starts on just 46 shots against Anaheim and Los Angeles, earning a save percentage of .783 and a goals against average of 5.56.  Kiprusoff has just 3 wins in 10 appearances this season, as well as possessing a .867 save percentage and a balloon like 3.43 goals against average.  While defensive breakdowns and the odd lucky goal are factors that contribute to Kiprusoff's poor statistics, the fact remains that even if one was to give Kiprusoff the luxury of bad luck the numbers should not be as ugly as they are.
Prone to bad goals and currently in the midst of the worst performance of his career, Kiprusoff is the most disappointing Flame.
Dishonourable Mention: Roman Cervenka, Sven Baertschi, Mark Giordano