Out of sight, out of mind.
That is the approach John Tortorella and his troops have needed to take when it comes to defenseman Michael Sauer. The 25-year-old hasn't played since December 5, 2011, and is expected to miss all of this season with a concussion.
But, even if Sauer's status is on the back burner, the Blueshirts are feeling the effects of not having the bruising blueliner in the lineup.
The Rangers have top defensemen on their roster. Dan Girardi and Marc Staal were NHL all-stars in 2012 and 2011, respectively, while Ryan McDonagh and Michael Del Zotto are emerging as young stars.
[Also: Rangers' Michael Sauer Still Suffering]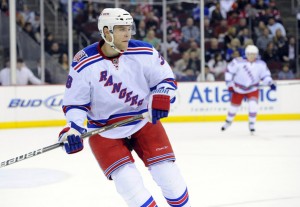 Despite the top-end talent, Tortorella has had to mix and match his defensive units on a nightly basis. Anton Stralman raised his level of play in his own zone this season, and when the Blueshirts were decimated by injuries, his minutes increased.
On the other hand, the Blueshirts have rotated three defensemen as their sixth blueliner throughout the year: Stu Bickel, Steve Eminger, and Matt Gilroy. That's not to mention Roman Hamrlik, who was claimed off waivers on March 6th.
Sauer's presence would balance out the defensive pairs, and allow Tortorella to distribute the minutes more evenly on the blueline.
The Rangers' second-round pick in the 2005 Draft is by no means a flashy player. Rather, Sauer was heralded as a defenseman with size who simply got the job done.
His skill set makes him an ideal partner for a defenseman like Del Zotto, whose forte is his offensive abilities. In Sauer's rookie season in 2010-11, he played most of the season with McDonagh — who was also a rookie — while Staal and Girardi were a formidable top pair.
In addition, Sauer's 6-3, 213 pound frame enabled him to be a physical force in his first two NHL seasons, and that is something the Blueshirts have lacked this season.
Last season — when both Sauer and Staal missed significant time with injuries — the Rangers relied heavily on the defense pair of McDonagh and Girardi to carry the load. As a result of the large amount of ice time the defensemen played, many pundits speculated about the Rangers' level of fatigue down the stretch and in the playoffs.
The 2012-13 season may have fewer games than normal, but the effect of playing them in a condensed schedule is similar to an 82-game season spread across six months. In the first half of the campaign, each of the Rangers' top four defenseman averaged over twenty minutes per night. If anything, that number will increase in the second half of the season, as well as during a potential playoff run.
For now, the Rangers will continue to ride or die with their top backliners. They would have a better chance to make a run if Sauer was patrolling the blueline.
And that hasn't escaped anyone's sight.