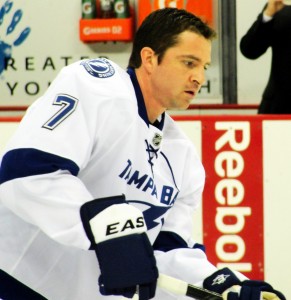 It was announced on Wednesday that the Minnesota Wild had signed veteran defenseman Brett Clark for the rest of the season. The 36 year old brings over 600 games of NHL experience to a blue line that is generally made up of less experienced players. The addition of Clark makes sense on a lot of levels, but it certainly isn't good news for young defensemen Justin Falk and Nate Prosser who are now likely to see their opportunities reduced.
It's hard to argue with this decision from the perspective of General Manager Chuck Fletcher and it is likely to be welcomed by head coach Mike Yeo. Brett Clark may have posted a disappointing -26 in 82 games while with the Tampa Bay Lightning in 2011-12, but he was definitely unfortunate not to receive any contract offers as a free agent this past summer and then once the 2012 NHL lockout ended.
He did eventually join the AHL's Oklahoma City Barons, where he played well and was a key part of that AHL defense posting a +7 and scoring 17 points in 18 games. Brett Clark had clearly shown enough for Fletcher to feel confident investing in the veteran approaching him initially on Monday and completing the deal on Wednesday.
It's pretty clear what Clark will bring to the table in Minnesota. He has played 681 games in the NHL, which is more than any other blue liner. He has decent size, has lost a step, but is still a decent skater, and generally has been a good player in terms of the transition game and making the first pass out of the defensive zone. It's pretty clear that he should be a very serviceable bottom three d-man for Mike Yeo's roster.
The main concern that Minnesota might have had when signing Brett Clark is that last season's performance was a sign of a drop in speed. However, Clark did play on a weak defensive team and reports suggest that he was trying to cope with an injury sustained while blocking a shot mid-season.
Clark is not expected to suit up in Thursday's game against Colorado, but whatever role he eventually takes on, it seems pretty likely that this is bad news for some of Minnesota's young defensemen. Falk, Prosser and even Clayton Stoner to an extent have not made the most of their opportunities so far during the shortened 2013 NHL season.
Despite being ranked seventh in the NHL with their 2.40 GA/G, Yeo's team do have some defensive concerns, and they have particular concerns with regards to the transition game. Transition problems reached an almost comical low on Tuesday night when the Wild struggled to get the puck out of their own for most of the third period.
24-year old Falk may well be under particular threat. The big-bodied defenseman has an exciting skill set and Minnesota might yet miss his physical presence, but he has really struggled to successfully transfer defense to offense and Yeo has punished him with a serious reduction of minutes. Falk saw just 9:59 minutes of ice time in Tuesday's loss against the Anaheim Ducks.
This is a low cost and low risk move from the Minnesota Wild. In the short-term, Brett Clark might provide a bit of an upgrade in terms of experience and a solid skill set, and in the long-term he creates extra healthy competition on a young blue line.