The Detroit Red Wings have undergone their fair share of turbulence this season. Not only did they lose out on Ryan Suter and Zach Parise in free agency last year, but they also had to deal with the retirement of Nicklas Lidstrom and the subsequent defensive issues that came with it.
Despite all of this, they are still in seventh place in the Western Conference (albeit with two more games played than Minnesota and San Jose, eighth and ninth in the standings respectively), and they also finally got their wish and will likely be moving to the Eastern Conference beginning next season thanks to NHL realignment.
With those kinds of ups and downs, Wings fans certainly wouldn't want to hear anything that could drag them down, but according to a report on the website Kukla's Korner today, that might just happen.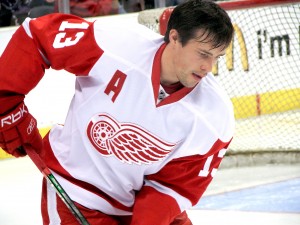 The report, which references a source "close to the organization and entrenched in regional hockey programs," says that Pavel Datsyuk will play one more year for the Wings and retire from the NHL after the conclusion of the 2013-14 season.
The article then makes an interesting reference to another Detroit legend who retired a bit earlier than people had wanted him to. Barry Sanders, running back for the Detroit Lions, retired less than a decade into a stellar career, saying that he wanted to leave the game with his health intact. The source intimates that Datsyuk wants to do the same thing, but he still wants to play hockey in his homeland of Russia. "He wants his home country to see him while he still has some magic left," according to the report.
Odds are there will be a small contingent of Wings fans who will be dissatisfied with this decision, and their concerns are valid. The team will be left without one of the purest playmakers in the game, and coming on the heels of Lidstrom's retirement, it would feel like a painful double whammy if Datsyuk walks away after next season.
The truth of the matter, however, is that Datsyuk is a guy who has always maintained a strong connection to Russia. That seems to be a trend in the NHL, with guys like Alex Ovechkin maintaining that they will play for their home country even if the league says that its players can't participate in the Sochi Olympics next winter.
If he wants to go back to Russia to play in the KHL, then the Wings and their fans should wish him Godspeed. He has been a tremendous asset to the organization, and he has earned the right to walk away whenever he deems fit. Like Sanders, Datsyuk's abilities on the ice sometimes defy attempts to describe them, mixing a tremendous flair for puck-handling with a quick shot that still makes goaltenders look silly on a regular basis.
The era of this post-Steve Yzerman incarnation of the Red Wings is beginning to draw to a close, and Datsyuk's rumored retirement is just one more step in that process. GM Ken Holland is going to have to hope he can catch lightning in a bottle like he did when he selected Datsyuk in the sixth round of the 1998 NHL Entry Draft.
Judging by his past successes of picking transcendent players in the late stages of the draft, it wouldn't be smart to bet against him in that regard, but the real question will be whether free agents will continue to stay away from Detroit like they have for the past few summers. If that's the case, then the current era of greatness in Hockeytown may leave town when Datsyuk does.