For six seasons, I have been one of Danny Briere's biggest supporters.  While others complained about how he was a defensive liability, or how he was too small, there was little doubt in my mind that he had the tools to remain effective in the National Hockey League.
During his tenure in Philadelphia, Briere's regular season numbers have been anything but impressive – certainly not enough to warrant his $6.5 million cap hit.  On the other hand, the 35-year-old center is practically worth his weight in gold during the playoffs, having been among the league leaders in postseason points since leaving the Buffalo Sabres and signing with the Flyers in 2007.  His 30 points en route to the Flyers' 2010 trip to the Stanley Cup Finals will go down as one of the greatest postseason performances in franchise history, but in a city whose motto should be 'what have you done for me lately', that's all in the past.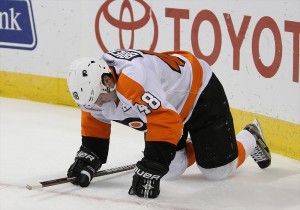 Briere has been a ghost on the ice for most of this season and hasn't been battling any injuries, as far as I'm aware.  When he's not producing offensively, Briere brings little to the table – he can't forecheck, he's not proficient at faceoffs and he can't benefit the penalty kill.  That might be why I've barely heard his name recently.
Going into Wednesday night's game against the New Jersey Devils, Briere had not scored a goal since Feb. 18, when he netted two against the New York Islanders.  In 23 games this season, he's tallied just five goals and eight assists for a Flyers team that has struggled to get to .500 and is currently on the playoff bubble – along with most of the Eastern Conference.
Briere is the highest paid Flyers forward and due to his size – 5-foot-10 – and his age, it's time for the Flyers to bid farewell to an era and focus on the future.  With the trade deadline quickly approaching on April 3, Philadelphia could ship off Briere and get valuable building pieces.  But there's just one little problem with that, Briere has a no-movement clause, allowing him to veto any trade he doesn't approve of – making it that much more difficult to shop him.
Rumors have been swirling lately around Philadelphia and Briere's name has been at the center of the gossip but he's stated in the past that he loves this town and might be hard-pressed to leave.
If playoff hopes continue to slip through the Flyers' fingers, it would be the perfect time to make a move, considering it's unlikely that his value will increase all that much within the final two seasons of his contract.  Plenty of teams could use his playoff ability, though those teams should be warned – Briere has been on the ice for more opposition postseason goals than he's scored as a Flyer.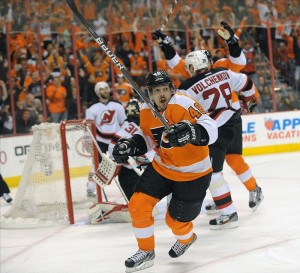 Ridding themselves of Briere would allow the Flyers to spend more money this offseason, in the hopes of finally landing that highly-touted defenseman the team has been searching for.  It would also leave a spot open on the roster and depending on what the Flyers received in a trade, could easily be filled by a member of their young core or by a reasonably priced free agent.  The young core of Philadelphia has the ability to be impressive in the next few seasons – if they can get through the growing pains – and adding a nice compliment to what's already there would be ideal.  Or perhaps there's a young, high-potential defenseman out there that a team would be willing to part with in the hopes that Briere could once again return to postseason form.
I don't believe it's time to for the Flyers to trade away a piece of their future – but rather trade away a piece of their past.  Like Briere or not, sending him packing just seems to be the most logical decision, though what he did for the franchise won't go unforgotten.