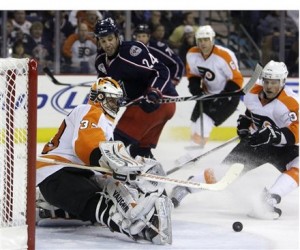 Remember the lockout?
That four month stretch when you swore you'd never spend another dollar on the NHL again?
I didn't mind the break from hockey.  It gave me a chance to appreciate the other sports and aspects of life that normally get ignored from October to May each year.
Take the NBA for example. I won't pretend their regular season product is something worth watching, but it's the closest thing to hockey of the three major sports in the US.
Of course, baseball has been at the forefront of advanced analytics in sports thanks to "Moneyball".  The average MLB front office is now a who's who of Harvard statisticians and Wall Street bankers.  But baseball is nothing like hockey.  It's a game made up of thousands of individual events that can be cleanly tracked and analyzed.
Hockey is inherently more complex. A giveaway leads to a missed shot on an odd-man rush that results in a breakaway the other direction for a goal.
We all focus on the goal.  But we often ignore the 'butterfly effect' of interconnected events that actually led to that goal.
Basketball has similar dynamics.  5-on-5 continuous action that can't be easily analyzed with standard NBA statistics.  At least 20 teams have actually turned to missile-tracking camera technology from SportVU to get a sense for how games unfold:
Their system captures the X/Y coordinates of all the players and refs–along with the X/Y/Z (3-D) coordinates of the ball–25 times every second (or 72,000 times a game). Algorithms take into account all sorts of variables to keep the system accurate, from the lines on the court to the reflections of flashing billboards. Another layer of software at a central server puts this raw data together into something meaningful. Information as specific as player ball touches and dribbles can be calculated within 60 seconds of being spotted by SportVU cams. Stats can generate these values in simple, automated reports.
Massive amounts of data are created by a system like this and even the most advanced teams are only scratching the surface of the technology's potential.  The way basketball is being analyzed today, even by the mainstream media, looks nothing like the Michael Jordan era.
Grantland ran a fascinating piece in December called "The Kobe Assist".  In the column, Kirk Goldsberry tried to trace the origins of the made basket — the 'butterfly effect' that leads to a score which until now has only been noticeable to the basketball-savvy coach or observer.
I define the Kobe Pass as the missed shot that begets an offensive rebound and thus extends an offensive possession. Of course, offensive rebounds are an important statistic on their own, but sole credit for an offensive rebound is traditionally awarded to the player who acquires the rebound. Little else is considered. We conceptualize them as destinations but ignore their origins. Where do offensive rebounds come from?
Goldsberry argues that certain players are actually better at missing than others.  Kobe Bryant (surprise, surpise) is the runaway leader in this advanced stat category.  His timing and placement of misses leads to more points than any other player in the league.
I'm starting to think the Pittsburgh Penguins are Kobe Bryant fans.
The Penguins lead the NHL in scoring this season by a wide margin.  Their 98 goals and 3.63 per game are well ahead of second place Tampa (3.28).  They have four players in the top 17 in scoring and that doesn't include Evgeni Malkin, who has missed a half dozen games with various injuries.
But what if I told you their secret wasn't how well they score, but actually how well they miss?
The Penguins don't call it the 'Kobe Assist'.  They use the acronym POP, which stands for 'pass off the pads'.
Hockey players are taught at a young age to not force a pass through a defensemen, but aim for the goalie's far-side pad so the rebound drops right in front to a teammate who can tap the puck into an open net.
Take this shot by Paul Martin last Saturday against Toronto for example.  Martin has a clear lane to the net, but he isn't Sidney Crosby.  He's doesn't have a clear pass and he's not going to pick a corner on a goalie with no screen in front very often.  Instead, Martin aims for the far pad of goalie James Reimer, knowing that he has two teammates converging on the net for the rebound:
[Note: NHL.com videos do not show on iPad or mobile devices]
The key to the pass off the pad is it's a nightmare for a goalie to control.  If Martin aims for the right side of the net, Reimer simply redirects the puck up into the glass or into the corner.  But aiming for the far pad when Reimer is shuffling the other direction means any rebound will bounce directly into the slot.
I've noticed the Penguins focusing on this in recent years, specifically against certain goalies like Sergei Bobrovsky who have the tendency to kick out juicy rebounds.
This year it seems like a concerted effort.  Night after night the Penguins fire passes off the pad.  Night after night they score on the rebounds.  Color commentator Bob Errey said the team is actually tracking passes off the pads as an internal stat this season.
If they are, Kris Letang might be their Kobe Bryant.
Letang has 24 assists in 24 games this season, more than a handful of which are of the POP variety.  On Sunday against the New York Islanders, he fired a quick shot off the pads of Evgeni Nabokov and right to Chris Kunitz, who tapped it in for his 'Sock Monkey Hat Trick':
Pittsburgh didn't score from a pass off the pads in their 3-2 win against Boston on Tuesday night, but it wasn't for a lack of trying.
Kunitz said the Penguins wanted to use POP's to create opportunities because of how strong the Bruins are in front of their own net.
"We know that their style is back pressure," he said.  "They give you the shots from the outside.  We were looking for passes off the pads and trying to get stuff in the slot but they did a great job of clearing it.  We knew it was going to take a whole bunch of shots to get past these guys and it took 55 minutes to get the first one."
And pass off the pads they did:
Kunitz and Penguins coach Dan Bylsma said they knew Boston goalie Anton Khudobin would give up rebounds.
"They were true to form," Bylsma said of the Bruins.  "They're a tough team to play against and they play well defensively.  [Khudobin] is a guy who we wanted to get some second chance opportunities on.  We wanted to get the puck on the net and try to create the rebound situations around the net."
It's not like the Penguins aren't trying to score on their initial shots, just like basketball players don't miss intentionally to pad their 'Kobe Assist' stats.
A shot aimed just inside the far post, above the pad and below the blocker or glove is a actually a great way to score.  But goalies in today's NHL are too big and too good.  They'll save most initial shots and teams like the Bruins do a great job of clogging the shooting lanes.  Why not aim for a place where even if the shot is saved, the rebound will create a great scoring opportunity?
The Detroit Red Wings and visiting teams have used the lively boards at Joe Louis Arena for years to create misdirected scoring chances.  Instead of shooting directly at the net, the defenseman fires a low shot off the boards that often bounces directly in front of the goal.  'The Lidstrom Assist' we can call it.
There's also a time when the pass off the pad makes sense.
"When your angles get bad and you're maybe trying to get it past that defenseman," said Kunitz.  "Guys like [Zdeno] Chara, [Dennis] Seidenberg, they've got those long sticks.  They can deflect a lot of pucks so it makes it tough.  When you have a bad angle you want to make sure you throw it to the net.  If it's in everybody's feet and nobody can find it, you've got a better chance of picking up those rebounds."
And then of course there are times when the pass off the pads isn't worth it.  Even with two minutes left in a tie game and Sidney Crosby in front, waiting to tap the POP rebound into the net.
Brandon Sutter couldn't have been thinking of a possible pass off the pads. Or was he?
___________________________________________