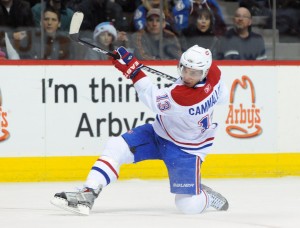 THE STATS LINE
24-22-7 record [20th overall (in points percentage)]
2.34 goals-for per game [27th overall]
2.64 goals-against per game [13th overall]
18.0% power-play success rate [12th overall]
84.0% penalty-kill success rate [9th overall]
45.1% in the face-off circle [30th overall]
THE WEEK THAT WAS
February 3: Calgary took advantage of a Chicago Blackhawks team that's been floundering of late, beating the Hawks 3-1 at the Saddledome.
February 6: After trailing 2-0 after the first period, the Flames roared back in Anaheim to force overtime. Unfortunately, they lost 3-2 after 8 rounds of a shootout. The loss was Calgary's 14th straight in Anaheim, but at least they got a point.
SPECIAL TEAMS IMPROVING
When the Flames acquired Mike Cammalleri from the Montreal Canadiens, one of the justifications for the move was that it would jump-start the team's power-play. In that sense, the move has definitely paid dividends. In 8 games since Cammalleri returned to the Flames, Calgary is 6-for-23 with the extra man. (That's a 26% clip, which would make the Flames tops in the league if extrapolated over an entire season.)
Strangely, though, Cammalleri's arrival has also seemed to pay off for the penalty kill, too. You see, a bunch of Calgary's players spend time on both special teams units. It's entirely possible that the prior frustration from not scoring on the PP bled into the PK, dragging both units down into the doldrums. The arrival of Cammalleri hasn't substantially changed the composition for the units (although ice time has been reallocated to accommodate him), but it has resulted in a pretty big up-tick in the PK's success rate, as well. Calgary has allowed a single power-play marker against in 22 opposition attempts since the trade, a success rate of 95%. At time of this writing, Calgary's PK had not allowed a goal in seven straight games.
Special teams are, in essence, chemistry experiments. Perhaps all it took to turn Calgary's PP and PK around was the addition of a specific ingredient: Mike Cammalleri.
BODIES IN, BODIES OUT
The roster merry-go-round continues in Calgary, as the team continues to go through bodies.
The club re-assigned AHL goalie Joni Ortio to TPS Turku of SM-Liiga following the All-Star Break, making room for Leland Irving to re-join the Abbotsford Heat as Henrik Karlsson came off of the injured reserve after two months on the shelf with a sprained MCL. After a weekend's worth of games in the AHL, Irving was recalled to Calgary as Karlsson was dispatched to the farm for a two week conditioning assignment.
Meanwhile, Lee Stempniak suffered a high ankle sprain in Calgary's January 31 loss to Detroit. He was placed on the injured reserve (with the expectation that he'll be out 4-6 weeks), so the Flames signed AHL stand-out Krys Kolanos to an NHL contract and brought him up.
Kolanos is the 12th player to spend time with both the Flames and the Abbotsford Heat this season. Irving, T.J. Brodie, Joe Piskula, Clay Wilson, Brett Carson, Roman Horak, Raitis Ivanans, Pierre-Luc Letourneau-Leblond, Lance Bouma, Paul Byron and Greg Nemisz have all filled spots in Calgary that were vacated by injured Flames. Irving, Brodie and Bouma remain with the big club.
INJURY UPDATE
G Henrik Karlsson returned to the Flames bench on February 3 after missing two months. He's been sent to Abbotsford for conditioning.
F Curtis Glencross (knee), F David Moss (ankle) and D Derek Smith (ankle) remain out. They're joined by F Lee Stempniak (ankle) on the IR.
At the time of this writing, the Flames have lost 234 man-games to injury – an average of 4.4 players per game missing from their line-up.
DISPATCHES FROM THE FARM
AHL: The Heat went 1-2-0 this week, beating Rochester in overtime and losing to Rochester and the Toronto Marlies. Leland Irving went 1-1-0 over the weekend in his return to the AHL, while Danny Taylor took the other loss for the Baby Flames. The Heat have had troubles scoring of late, but scored 5 goals over the weekend. Unfortunately, they gave up 10 goals over the same span.
WHL: Brandon's Michael Ferland had 3 points in 2 games this week. Edmonton's Laurent Brossoit won both of his starts this week (and posted a stingy 1.50 goals against average). Portland's Sven Baertschi got back into form with 3 goals and 3 assists over 3 games. Meanwhile, blueliners Joey Leach (Kootenay) and Tyler Wotherspoon (Portland) each had 2 points over 3 games.
NCAA: Boston College beat up on Northeastern in the semi-finals of the annual Beanpot tournament on Monday night, winning by a 7-1 score. Freshman (and Flame prospect) Johnny Gaudreau had 2 goals and an assist in the win. The Eagles play Boston University next Monday for the tournament championship. Wisconsin lost both their games this week against St. Cloud State – John Ramage had an assist. Notre Dame split a pair of games with Bowling Green this week – Nick Larson had the game-winning goal in the Fighting Irish's victory.
Europe: Joni Ortio had a great first week back in SM-Liiga, posting a pair of wins and a 0.96 goals against average, including a shut-out in his first game back with TPS Turku.