It would be like trying to flog a dead horse — John Bright
You miss 100% of the shots you never take — Wayne Gretzky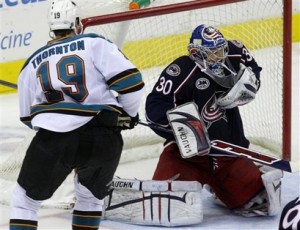 To paraphrase Frasier on Cheers (season 3, "Behind Every Great Man"): I'm being redundant, I'm repeating myself, I'm saying things over and over. This subject as been covered by yours truly not once, not twice, but now, thrice. Time to flog the horse one more time.
Joe Thornton needs to shoot the puck.
On the surface, it seems so elemental. Twenty players per side dress for each game, twelve of whom have a primary responsibility to figure out a way to put a six ounce vulcanized rubber puck into a six foot wide net. It's not legal to kick, throw, or hacky-sack it into the net, so the only feasible way to accomplish the task is by shooting the puck past the goaltender. Sure, unless his name rhymes with Jason or Schmyzgalov, he'll make the save over 90% of the time. However, if a sufficient number of shots are sent toward the net, enough will go in to help win the game (Note: that math does not apply to this season's Los Angeles Kings).
Joe Thornton needs to shoot the puck.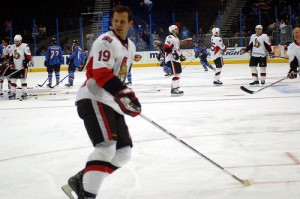 There's no argument that Thornton has been a quintessential puck distributor throughout his career. Good playmaking forwards finish with 35+ assists for a full season — think Patrice Bergeron, Jason Spezza, Ray Whitney, and Mike Richards just last year. Joe Thornton frequently records more than that number before the All Star break. He's had 60 or more assists seven times in his remarkable career, twice topping 90. There may be nobody consistently better at it in the NHL over the same time span.
Joe Thornton needs to shoot the puck.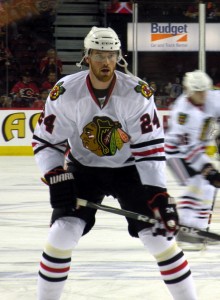 When San Jose General Manager Doug Wilson pulled the trigger on the trades that brought defenseman Brent Burns and winger Martin Havlat to the Silicon Valley, he sacrificed some of the team's strength — its offense — to shore up the defense. The deals served several other purposes: Havlat added speed surrendered when Devon Setoguchi packed his bags for Minnesota, and Burns' rocket shot helped to compensate for the lost offense Dany Heatley provided. It's probable that Wilson figured upon a small overall drop in goals scored, but counted on a significantly improved defense and penalty killing prowess, factors that loom particularly large in the playoffs. For a team on the doorstep of the Finals in each of the last two seasons, perhaps these not-so-insignificant tweaks would put the club over the top. It was an aggressive, calculated gamble.
It is unlikely, however, that Wilson could have anticipated the Sharks' scoring would drop from 4th in the NHL in 2010 to a nearly-pedestrian 11th. In a stretch of games neatly coinciding with Thornton's longest scoring drought of the season (just four goals on 56 shots) in the 35 games between November 10th and January 24th, the club averaged just 2.63 goals per game. The Sharks' record in games when Thornton takes at least three shots? Including Saturday's 5-3 loss to the Phoenix Coyotes, it's an impressive 13-5-1. In games where Jumbo Joe recorded two or fewer, the record is a far more ordinary 16-10-5.
Joe Thornton needs to shoot the puck.
More stats to consider:
Number of games Thornton has recorded 3 or more shots: 19
Number of goals in 3 shot games: 9
Number of goals in remaining 31 games: 2
Total points in 3 shot games: 21
Total points in remaining 30 games: 23
Mark Twain famously opined, "There are three kinds of lies: lies, damned lies, and statistics". Fifty games may not be a statistically-relevant sample size to draw appropriate inferences from. And yet, Thornton has far more goals and a similar number of total points in eleven fewer games. The team has earned, on average, nearly a quarter-point more per game. Assuming extrapolation over a full season were valid (it isn't), that would equate to 19 additional points. Again, it may not be a legitimate projection due to the small sample size, but what is legitimate is this:
Joe Thornton needs to shoot the puck.
Frequently. Aggressively. Even selfishly. The fact of the matter is this: he can be an excellent scorer. In the 19 game sample, his shooting percentage was 15.5%. For the season, it's at 11%. For his career, he stands at 14.7%. Early in his career when he was shooting more frequently, he scored 37 and 36 goals two out of three seasons. He can put the biscuit in the basket. And if you're a Twain apologist and think the numbers are being twisted to fit the theme, maybe you'll believe your own eyes:
Joe Thornton needs to shoot the puck. This year's version of the San Jose Sharks needs him to do it in spades. The team performs better on the ice, Thornton performs better on the ice, and if the Sharks deign to climb that final rung of the ladder and make it to the Stanley Cup finals, you don't have to be a math major to know what it will take:
Joe Thornton needs to shoot the puck.
There. I'm officially redundant, repeating myself, and saying things over and over. Now let's see if Thornton can repeat that one little four-letter word over and over during the game. Not that one, wise guy.