by Jas Faulkner, senior correspondent
"Everything would be fine if the good lord had given guys like me the capability to play hockey until we were sixty-five.  Then we wouldn't have to start life over at forty."    -Bill Gadsby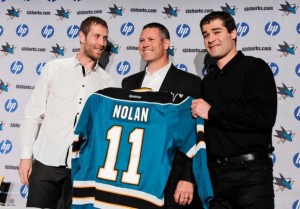 Yesterday's press conference at HP Center was an exercise in time travel by way of testimony and the kind of storytelling that can only come from family by birth, choice, and circumstance.   For NHL veteran Owen Nolan, it was a time to make the announcement that many players dread.  Supported by his friends, colleagues (as though there is a difference between the two), parents, wife and children, he stood before the crowd, his voice choked with emotion as the well-loved power forward announced that he was retiring from the NHL.  For Sharks GM Doug Wilson, it was a chance to restore the organisation's magic number by declaring Nolan had come home.
"To have him retire as a Shark means a lot to us.  To accomplish what he has accomplished in this game is something special: five time All-Star, 1200 games as one of the purest power forwards in the league…There were hundreds of guys who didn't enjoy playing against this guy.  That's a compliment.  He played with so much heart.
"I want to thank the the entire Nolan Family.  It has meant a lot to have him on our side.   He won't be the last Nolan to skate in the building. His son has already committed to join us next year.  We are tremendously proud you're a part of the Sharks family.
Nolan reflected on his decision to hang up his skates, at least for a little while.
"When your body won't do what your heart and mind want it to do, its time to move on."
His family looked on, visibly moved as Nolan cleared his throat and continued with his heartfelt valedictory statement.
"I want to thank all of my friends and family for the support they showed.  I don't think people understand the sacrifices our families make.  I do and I thank you for it.  To all the young guys out there coming up in the league, eighteen seasons and  12oo games may seem like a lot but it goes by awfully fast."
In spite of the emotional beginning, the event was hardly a somber affair.  Nolan was all smiles as former teammate Bryan Marchment participated via telephone about the kind of teammate Nolan was.  His description of Nolan as a brother in arms possessed of a fierce competitive spirit on and off the ice added to the very personal portrait that was painted by friends, coaches and former teammates yesterday afternoon.
Hockey Canada CEO Bob Nicholson was also on hand via telephone to pay tribute to Nolan, who was a part of the 2002 team that played at Salt Lake City in 2002.  "You were there in 2002 and we still wonder why you wanted to go to the dressing room to get that camera. I guess you got the best pictures in the joint."
To that statement, Nolan responded that playing for Team Canada was an honour. "You get to play with the best against the best. When you do that and come out on top…words can't begin to describe it."
Among the many, many facts and figures that were cited about Nolan's impressive career was one that caused everyone, even Nolan himself, to pause and consider the implications for a moment.  Nicholson ended his comments with the reminder he was last active player in the NHL to have worn a Nordiques sweater.
"When you're young, you're just happy to be playing," responded Nolan.  "Quebec was -is- a great place to play.  I have great memories of that time."
Also notable was the presence of so many past and present captains.  Two were in attendance to represent the Calgary Flames, and including Nolan, there were four Sharks captains on hand (Sharks GM Doug Wilson, who was the team's first captain, Patrick Marleau and current SJS leader Joe Thorton.)  Marleau and Thornton presented a Sharks sweater to Nolan.
"This one is slightly different from the one that Owen wore when he played here.  It is the current design.  That's because his connection to us as a part of the Sharks family is ongoing."
When asked if he would be involved with hockey in the future, Nolan, who lives in in San Jose with his family said, "It's tough to give up something you love doing.  I think the time is here, although in truth it  might have been here a while ago.    The fire is still there. It's in my blood.  I love it.  Sometime  I'm going to get back into it, but right now I'm just going to spend time with my family."