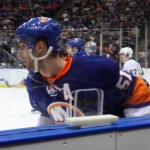 Yesterday it was reported that the New York Islanders had re-signed Danish center Frans Nielsen to a 4-year $11 million contract.  Nielsen, who was set to become a free agent after the season, has 9 goals and 16 assists in 52 games played this season.  Besides centering the team's second line, Nielsen is a valuable penalty killer and often regarded as one of the most underrated players in the NHL today.
The signing may also be an inclination towards the direction Garth Snow is taking this team.  The biggest question marks on the roster the past few weeks have been whether or not the team would re-sign Nielsen and winger P.A. Parenteau who will also become an unrestricted free agent at the end of the season.  By re-signing Nielsen, it appears Snow is dedicated to keeping this core group of young guys together and hopefully will push for a playoff berth this season.  It will be interesting to see how the team moves forward with Parenteau and getting him under contract.  Parenteau is sitting 5th in the NHL in assists and is a huge part of this team's offensive production.
Upon learning he would be making $2.75 million next season, Nielsen decided to prove his worth by winning yet another shootout for the Isles last night.  Deadlocked in a 0-0 tie with the Flyers (thanks in part to Evgeni Nabokov's 45 saves), the Islanders took to a shootout to pick up a big 2 points.  Nielsen was the first shooter to take the ice and everyone watching the game knew exactly what he was going to do.  Skating in on Flyers goalie Ilya Bryzgalov, Nielsen went to his patented fake forehand, backhand shelf move.  It's like clockwork.  And sure enough, Nielsen dented the twine with ease in which was ultimately the game deciding goal in the shootout.  Nielsen plays a great all-around game as the Islanders second line center, but his most valuable asset to the team might just be his skills in the shootout.  Sitting on my couch I could tell you exactly what move he would do, and the fact that goalies still cannot stop it is truly amazing.  Congratulations to Frans for his new contract and a big thanks for helping the Islanders steal 2 points from the Flyers last night!