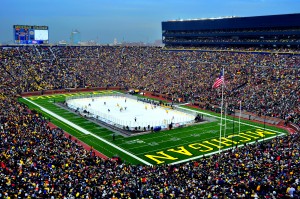 According to many sources and outlets, the NHL will make official Thursday what most hockey fans already know. That is, the site and teams of the 2013 Winter Classic.
For the few that may not have heard all the speculation, next year's Winter Classic will be contested between the Detroit Red Wings and the Toronto Maple Leafs. Detroit will be the home team and the game will be played at Michigan Stadium in Ann Arbor dubbed "The Big House."
With a seating capacity of nearly 110,000, expect NHL single game attendance records to be smashed.
Hockey has been played in Michigan Stadium, home of The University of Michigan football, prior to the NHL's signature event. Back in December 2010, rivals Michigan State and The University of Michigan played a game dubbed "The Big Chill". The game had a certified attendance of 104,173, a world-wide hockey attendance record that still stands today.
Can next year's Winer Classic break that record? The NHL surely will try. Having Toronto participating will mean there will be no shortage of Canadian fans willing to buy tickets and cross the border to attend. From Toronto to Ann Arbor is only about a five-hour drive.
The previous hockey attendance record was 77,803 fans from the 2010 IIHF World Championship's opening game at Veltins-Arena in Germany.
The biggest attendance for a Winter Classic so far was the inaugural game back in January 2008 between the Pittsburgh Penguins and Buffalo Sabres held in Ralph Wilson Stadium and had an attendance of 71,217.
Having the Maple Leafs in the mix will also quiet many north of the border who have been questioning the lack of Canadian teams in the league's premier event after the Stanley Cup Finals.
The announcement will also mark the Red Wing's second trip to the Winter Classic, but this time as the home team. Detroit played the role of visitor to the Chicago Blackhawks back in January 2009 when the game was played in the historic Wrigley Field.
Detroit hosting also keeps with the tradition of a team participating as the visitor before they are asked to host the event their second time around. The Penguins (2008) and Philadelphia Flyers (2010) were two other teams that played visitor before being asked to host the event.
The Washington Capitals (2011) and New York Rangers (2012) are past visiting teams that are expected to host Winter Classics in 2014 and 2015 respectively. Who they will face-off against is still unknown. The supposed 2015 Winter Classic in New York is being speculated as having Yankee Stadium as the venue.
So far, no NHL team has participated in the event more than twice.