With the fantasy playoffs less than 6 weeks away, owners should be stocking up on talent for the stretch-run. In the second installment of The Fantasy Hockey Panel, Monica McAlister, Fred Poulin, Peter Harling, and myself, Anatoliy Metter, will explore some fantasy options that could be of use to owners looking to gain an extra edge in their league in time for the playoffs.
Here are some questions & answers for fantasy owners to consider: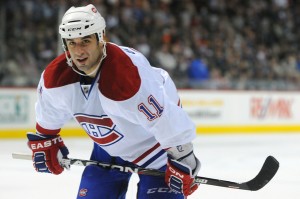 Which widely owned underperforming forward could have the best chance to help fantasy owners in the final months?
Monica McAlister: If you have to go with underperforming you have to go with the Montreal Canadiens Scott Gomez. With no goals and only seven assists, Gomez is a -3 with 8 PIM – He just has to improve in the second half… he just has to…

Fred Poulin: Martin St-Louis. Always a great 2nd half-performer, St-Louis has notched 6 goals and 10 assists in his last 9 games only! He has been a steady point-producer, recording at least a point in each of those 9 games.

Peter Harling: In the last two seasons Chris Stewart has produced 28 goals. But with only 10 goals to date he is only currently on pace for 16. Trade rumors are beginning to surround Stewart and as seen in Anaheim earlier this season, trade speculation has a tendency to ignite players who are slumping. If the rumors don't give Stewart a kick start, perhaps a fresh start with a new team will.
Anatoliy Metter: I'll have to go with Eric Staal. His point production in 2012 has been abundant (13 pts. in 12 games) to say the least and he is one of the lone bright spots on a lowly Carolina squad. Look for Staal to have a strong finish to the 2011-2012 season and insert him into your lineups.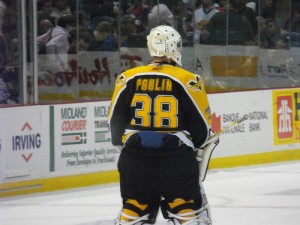 Which goalie (Markstrom, Hackett, Holtby, Campbell, K. Poulin, Irving, Bishop, Enroth)will have the biggest and fastest fantasy impact in the future?
Monica McAlister: Snagging Matt Hackett on this one. The former Plymouth Whaler (OHL) goalie chosen by the Minnesota Wild 77th overall in the 2009 NHL Entry Draft is now 21 and playing for the Houston Aeros (AHL).
Hackett made his NHL debut this season back in December when he was called up after Niklas Backstrom was injured.  Hackett was tossed into his first game when Josh Harding was injured just over a minute into a game in San Jose. Hackett backstopped the Wild to a 2-1 win; and the 1 goal against actually came against Harding.
Playing in three NHL games this season Hackett posted a 2-0-0 record (goalie math is amazing) with a save percentage of 0.977% and a GAA of .85 having only allowed two goals.
In the 29 games played in the AHL this season Hackett has a 2.42 GAA going 15-9-4 with a 0.918 save percentage.
Fred Poulin: I would say Kevin Poulin as the goaltending situation in Long Island is a mess. With DiPietro likely to announce his retirement this summer after another groin injury and Nabokov gone for good before the trade deadline or in the summer, look for Poulin to battle Al Montoya for the starting gig next season.

Peter Harling:  This question came down to Jacob Markstrom and Jonas Enroth for me. The decision went to Markstrom with the deciding factor being opportunity. Markstrom is the heir apparent in Florida as he is set to inherit the starting mantle with little resistance while Enroth will have to compete with Ryan Miller. Unless there are some roster changes in the future, my money is on Markstrom here.
Anatoliy Metter: I'm going with Jacob Markstrom on this one. Even though the Florida Panther's goalie has undergone surgery recently, he is the goalie of the future in Florida. In a small sample size, Markstrom has shown that he is capable of handling the starting duties for the big cats as he posted a .923 Save Percentage and a 2.66 GAA in his 7 games played. Jose Theodore won't be a long-term solution in Florida and neither will Scott Clemmensen, so owners should look forward to drafting and relying on Markstrom in the near future.
Which 2011-2012 rookie will have the biggest impact on fantasy lineups for the remainder of the fantasy season?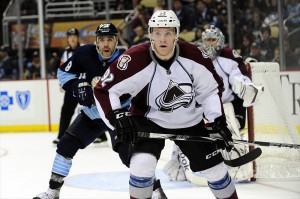 Monica McAlister: By far New York Rangers Carl Hagelin has the market on this. Leading this season rookies in plus/minus he has racked up 19 points in his first 32 games in the NHL. Hagelin is just more proof that the college hockey route over juniors still produces productive NHL players.

Fred Poulin: Named the NHL rookie of month in January, Cody Hodgson finished the month with 10 points (6 g and 4 a) in 11 games with the Canucks. Currently playing on Vancouver's third line, Hodgson has seen his ice-time increase on the power play. As a result, his offensive numbers have improved and there is no reason to believe he will slow down. He currently has 14 goals and 16 assists for 30 points in 52 games. He also has a +7 rating.
Peter Harling: Gabriel Landeskog who was selected second overall in the 2011 draft has quietly produced 11 goals, and 16 assists for 27 points in 54 games. With Peter Mueller back and Matt Duchene a few weeks away from returning from a knee injury, look for the Av's to come on strong.
Anatoliy Metter: I believe that Carl Hagelin will continue to keep up the pace at which he has been playing and will have the biggest fantasy impact out of this year's NHL rookies. Hagelin currently ranks first among NHL rookies in the +/- category at +15 and has 19 points in only 32 games played. In his last 5 games, Hagelin has recorded 5 points (all assists) with a +3 rating. Hagelin is a confident rookie who can contribute to any NHL lineup and will be a key figure for the New York Rangers as they try to remain tops in the Eastern Conference.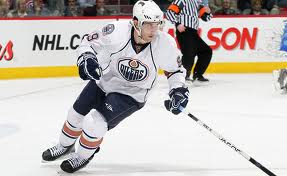 Is Sam Gagner worth an add or is his recent point streak something to watch from afar?
Monica McAlister: Going streaking with Sam Gagner… Coming off the All Star break he has been on the up swing tying league records and demolishing playoff bound teams. The 22 year old gave those that own him a great night in Feb 2nd when he tied Wayne Gretzky's point record with eight in a game. Since then he has played in two more games that have a total of four points. Still higher than his two games before his eight point night with one point between the two games. Needless to say he is bringing it home more than he was but probably not going to turn into Claude Giroux over night.
Fred Poulin: Once Ryan Nugent-Hopkins is 100% healthy and Gagner lays a few goose eggs, look for RNH to take back his spot on the Oilers' first line with Taylor Hall and Jordan Eberle. When that happens, Gagner's production will plummet and he will return to his usual 45-point pace. Gagner is the ultimate flash in the pan player.

Peter Harling: Gagner took advantage of the injury to Nugent-Hopkins in a big way. So much so that even though Nugent-Hopkins returned, Gagner maintained his spot on the top line with Hall and Eberle. RNH re-injured himself in Toronto so look for Gagner to continue centering the first line, making him a worthy pick up for the stretch run.
Anatoliy Metter: Gagner is the epitome of a streaky player, so it is very hard for me to confidently recommend adding the C/RW for the stretch-run. Gagner has never gotten to the 50 point mark in his NHL career and it seems as though the forward has the best shot to finally eclipse his career high point total of 49 during the 2011-2012 NHL season. However, streaky players tend to do what they do best, go on streaks. Gagner is enjoying a healthy scoring streak right now and is sparsely owned, something that might make him appealing to fantasy owners. Owners in deeper leagues should give Gagner a look, but those in 12-14 team leagues should keep the forward on the watch-list.