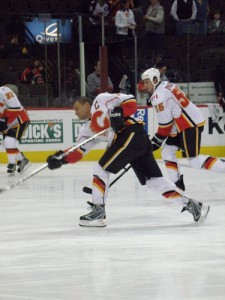 THE STATS LINE
6-7-1 record [23rd overall (in points percentage]
2.15 goals-for per game [28th overall]
2.50 goals-against per game [11th overall]
15.4% power-play success rate [19th overall]
81.2% penalty-kill success rate [19th overall]
THE WEEK THAT WAS
November 1: The Flames lose to Vancouver 5-1 at home. Arguably the worst 60 minutes the team has played since Jay Feaster took over as general manager in late December.
November 3: The Flames bounce back, beating Detroit 4-1 at Joe Louis Arena. Jarome Iginla awakes from his early-season slumber, scoring twice and setting up Olli Jokinen's empty-net goal. Arguably the best 60 minutes the team has played this season.
November 4: The Flames lose to Buffalo 2-1 in Buffalo. Perhaps due to travel and back-to-back games, the Flames come out flat and get steamrolled by the Sabres. Calgary gives up 44 shots, but the heroic goaltending of Henrik Karlsson (and 42 saves by the back-up) isn't enough for the Flames to salvage any points.
November 6: The Flames beat Colorado 2-1 at the Pepsi Center. Calgary gives up a goal 34 seconds into the game, but never let it get away from them and end up scoring twice to pick up the win. The Flames give up 33 shots, but their special teams perform well.
November 8: The Flames lose to Minnesota 3-0 at home. Despite out-shooting Minnesota 41-26 and spending just under EIGHTEEN FULL MINUTES on the power-play, the Flames cannot solve Nicklas Backstrom. After the game, coach Brent Sutter says he is embarrassed to be talking about the performance of the power-play.
TWO OUTTA THREE AIN'T BAD

While the Flames are definitely smarting after the drubbing at the hands of the Vancouver Canucks that kicked off November, they are finding more in-game consistency. Nowhere was this more apparent that the three-game road trip that immediately followed the Vancouver game.
"There's so much parity in the league these days that if you're not gonna play a full sixty minutes, you're not gonna win any hockey games," said defenseman Derek Smith. "So it's one of our goals, coming in every night, that to get the win you've got to play a full sixty and if it takes more than that, you've got to be willing to play that. The first few games, we were playing thirty or forty minutes and it's just not good enough at this level, and it's one of the things we've taken pride in over the past week and a half to try to put a full game together."
Prior to Tuesday night's game against the Minnesota Wild, Flames veteran Olli Jokinen reflected on the team's recent road trip and the need for consistency.
"There's a certain way we have to play to win in this league and we were able to do that last game [against Buffalo]," said Jokinen. "The biggest thing for us is to put five, six, seven, eight, nine games like that in a row and try to bring that effort every night. If you don't do that, it's going to be a long night and it's going to be tough to win in this league."
SCRATCH PARADE CONTINUES
The rotation of players in and out of the press box continues for the Calgary Flames, as the team continues to carry 23 players on its active roster. During the past week several Flames – including blueliner Derek Smith – made their way to the press box. Smith noted that the Flames coaching staff has been very proactive with providing feedback to players on their game and practice performance in an effort to keep players from getting scratched too often.
"It's a long season, there's a lot of practices in it," said Smith. "And it's one of those things that if you're not getting better in practices, you're probably not gonna get better in games. It's obviously tough, in and out of the line-up, but when you get the chance to play you gotta make the most of it and show you belong in the line-up the next night."
BACKLUND IS (ALMOST) BACK, BABCHUK IS OUT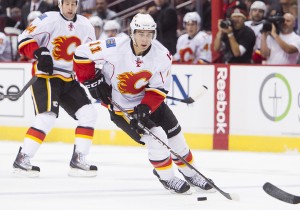 A new face on the ice during Flames practice this week was, in actuality, an old one. Forward Mikael Backlund, sidelined since the end of training camp with a broken finger, is reportedly just about to return to the line-up.
"I'm day-to-day so far," shared Backlund after Tuesday's game-day skate. "They want me to get some practices first and then we'll see. It's up to the coaches but when they feel they want to get back playing and feel I'm ready, I'll get back in."
While the Flames prepare to make roster moves to make room for Backlund, they made some other moves this week as defenseman Anton Babchuk was placed on the injured reserve and rookie blueliner T.J. Brodie was recalled from Abbotsford of the American Hockey League. Like Babchuk, Brodie possesses a strong shot and is an offensive threat. A fourth round choice of the Flames in the 2008 entry draft, Brodie played 3 games for the Flames last season as an injury replacement.
DISPATCHES FROM THE FARM
AHL: Former first rounder Greg Nemisz and veteran Ben Walter sit atop Abbotsford team scoring with 11 points in 12 games. Goalie Leland Irving boasts a 7-4-0 record and a 2.13 goals against average. Defenseman John Negrin has been recalled from ECHL Utah to replace T.J. Brodie, who has been called up to Calgary.
WHL: While Tri-City forward Patrick Holland (16 points in 17 games) remains firmly on Hockey Canada's radar for a roster spot for the World Juniors following his attendance at summer development camp in Calgary, two other Flame prospects are trying to nudge their way in. Brandon's Michael Ferland and Kootenay's Max Reinhart sit among the WHL's scoring leaders. Ferland has 31 points in 19 games, while Reinhart has 19 points in 16 games. Meanwhile, Portland's Sven Baertschi returned from a hip injury this week. He's scored seven points (1 goal, 6 assists) in three games since returning.
NCAA: Boston College lost their first conference game of year this past weekend against Massachusetts. The Eagles are 8-2-0 overall, 6-1-0 in conference play. Forward Bill Arnold has 14 points in 10 games for BC, second in the conference (behind teammate Chris Kreider, a Rangers prospect).