Did you work late last night? Did your significant other make you run errands while the game was on? Did your dog chew off your TV cable wires?
Have no fear – THW's Monica McAlister has your back, covering everything in the hockey world from From Abdelkader to Zuccarello every morning. Check in daily to quickly get up to speed on all things hockey – recaps, storylines, videos and great links.
While You Were Sleeping
New York Rangers 3 Ottawa Senators 2
Click-Click-Click the Rangers line of Marian Gaborik, Derek Stepan and Artem Anisimov is doing just that. The line collected all seven points earned by the Rangers last night in Ottawa.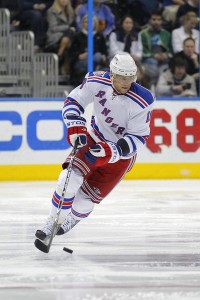 After a scoreless first period it would be the Senators with the opening goal as Milan Michalek out a wrist shot past Henrik Lundquvist; and just like that Surprise! Milan Michalek is in the goal scoring race.
Less than a minute later Marian Gaborik would put a wrist shot past Craig Anderson off of a feed from Derek Stepan to tie the game at one. Just over two minutes later Derek Stepan would net his own goal as he went backhand and Artem Anisimov notched an assist.
With the Rangers now up 2-1 just over halfway through the game the second fight in the game would break out (a fight between Zenon Konopka and Seam Avery was called just 2:50 into the first period) between Rangers Andre Deveaux and Senators Jared Cowen.
Marian Gaborik would score again 8:30 into the third period with assist going to both Stephan and Anisimov to make it 3-1 over the home team in Ottawa.
Senators Nick Foligno would put a wrist shot past Lundquvist to bring the game within a goal; but Ottawa was unable to tie the game to force overtime as the Rangers win their fifth in a row.
Three Stars:
Marian Gaborik (NYR) 2 goals, 5 shots on goal
Derek Stepan (NYR) 1 goal, 3 points
Milan Michalek (OTT) 1 goal, 5 shots on goal
Philadelphia Flyers 1 Tampa Bay Lightning 2 (OT)
It took extra time to decide a winner between the Flyers and the Lightning; however, with only 15 shots on goal is it more surprising that the Flyers lost or that they still managed a goal?
After a scoreless first period it would be a power play goal for Philadelhia's Scott Hartnell as he tipped-in a shot from Jakub Voracek after Tampa's Pavel Kubina was called for tripping.
The Lightning would then see back-to-back penalties to Flyers captain Chris Pronger giving them four minutes nearly straight of power play time; yet were unable to take advantage.
Just over three minutes into the third period a fight broke out between Philadelphia's Braydon Coburn and Tampa's Steve Downie that would spark some Lightning presence. Shortly after the fight Marc-Andre Bergeron would put a slapshot past Ilya Bryzgalov to tie the game after Flyers Voracek was called for tripping.
Tied with one power play goal apiece the teams headed into over time where Lightning would strike as Brett Connolly would net a wrist shot at the halfway point.
Three Stars:
Brett Connolly (TBL) 1 goal, 1 shot on goal
Dwayne Roloson (TBL) Save Percentage 0.933
Martin St. Louis (TBL) 4 shots on goal
Nashville Predators 4 Anaheim Ducks 2
In contrast the Flyers 15 shots on goal the Ducks put 33 shots on Pekka Rinne last night and only managed to squeak two past the giant net minding Finn.
Predators would strike first as Craig Smith would put a wrist shot past Ducks Jonas Hiller just 1:20 after the opening puck drop. Within seconds Andrew Gordon would take a boarding call for Anaheim to give Nashville the momentum; though the Predators did not score on the power play short after it expired Colin Wilson made it 2-0 for the visiting team.
It would take until the final minute of the first for the home team to make an appearance on the score board as Devante Smith-Pelly scored his first of the season as he tipped-in a shot from Cam Fowler past Rinne.
With Nashville up 2-1 to start the second period it would look good for Anaheim's scoring chances as Jordin Tootoo was called for hi-sticking early. The Ducks ewre unable to capitalize on the man advantage just as the Predators would be shortly when Bobby Ryan was called for hooking.
It would be a hooking penalty to Predators Craig Smith that would lead to the next goal as Predators Matrin Erat would score a short-handed-penalty-shot goal.
Predators now up 3-1 over the home team it would be Francois Beauchemin with a tip-in goal to bring the game back within a goal before heading off for the second intermission.
It would take only 1:36 into the third period for Craig Smith to give the Predators a two goal lead as he put a slapshot past Hiller.
Three Stars
Marin Erat (NSH) 1 goal, 5 shots on goal
Craig Smith (NSH) 2 goals, 3 points, 6 shots on goal
Francois Bachman (ANA) 1 goal, 2 shots on goal
Up into the Netting
Quick and Dirty Thoughts on the Lightning/Flyers "Stallgate" from last nights nationally televised game.
The Columbus Blue Jackets acquired Mark Letestu from the Pittsburgh Penguins and now Jeff Carter returns from injury. Will they be enough to turn around the Blue Jackets? They had not won a game until they got James Wisniewski back from suspension so who knows.
It isn't unusual for athletes to make public service announcements; now you can add NHL star Anze Kopitar to that list as Greg Wyshynski has a look at Kopitar's PSA out in Los Angeles.
From the desk of Risto Pakarinen: Hockey Hall of Fame Treasures
Time is running out on your chance to get a hold of an autographed Miller jersey for a buck .
Out of the hockey world but still within the sporting world and our society THW's own Jas Faulkner takes a look at The Penn State Child Sexual Abuse Scandal and Sports Morality.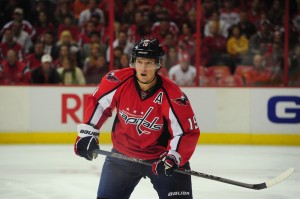 Top Spots:
Points: Phil Kessel – Toronto (22)
Goals: Phil Kessel – Toronto (11)
Assist: Nicklas Backstrom – Washington (14)
Plus-Minus: Loui Eriksson – Dallas (11)
GAA: Nikolai Khabibulin – Edmonton (0.98)
Save Percentage: Josh Harding – Minnesota (0.965)
Wins: Kari Lehtonen – Dallas (11)
Shutouts: Pekka Rinne – Nashville (3)
Northwest: Edmonton Oilers
Pacific: Dallas Stars
Central: Chicago Blackhawks
Atlantic: Pittsburgh Penguins
Northeast: Toronto Maple Leafs
Southeast: Washington Capitals
Face-Off
7:00 p.m. EST
Edmonton Oilers at Boston Bruins
Chicago Blackhawks at Columbus Blue Jackets
8:00 p.m. EST
Toronto Maple Leafs at St. Louis Blues
8:30 p.m. EST
Florida Panthers at Winnipeg Jets
9:00 p.m. EST
New York Islanders at Colorado Avalanche
Montreal Canadiens at Phoenix Coyotes
10:30 p.m. EST
Vancouver Canucks at Los Angeles Kings
Minnesota Wild at San Jose Sharks
Love for Lokomotiv