COLUMBUS,Ohio- Yesterday the Columbus Jackets acquired center Mark Letestu from the Pittsburgh Penguins in exchange for a 4th round pick in the 2012 NHL entry draft. It was announced by Executive Vice President of Hockey Operations and General Manager Scott Howson.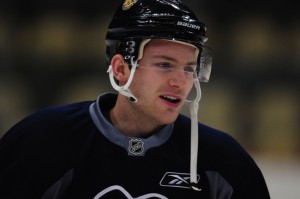 Letestu, 26, played in 85 NHL regular season games all with the Pittsburgh Penguins, registering 15 goals and 29 points. In seven career post season games, Letestu contributed one assist.
Originally signed by the Pittsburgh Penguins in 2007, the Elk Point, Alberta native played one year with the Western Michigan Broncos of the CCHA in 2006-07, posting 24 goals and 22 assists in 37 games.
Eventually winding up in Wilkes Barre/Scranton with Pittsburgh's top affiliate from 2007-2010, Letestu dressed 191 games, compiling 51 goals, 83 helpers and a plus minus rating of +30.
The 5'11" center will make the transition from the top of the league to the very bottom, but welcomes the change that may impact his NHL career in a positive.
"The way Pittsburgh's depth chart is, especially down the middle with guys injured coming back, space had to be made somewhere. I am excited that it was me. I am coming to a place where I feel like I am going to step into a role and play a lot more then I did. I am happy for the opportunity and great-ful for my time in Pittsburgh", Letestu said this morning after joining the Blue Jackets in Columbus.
Letestu, joining his 2nd NHL club, will be relied upon immediately for the leadership and on-ice responsibilities he brings from Pittsburgh.
"He's a capable guy that has been playing behinf some pretty good talent in Pittsburgh," Head Coach Scott Scott Arniel said this morning. That's experience we need. He's not very old but he is a guy that's played in a good organization that does things the right way. We are really excited to get him and to not give up a piece, that's a real good acquisition".
As for the trip from the top of the Eastern Conference to the bottom in the West for Letestu?
"It doesn't deter me from the challenge ahead," Letestu said. I've played on teams in this situation, and I'm here to be a part of the solution, not the problem. Come in with a good attitude and hopefully we can string together some wins and get this team out of the basement".
In other moves for the Columbus Blue Jackets, the team has announced that goaltender Mark Dekanich has been activated from injured reserve and assigned to the Springfield Falcons of the American Hockey League. Right Wing Cam Atkinson will join him in Springfield as well.
Follow me on Twitter @ DarrenCoslov
Darren is the Washington Capitals correspondent. He spent the 2010-11 season covering the Atlanta Thrashers and the 2011-12 season covering the Columbus Blue Jackets. Feel free to contact him @ DKoz256@yahoo.com. You can also follow him on Twitter. DarrenCoslov