A few weeks ago, I wrote that opportunity was knocking for Devils rookie center Adam Henrique. First line center Travis Zajac was already sidelined with a torn Achilles tendon, and second line center Jacob Josefson had just broken his clavicle, leaving the Devils with little option other than recalling Henrique from the AHL and plugging him into the lineup.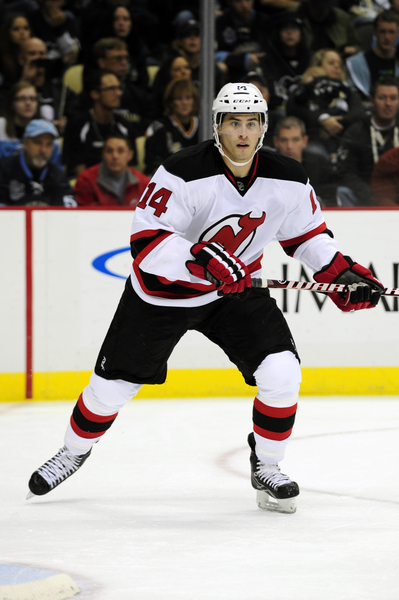 Since being recalled, Henrique hasn't just answered that knock, he's thrown the door wide open and invited Mr. Opportunity in for a sit down meal. While centering various lines, the rookie has shown that he can be an effective passer and  fore checker, giving players like David Clarkson scoring chances. Apparently not content to simply be a playmaker, he's also proven he can score goals himself of late. While playing on the first line with Clarkson and Zach Parise Tuesday night against Carolina, Henrique scored his second consecutive game winning goal, a silky smooth wraparound in the third period on Cam Ward. He's now registered four goals in the Devils last three games, and recorded a plus four rating during that same stretch.
All this has been a pleasant surprise for head coach Pete DeBoer and the injury-riddled Devils, who were without sniper Ilya Kovalchuk for the second consecutive game against the Hurricanes. In the post game press conference after the win Tuesday night, DeBoer explained why he has been so impressed with the 21 year-old Henrique's demeanor:
"He has a unique composure. It's almost like an Elias-like composure, where the game is moving around him, but it doesn't rattle him. It's a great quality to have."
Comparing the youngster to Patrik Elias, a long time Devil with multiple organizational records and a number likely to hang in the Prudential Center rafters one day, may seem extreme until you consider that Henrique is running a close second to Elias in several statistical categories this season. Henrique was also the first Devils rookie since Elias in 1997 to record two game winning goals in two consecutive games.
Adam Henrique's number isn't going to be retired just yet. But, if his current level of play is an indication of how his career will progress, it will be someday.