THE STATS LINE
4-4-1 record [26th overall]
2.44 goals-for per game [21st overall]
2.56 goals-against per game [13th overall]
16.1% power-play success rate [18th overall]
84.4% penalty-kill success rate [16th overall]
THE WEEK THAT WAS
The last seven days have seen the Calgary Flames hit the ice twice as they continue their season-high six game home-stand.
The week kicked off with a meeting with the red-hot Colorado Avalanche, who came into the contest undefeated away from home. The Flames came out swinging, out-shooting the Avs 21-5 in the first period. The effort paid off, with rookie Roman Horak notching his first career goal in response to a Colorado power-play marker by Kyle Quincey just three minutes prior. Horak and veteran forward Rene Bourque were the story of the game for Calgary, with Horak adding an assist on Lee Stempniak's go-ahead goal in the second period and Bourque adding two goals of his own (one into an empty net) as the Flames skated to a 4-2 win. Despite the strong results on the score-sheet, the Flames did not dominate the Avalanche, with the home squad sitting back on their heels a bit in the third as Colorado volleyed 20 shots at Miikka Kiprusoff. But Kiprusoff remained very sharp and the Flames came away with two points.
The other match-up for Calgary was a return engagement with the St. Louis Blues, who handed Calgary a 5-2 road loss in arguably the Flames' worst on-ice effort this season back on October 10. Once again, Roman Horak was a pivotal part of Calgary's success – assisting on a Tom Kostopoulos goal to open the scoring and adding his own goal to put the Flames up in the second period en route to a 3-1 win. The Flames were out-shot by the Blues throughout the game, but particularly in the third period, where St. Louis led 12-7 in shots. Once again, Miikka Kiprusoff was very sharp.
At the time of this writing, the Flames were preparing for their first meeting of the season with the Vancouver Canucks to finish off their home-stand.
HORAK CONTINUES TO IMPRESS
The big story of the week was the continued positive presence of rookie Roman Horak. Through seven games in Calgary's line-up, Horak has two goals and three assists – including the game-winning goal against the Blues. Flames head coach Brent Sutter seemed very pleased with what Horak has brought to the club.
"Well, we're certainly happy about it," said Sutter. "Again, to be able to instill some youth in our line-up that can play and have quality minutes, it's huge for us. Believe it or not, it's very useful for our veteran players, too, because they can feed off that. He's been rock-solid since day one."
Horak mentioned that he spoke to his family after he scored his first NHL goal against Colorado. When asked if he has any plans for the puck, he said that the team still has it and he'll likely find a special place for it once he receives it.
IGINLA TRYING TO FIND A GROOVE
While Roman Horak continues to impress, one player that hasn't had the kind of October he would like is Flames captain Jarome Iginla. Through nine games for Calgary, the team's lone rookie is actually out-scoring Iginla and holds a fairly large lead over him in plus-minus (-3 for Iginla, +3 for Horak). Iginla shared his thoughts on Calgary's first month of ups and downs prior to the team's first game of November against the Vancouver Canucks.
"October, the last few or whatever, haven't been as good," said Iginla. "But coming out of it, as a team we've been playing better and feeling better, so it was kind of a nice end to October and we hope to keep that going."
When asked whether back spasms, which kept him off the ice for much of training camp and out of the line-up for the entire pre-season, had contributed to his slow start, Iginla downplayed their significance.
"After the first few games, it really wasn't an issue," said Iginla. "My back really hasn't been an issue, thankfully, and it feels as good as it felt at the end of last year."
Considered by some to be a slow starter most years – last October saw him with only two goals and seven points in 11 games as the team went 6-5-0 – Iginla began to hit his stride last season at roughly the same time the Flames began to make up ground in the Western Conference standings. Iginla shared his thoughts on how he finds his game as the season wears on.
"I probably feel like my play gets better as the season goes on," said Iginla. "I'd love it if it was from day one, and I've love to be consistent all the time and score every game. Unfortunately, that's not the case and I just gotta keep working and working through it and trying to help the team. As a team, we have work to do to keep climbing int he standings and keep getting better and, personally, I do, too."
MORRISON BACK IN THE SADDLE
Centre Brendan Morrison returned to the Flames line-up this week and while his impact hasn't been felt in a major way on the score-sheet, he has made a big difference in the face-off dot. Since Morrison's return, the Flames have gone 3-1-1 and Morrison has emerged as the team's face-off ace, boasting a 61.4% success rate. However, Morrison stated that he hopes to contribute more to the team's success, particularly in his role as the centre for Jarome Iginla and Alex Tanguay.
"I'm not quite where I want to be," said Morrison. "Obviously, my production hasn't been there at all yet. As a line, we haven't been very good…the last couple games here, but the positive is we've found ways to win a couple games and it's bought us some time to get going. We understand that we got to produce here if we want to win consistently and that's what we've been trying to do."
THE SCRATCH PARADE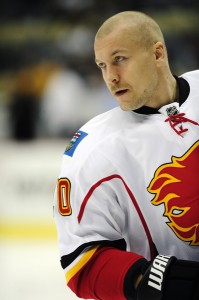 Following last season's disappointing finish, Flames management kicked off training camp with an announcement of a "meritocracy," with general manager Jay Feaster explaining that the players that would play would be those that deserved to play. As a result, many have been watching the Flames rosters with great interest – not as much to see who is playing, as to see who is scratched.
Seven separate Flames have been healthy scratches so far this season (excluding suspensions and injuries): forward Pierre-Luc Letourneau-Leblond (seven times), defenseman Anton Babchuk (five times), defenseman Derek Smith (twice), forward Roman Horak (twice), forward Niklas Hagman (twice), forward Matt Stajan (twice) and forward Tom Kostopoulos (once).
At least through the first nine games, it appears that the Flames are walking the walk, as well as talking the talk. For instance, during this week's game against St. Louis, the team sat over $7 million of salary in the press box (between Hagman, Stajan and Letourneau-Leblond).
DISPATCHES FROM THE FARM
Former Flames prospect (and Calgary native) Krys Kolanos, with the Abbotsford Heat on a professional try-out, was named the AHL's Player of the Week. Kolanos had seven points through two games for the Heat. Kolanos was last in the Flames organization in 2007-08, when he attended main camp but was assigned to Quad City, where he scored 63 points in 65 games.
Through the first month of AHL play, goaltender Leland Irving has six wins (leading the league), one shutout (tied for the lead), 469 minutes played (third in the league) and a 2.05 goals against average (seventh in the league). Irving also threw down in a goalie fight with Grand Rapids Griffins netminder Joey MacDonald. Irving was the busiest goalie in the AHL last season and seems primed to continue that trend.
Flames prospect Bill Arnold sits atop Hockey East's scoring list with 12 points over eight games. The Eagles themselves sit atop the conference, boasting a 7-1-0 record overall and a perfect 5-0-0 record in conference play. Freshman Johnny Gaudreau, also a Flame prospect, has nine points for Boston College.