The Calgary Flames are finding out that the kids are alright. If this is the early stages of a long rebuild, the team might be in better shape than expected. Still, the road to recovery will be long and rocky.
General Manager Brian Burke made only two minor deals at the trade deadline, sending Reto Berra to Colorado for a second round pick and Lee Stempniak to Pittsburgh for a third round pick, both in this summer's draft. His inability to trade top forward Mike Cammalleri will likely cost the team an additional pick and prospect. Nevertheless, the team moves forward with its overdue rebuild.
Rookie Madness
In March, the Flames found themselves having to use eight rookies in the same game more than once, a first since 1996. In fact, the current edition is young and inexperience and the young guys are doing pretty well, all things considered.
Goaltender Joni Ortio has been pretty solid in his first few outings, giving the fans a glimpse at what he might offer as the team rebuilds. In his first seven games, Ortio is 3-4 with a 2.32 GAA. Not bad for a rookie goaltender on a team that is
25th in the league defensively.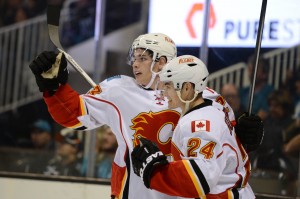 Center Sean Monahan is the real deal with 19 goals and 30 points in his first full season at age 19. Forward Markus Granlund has looked right at home in Calgary, showcasing skating and playmaking skills with three points in seven games before being sidelined with an injury.
Forwards Lance Bouma and Joe Colborne are relatively new to the league and have risen to the challenge with increased ice time and responsibility. Every rebuild needs a player like Bouma, who will do anything to help the team win, especially block shot and solid checking. Colborne is starting to use his size in the corners and in front of the net and has racked up 22 points.
Defenseman T.J. Brodie continues his apprenticeship alongside captain Mark Giordano while registering 24 points. Flames fans hope Mikael Backlund is truly ready to be a consistent top six forward now and his 34 points should be a taste of more good things to come.
Back to the Future
A number of players have been called from the Abbotsford Heat, Calgary's AHL team, including forwards Corbin Knight, Ben Hanowski, Max Reinhart and Paul Byron and defenseman Tyler Wotherspoon; all are 25 or younger. They all played well under the pressure of playing in the big league. Whether any will eventually become full-time NHL players, only time will tell but they at least provide depth as the team rebuilds for the future.
The Flames have some solid prospects in their system for the rebuild with Johnny Gaudreau having the most potential. Just named HEWBA (Hockey East Writers and Broadcasters Association) player of the year and nominated for the Hobey Baker Memorial Award, forward Gaudreau dominates the Hockey East league with 69 points in only 37 games, averaging 1.86 points-per-game for Boston College.
Three other Flames prospects were nominated for the Hobey: Bill Arnold, Gaudreau's linemate in Boston, goaltender Jon Gillies playing for Providence, and forward Kenny Agostino, who just left Yale to join the Flames after signing his first NHL contract. All four college players could be a big part of the team's future.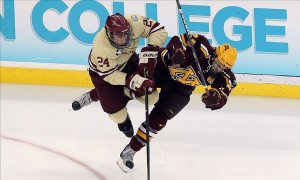 Beside Monahan, the Flames also picked up two solid first round picks last year in forwards Emile Poirier and Morgan Klimchuk. The team is accumulating solid prospects and some are bound to become NHLers.
The Flames ability to win with half their lineup new or relatively new to the league is a good sign for the rebuild. It will still be a long road but Rome wasn't built in a day.
Check out our partners at TiqIQ for the best deals on Calgary Flames tickets for all 2013-14 games.