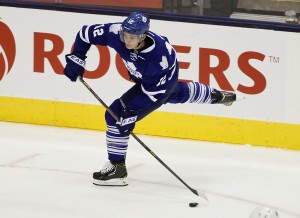 While the Toronto Maple Leafs have had a successful season so far posting a nice 36-25-8 record (leaving them currently one point out of third place in the Eastern Conference) they have more than their fair share of detractors.
Most of the people saying the Leafs are not as good as their record indicates, and are thus due for a possible regression, cite the fact that they are last in the league in shots allowed with 36 shots, on average, being directed at goaltenders Bernier and Reimer. They say that the possession stats are bad, and that basically, all advanced stats support the thesis that the Leafs are a team due for statistical regression, meaning that their current record would be the result of good luck and an unsustainable amount of good goaltending and high shooting percentages.
[Keep FanXchange in mind for your Maple Leafs tickets]
This theory suggests that the Leafs are an anomaly, that they have simply defied the indicators and won games that they should not have. I believe that there is merit to this line of thinking but that it is not such a simple equation.
For instance, while they certainly could be due for a regression because of allowing too many shots against, there is also the chance that they are an anomaly in a different way.  Instead of winning games they should lose, maybe the Leafs just play a style of game that is not quantifiable in the same way as most teams. So maybe the team is the anomaly and not the statistics.
Most NHL teams rely on size, cycling, and tight defense in order to maintain possession and win games. The Leafs play a unique style of hockey compared to most of the NHL and thus it is at least as much of a possibility that they are exempt from regression due to possession and shot-based factors as they are due to go into the tank.
Style of Play
While most NHL teams blitz the points, the Leafs generally try to back off and allow shots from the perimeter, which can explain why their shot totals against are so high.   The reason behind this strategy is that ideally the goalie will see more shots, but that they will on average be significantly easier to save, due to their being taken from farther out. If this strategy allows even five weaker than average shots per game from low percentage areas, when you account for them, the Leafs would then be in the middle of the league in shots allowed.
Furthermore, the Leafs are a rushing team.  They are probably the fastest team in the NHL from the top to bottom of their lineup, and if not, they are close. They also do not have a lot of size down the middle and only Clarkson, who has been ineffective this season, is a true power forward. On top of which, their defense is unbalanced, with most of their defenseman being of the puck-moving type.  Thus, their cycling game is not great and they can't get an edge with their size and therefore try to play a game that relies on rushing, counter-attacks and speed.
This isn't an exact science and it isn't meant to completely disregard their terrible shot differential, their bad advanced statistics or the fact that a regression is possible.  It is simply meant to make the point that there is no one tell-all stat or idea that will predict the future, and that while a regression is certainly possible, it is not a forgone conclusion, and that a polemic, extreme view in either direction is silly.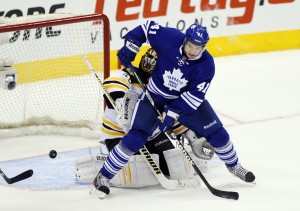 The Past Can't Always Predict the Future
Secondly, what is left out of the advanced statistic argument is that team's don't play or develop in a vacuum. While the Leafs have played nearly 70 games, it is not correct to just assume that the past will predict the future.  This is because while it is certainly a good indicator, past statistics do not account for team or player growth.  What happened in October and November is no more relevant today than what happened last season. Jake Gardiner is a better player today than he was two months ago. So is Nazem Kadri. David Clarkson and Bolland both have a lot more to contribute, and when you go down the lineup that is extremely young, you can see that this is true for nearly the whole team.   So, while the stats may predict a downturn in fortunes, the fact that they are constantly learning and improving, as well as having two potentially high impact players yet to make a meaningful contribution,  has to be seen as at least a counterbalance to the theory of regression based on shot totals and other advanced statistics.
Finally, it is the youth of the team that should give Leaf fans hope that the best days are ahead.  They are not going to win the Stanley Cup this year – they are too young and inexperienced – however, they are building a team that is going to compete for it for the next several seasons.
For an example of how this could play out, consider that the Leafs are basically two different teams on any given night. Sometimes they look like a one-line team with suspect defense and no secondary scoring.  These are the days when Gardiner, Kadri and Rielly look like they are not quite ready for prime time.
On other nights, they are a speedy, well balanced team that is among the most exciting to watch in the entire NHL.  These are the nights when Rielly, Kadri and Gardiner scratch the surface of their potential.  On these nights, it's as if the team has three additional high-impact star players in their lineup.  They are nearly unbeatable when the three future stars perform like they can.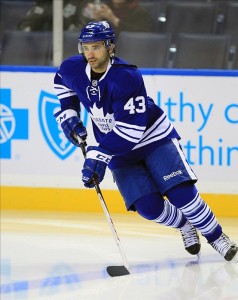 I believe that the Leafs might not like being out-shot every game, and that they would rather be a tight defensive team that is harder to play, but you have to give Carlyle credit for adjusting his game plan to make the most of his roster. There is no point in playing the dump and chase cycle game when you have a small, speedy team full of offensive defensemen. In the off-season, you can bet the Leafs will look to get better defensively and to get bigger, but until then, there is no reason to think they can't maintain their current pace and ascendancy to the upper echelon of the NHL: they are a young, exciting team whose players continue to improve and who's high scoring and speed makes them difficult to defend against.
In closing, I would be a lot more concerned about the long term ability to keep winning with Carl Gunnarson as a top pairing defenseman than I am about them being outshot, but despite Gunnarson playing too high up in the lineup, I predict you will see the Leafs finish ahead of Montreal and Tampa and win at least one round in the playoffs.