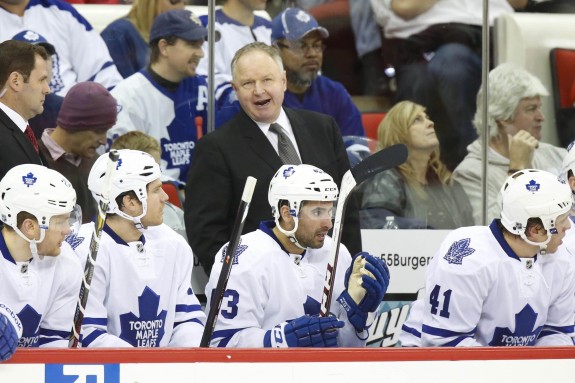 At first glance it would appear the Toronto Maple Leafs are having a nice season. They sit five points inside the playoff picture, third in the NHL's Atlantic Division and just one point back of home ice advantage in the post-season. Despite their often weak play, many fans would still argue the Leafs are having a strong season especially considering performances of seasons past.
But as we may be about to learn it doesn't matter how many games you win; if you've been playing poorly it will catch up with you at some point. This is exactly the situation the Leafs find themselves in and the only way they will dig themselves out of it — if possible — is by proving to the rest of the hockey world that they are for real.
No Real Identity
The Toronto Maple Leafs are a team that have struggled to find a real, positive identity all season long. Nothing has been spectacular; even their goal scoring, the best part of their game this season, sits tenth in the league averaging 2.83 goals per game.
On the flip side, the Leafs' defenive play has stuck out like a sore thumb all too often averaging 2.98 goals against per game. That's in no fault of the goaltenders — James Reimer has posted a .914 save percentage in 25 games while Jonathan Bernier, the incumbent starter, has impressed with a .924 percentage in his first season as a Leaf.
As for physicality no one has succeeded in making a mark. Even Colton Orr and Frazer McLaren have just six and nine fighting major respectively. In fact, McLaren was recently sent down to play for the Toronto Marlies of the AHL before being recalled due to a David Clarkson injury. Speaking of Clarkson, he has failed to prove his own worth in Toronto with a lack of offensive production and not providing much of an edge.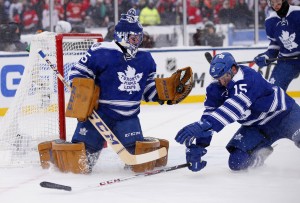 A team without an identity will never have any long-term success on the ice. The Leafs have amazingly sustained their winning form through the first 65 games but that is bound to come to a crashing halt.
Dave Nonis' Maple Leafs have competed five times since the NHL returned from its Olympic hiatus in February. Of those five games, the Leafs dropped the first three and have played four of them to overtime.
Perhaps their inability to get things done in regulation has been in large part due to the shot differential of each game, with the Leafs being out-shot 166-141 since returning, an average of 33.2 to 28.2 per game. It only takes one shot to change an entire game and the other team is getting five of those opportunities. Continuing to look at shots, you'll notice that the Leafs have allowed anywhere from 30 to 37 shots in the last five games while reaching the 30-shot plateau only once themselves.
But it's not like this is a new thing. The Leafs average just 27.8 shots per game over the entire season while allowing a league-worst 36 shots per game. It's a wonder Bernier hasn't lost it on his teammates yet.
The only identity the 2013-2014 version of the Maple Leafs has managed to cook up is strong goaltending, shaky defence and questionable coaching. And only one of those will help their chances at putting together a legitimate stretch and playoff run.
Too Much Reliance
Aside from coaching, perhaps the most prominent reason why the Leafs have failed to impress much at all this season is the amount of work placed on the shoulders of a select few. Phil Kessel, James van Riemsdyk and Jonathan Bernier are the most notable of the bunch with Tyler Bozak and Dion Phaneuf regularly being relied upon too much also.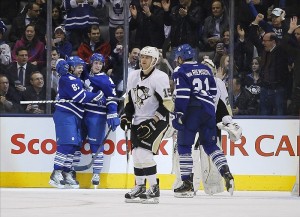 It's not like none of these guys can get the job done. Kessel and van Riemsdyk make up the most dangerous offensive duo in the entire league while Jonathan Bernier was considered as a Team Canada snub by a small bunch and is widely considered as a probable name to be on the 2018 Team Canada roster provided the NHL attends the next winter Olympics. Phaneuf is having a stellar season and Tyler Bozak is nearly averaging a point per game.
Unfortunately no one, even with the talent level of these players, can be overworked without consequences. This is one of the few areas where Randy Carlyle is not at fault; the Leafs don't have the depth to use bottom-six players like the NHL's top tier. That's partially because GM Dave Nonis has been unable to achieve depth — both offensively and defensively — on the trade or free agent markets.
The only way for the Leafs to overcome this hurdle is for their bottom-six players to compete night in and night out. That even means you, David Clarkson. It's time to show what you've really got.
Do the Maple Leafs Even Have a Chance?
The NHL's stretch run has arrived meaning its time for teams to put their heads to it and dig in. The Maple Leafs have one of the most difficult and intriguing season-ending schedules in all the NHL with a massive five-game road trip and a ton of divisional games that could decide their playoff future.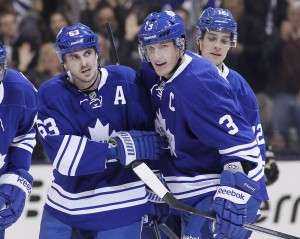 Toronto's California swing could not have come at a worse time. The Leafs visit the Anaheim Ducks on Monday before making a quick flight to San Jose for a duel with the Sharks on Tuesday. It's then off to Los Angeles where they will face the Kings. The Leafs will play two more road games against Washington and Detroit immediately following their California trip, kicking off a string of Atlantic match-ups in which Toronto will play three of four games against divisional rivals.
The Leafs will finish up the season in April with a three-game swing also against their own division. Games against the Lightning, Panthers and Senators could decide not only whether the Leafs manage to clinch home ice, but if they make the playoffs at all.
With the schedule set to pick up the Toronto Maple Leafs have the opportunity to prove themselves as a legitimate NHL hockey team, but their chances to succeed in doing so may be long gone.
Twitter: @LukasHardonk | Email: lukas.hardonk@gmail.com | Lukas' archive
Lukas, a student at the University of Ottawa, covers the Toronto Maple Leafs on a part-time basis for The Hockey Writers. Contact Lukas at lukas.hardonk@gmail.com or follow him on Twitter, @LukasHardonk.