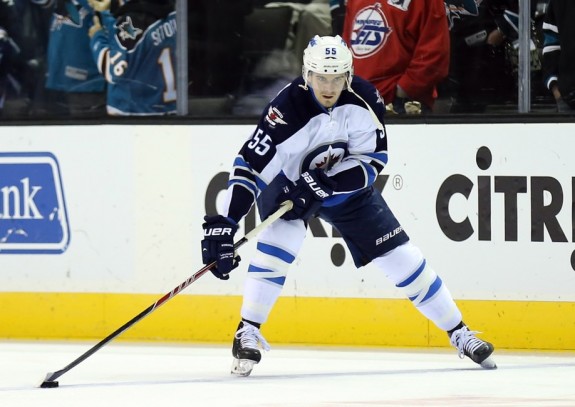 Mistakes will happen. The important thing is to learn from them. For a certain Winnipeg Jets defensive duo in Saturday's game against the Ottawa Senators, that was easier said than done.
The Jets lost 5-3 despite outshooting the Senators 49-32. They allowed three even strength goals and two power play markers in what was a dismal defensive effort. Mark Stuart and Jacob Trouba were on the ice for four goals against. They got caught out of position and missed assignments on a number of shifts throughout the game.
On the Senators' third goal, Stuart misplayed the puck at the Ottawa blue line, but hustled back to make a great diving play to knock the puck away from Jason Spezza. However, in the process he slid into Ondrej Pavelec and completely took him out of the play. With Stuart and Pavelec lying on the ice along the end boards, Eric Gryba scored on the open net. Sure it was somewhat of a fluky play, but it all could have been prevented if Stuart had either backed off at the blue line or successfully knocked the puck down and kept it in.
On the fourth goal Stuart was outworked along the side boards and Trouba got lost in front of the net. Little things that can, and did, make a difference in the outcome of the game. Chalk this up to a little bad luck and a rough afternoon, but that's exactly what the Jets can't afford right now, as they battle for a wild-card spot.
With all that said, Trouba does deserve credit for the work he did at the other end of the rink. He recorded five shots and created a few other chances by weaving through traffic. It's important to remember that while he rarely plays like it, Trouba is still a rookie in the NHL.
Mark Scheifele's Injury
Not too long ago many Jets fans were wondering if Mark Scheifele would ever make a significant impact in the NHL. Now they're wondering if the Jets can stay in the playoff hunt without him. Scheifele had 14 points in 16 games leading up to the Olympic break. He has 13 goals and 21 assists for 34 points in 63 games this season, as well as a plus-nine rating.
In the brief time since Scheifele went down, the Jets have had no success.
In the middle of the second period against the New York Islanders last week, Scheifele collided with Calvin de Haan. He left the game and did not return.
Paul Maurice confirms #nhljets centre Mark Scheifele has MCL sprain – 6 to 8 weeks #bn

— gary lawless (@garylawless) March 5, 2014
Likely only 1 spot left to grab in the West…..Stars, Coyotes, Jets in mix…think Scheifele injury really hurts Winnipeg.

— Mike Kelly (@MikeKellyNHL) March 6, 2014
We now know that the 20-year-old forward suffered an MCL sprain and while he won't need surgery, he will miss six-to-eight weeks of action. It's a major loss for the Jets, but it shouldn't be a season-ending blow.However, they lost 3-2 to the Islander in overtime in the game he was injured. And, have since lost two games in regulation.
Each and everyone player seems to have improved to some extent under Paul Maurice, but now some old bad habits seem to be creeping back in. If the Jets can can give Pavelec a little help defensively, he's show he can make big stops at crucial times. As for the offense, the question is who will step up?
Will Evander Kane catch fire down the stretch? Will Dustin Byfuglien use his size and physicality to play like an elite power forward? Perhaps most importantly, will Olli Jokinen step up in Scheifele's absence?