In the aftermath of the NHL Trade Deadline, it looks like the best move any team made was the Dallas Stars acquiring Tim Thomas from the Florida Panthers. Yes, there were flashier moves like: the Rangers adding Martin St. Louis for Ryan Callahan or Roberto Luongo going to the Florida Panthers. However, no move will benefit their team more than the Stars adding Thomas.
And, it wasn't like the Stars had to give up multiple picks or prospects for Thomas. From SportsDay DFW, Dallas sent to Florida, "The Stars sent back-up goalie Dan Ellis to Florida in exchange for Thomas. Ellis has one year left on his contract at $1 million. Thomas has a cap hit of $2.5 million this season and is an unrestricted free agent in the summer."
With the often injured Kari Lehtonen as the Stars number-one goaltender, adding Thomas was a key insurance policy.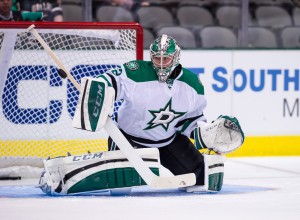 Sure enough, not even a week after being sent to Dallas, Thomas is now the starter after Lehtonen left with a head injury. The incident occurred when his head hit the crossbar after colliding with Minnesota Wild's Erik Haula.
Stars head coach Lindy Ruff commented on Lehtonen's injury saying, "Obviously, not good [Haula] went in hard, [Lehtonen] hit the crossbar hard. Likelihood, it's a concussion on just a dirty play. He should be suspended." (H/T ESPN Dallas)
Despite Thomas' age, it didn't deter Stars' general manager Jim Nill from trading for him. Nill said of the trade:
"This is a great example of how things can change quickly. When Roberto Luongo got traded, that opened a position in Florida and it's something we talked about. Our mindset was it was a chance to pick up a Stanley Cup champion goalie who has been to the playoffs, been through the pressure, we want to do that. The Gaglardi family stepped up, were behind it the whole way and it was just important for us to solidify that position." (H/T SportsDay DFW
So, Thomas has gone from internet joke, after having to potentially share a locker room with Luongo, to the backbone of a Stars team looking to end a playoff drought that has spanned the last five seasons. In those five seasons, the Stars have fallen short with Lehtonen and Marty Turco. Now, the Stars have a netminder with a proven track record of postseason success.
With Thomas past awards with the Boston Bruins this trade will end the Stars playoff drought. And, with a very talented offensive tandem in Jamie Benn and Tyler Seguin, it may push one of the favorites in the West to the edge of elimination in the playoffs.
Do you agree, or disagree? Let me know on Twitter: @tjmcaloon