When the dust settled and the NHL Trade Deadline passed at 3 pm on March 5, the New Jersey Devils traded Andrei Loktionov (not Martin Brodeur) to the Carolina Hurricanes for Tuomo Ruutu. The younger Loktionov (23-years-old) struggled to stay in the lineup, and recently was playing on the third and fourth lines, unless he was a healthy scratch. But Ruutu will (and has) come in, see top-6 minutes and could provide some of the grit and toughness the Devils will need in their quest to make it back to the Stanley Cup Playoffs.
#NJDevils have acquired Tuomo Ruutu from Carolina for Andrei Loktionov and a conditional third-round pick in 2017.

— New Jersey Devils (@NJDevils) March 5, 2014
"It's been a tough season so far (for me) for sure," Ruutu said when asked if he can help the Devils make a playoff run. "I'm not looking in the past anymore, I'm trying to go game-by-game and be a better player every game; every practice. I will do that everyday."
After traveling from San Jose to Carolina to New Jersey to Detroit and back to New Jersey this past week, Sunday will be a day off for the newest Devil and when the Hockey Writers asked if it was coming at a perfect time the relief could be seen in his face. "It's going to be nice to just relax," he responded laughing, "and it will be much easier to relax now that we won."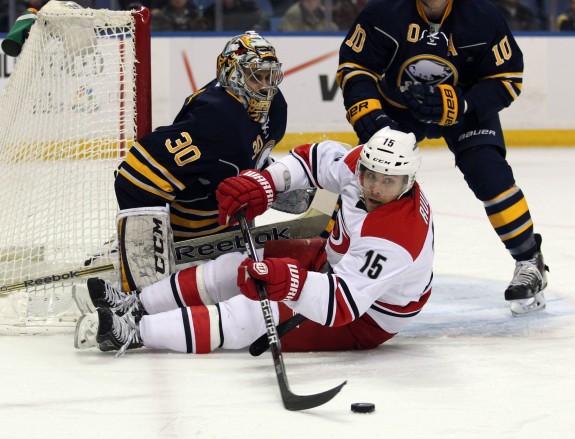 In game two of the Tuomo Ruutu era in New Jersey he played on the top line with Travis Zajac & Jaromir Jagr and all he did was assist on the game's opening goal to go along with scoring the tie-breaking/game-winning goal against his former teammates with 6:30 in the third period; he also had four hits and five shots on goal. "He had a lot of jump tonight and he was on the puck a lot," Zajac told THW. "He was turning pucks over for us; he's a smart player, he gets in there, battles hard and creates some space on the ice."
"The guys made a great play, first Travis wins the face-off and then Marek (Zidlicky) made a great pass to me," said Ruutu recalling his goal. "He could have fired it on net, but he had patience and I was able to score when he got it to me. We had some traffic in front of the net; it was a good play and effort. I haven't scored too many goals this year, I just closed my eyes and fired it as hard as I can." Zajac seemed almost as excited, if not more excited than his new linemate when the goal went in. "Yeah, it's because it was a back-and-forth game and we almost let it slide there; instead we were able to get the two points."
Tuomo Ruutu makes his first goal as a Devil count in a big way — the GWG:
Zajac was impressed with the pass that led to his goal that started the scoring 4:25 into the game, but Ruutu downplayed his passing skills a bit after the game. "My angle was pretty small so I thought that was the best and only option I had there," he told the throng of media surrounding him. "Great players find themselves open and Travis was open there." With a giant grin while shaking his head Zajac added, "It was a great pass; he led me with it a little and I was able to get it right at the back door. A highly-skilled play by him."
The Devils are hoping Ruutu is the missing part that will catapult them into a playoff berth in the Eastern Conference. It's always a crapshoot when you add a player to your locker room with so few games remaining, but the recently turned 31-year-old Fin seems to have a great attitude on the whole situation: "I'm trying to just live in the moment and when I'm not thinking too much I play my best game. I really like these guys; they've been so great to me, it's not easy coming to a new team. But now all of a sudden I have 20 new friends," he said with an ear-to-ear grin, "I feel like I've been here a long time."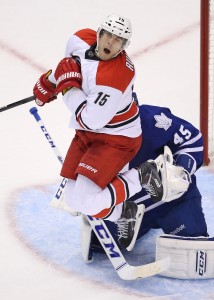 To make matters more interesting, as his new coach Peter DeBoer pointed out, there is also some personal stuff on the player's mind in addition to playing for a new team in a new city. "It was a great game for him," said DeBoer. "Like I've said before, with what he's gone through, his wife and family are back in Carolina and she's expecting a baby; he's got a lot going on and he's been traveling a lot. We wouldn't have won the game with out him; it was an exceptional effort."
One of his "twenty new friends" (Ryane Clowe) experienced what Ruutu is going through when he was traded from the San Jose Sharks to the New York Rangers at the 2013 NHL Trading Deadline. Just like Ruutu struggled this season with the Canes (5 goals, 16 points, -19 in 57 games), Clowe struggled (mightily) his final season with the Sharks (0 goals, 11 assists, -4 in 28 games) but when he got to New York he gave them some timely offense putting up nine points (3g-6a) in 14 games (before getting concussed two games into the playoffs).
"It's a little bit of a whirlwind," Clowe told THW when we asked him what it's like to change teams midseason. "It's a couple of crazy days; I think in Detroit it was his first game and he was just trying to get going. I think tonight he was very effective, skating well; physical. It's got to be difficult to play your second game against your former team, I'm sure that wasn't easy, but it didn't show — he played on the top line. There's some pressure there to produce and perform, and he did that tonight. It's good to see when you get a guy who comes up with an important goal like that. He's a real good guy, I'm happy for him."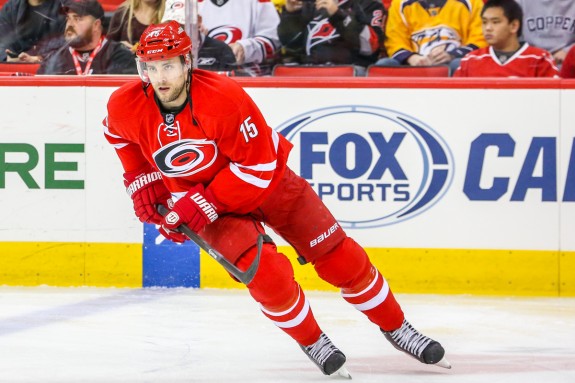 Only time will tell the impact Ruutu will have over the final 17 games, but all the Devils need is to get into the playoffs and then anything can happen. It's not like we haven't seen a six, seven or eight seed make it to the Stanley Cup Finals recently. You gotta be in it to win it (see: 2012 Los Angeles Kings) and if New Jersey gets in, it will likely mean that Ruutu has had some type of impact on the team.
Dan Rice can be reached via Twitter: @DRdiabloTHW or via Email: drdiablo321@yahoo.com