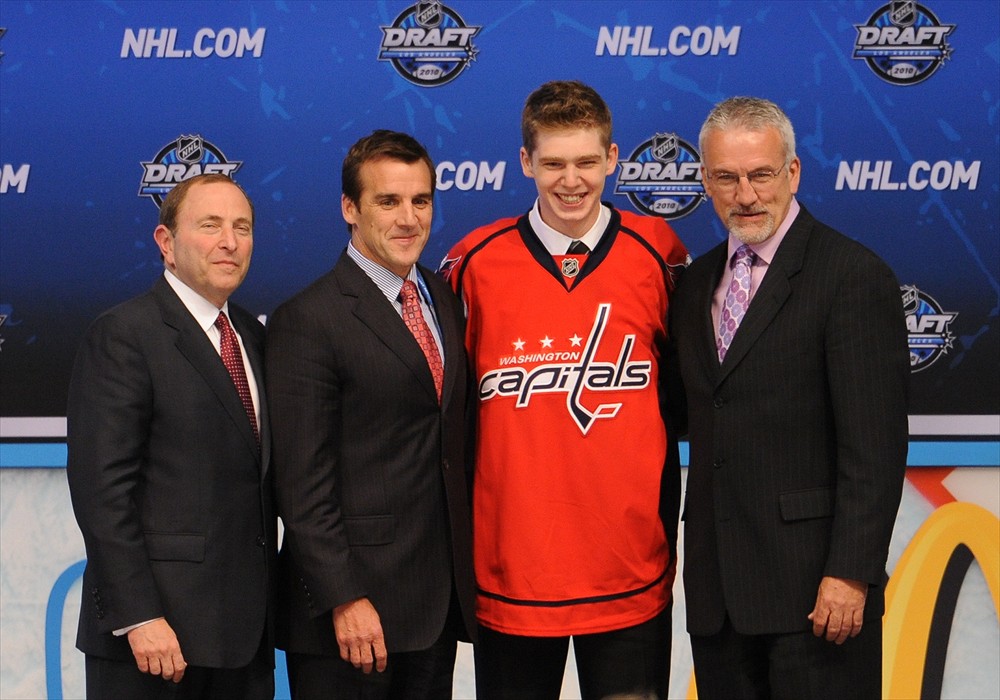 It happened this weekend. The long awaited signing of Evgeny Kuznetsov has finally come to fruition for General Manager George McPhee and the Washington Capitals. Kuznetsov has been a prospect of the club for quite some time and has been playing in the KHL for the past 5 seasons. He was drafted 26th overall by the Capitals in 2010 and has just signed his entry-level deal in 2014. The 21-year-old is now the Washington Capital's newest forward, four years in the making.
Meet a 12-year-old with a dream
Back in 2011, Russian Machine Never Breaks wrote a great piece highlighting a documentary that Kuznetsov was featured in. You can see a young Evgeny and his high praising mother, who points out that statistics don't lie.
Through meeting a young Evgeny, it is evident that the passing of his older brother fueled the Kuznetsov family in their pursuit of Evgeny's successful hockey career. The family literally moved hundreds of miles to Omsk, where hockey was flourishing, as a way to move past their family tragedy. The Kuznetsov's efforts were valiant, as their son is now fulfilling his dreams.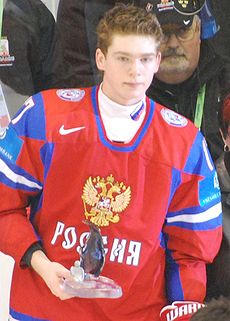 Past notables and statistics
Since the 2009-2010 season, Evgeny Kuznetsov has played in 210 games, totaling 146 points in the KHL, while also adding IIHF recognition to his repertoire. As a Russia native, he has won a 2009 silver medal in the U18 World Championships, gold and silver in the 2011 and 2012 World Junior Championships (respectively), as well as a gold in the World Championships in 2012. Kuznetsov's high level of skill and projected success are just what the Capitals are looking for as they battle for playoff positioning in the Metropolitan Division.
The Russians are here
On Saturday, March 8th, Kuznetsov officially signed with the Washington Capitals after finishing up the season with his KHL home team, Traktor Chelyabinsk. He captained the team, and stayed in the KHL as a Sochi hopeful, signing a two-year deal with the club back in 2012, delaying his move to the NHL. Although Kuznetsov was not named to the Russian Olympic team, he will be playing alongside countryman Alexander Ovechkin for the remainder of the 2013-2014 season. Kuznetsov will be living with his new captain and fellow 2012 World Championship gold medalist. The two already seem to be getting along as they have taken to social media for fun and games. There appears to be some sort of game that involves Ovechkin doing push-ups. Kuznetsov has posted on Twitter and Instagram to show off the comrades together. I think Ovi is losing this game 0-2, but you can judge for yourself.
Here is Ovechkin's first go at push-ups:
Тактика Белоусова В.К.-работает!!!@ovi8 http://t.co/nUxBzhdJ04

— Evgeny Kuznetsov (@Kuzya92) March 9, 2014
Clearly Ovi's upper body strength is going to increase with the presence of his new roommate:
2-0@a0gr http://t.co/fYknyFIvx7

— Evgeny Kuznetsov (@Kuzya92) March 9, 2014
A final goodbye
Kuznetsov's now former team of Traktor Chelyabinsk lost their final game of the regular season on March 4th in a shootout, leaving no hope for the playoffs. As his last game as captain, Kuznetsov did managed to notch a power play goal, but failed to convert in the shootout. The team lost 2-3 against AK Bars.
Kuznetsov's final goal can be seen by going to 6:41:

Hopefully Kuznetsov will be able to make a quick adjustment to the smaller ice surface, as he is expected to join the Capitals' line-up this week, potentially as early as Monday, March 10th against the Pittsburgh Penguins.
You can follow the projected top 6 forward and newest addition to the Washington Capitals on Twitter @Kuzya92 or on Instagram @kuzy84.