Yes Habs nation, even though your team lost their first two games since acquiring Thomas Vanek, the trade was still a good one!
Remember what Carey Price said during the 2010 Pre Season? If you don't, he said: "Just Chill Out"
Are people on twitter for real? Like Montreal really and truly is the most demanding hockey market in the world! After back-to-back poor performances against Phoenix and San Jose, you have fans that are ready to fire the head coach, and give up on the season. Meanwhile, these same exact fans will be chanting "Ole Ole Ole" at the Bell Centre on Wednesday night if the Habs muster up a big win against their archrival, the Boston Bruins. I realize that fans are supposed to be passionate and opinionated, but come on ladies and gentlemen, manage your expectations a little bit? Please?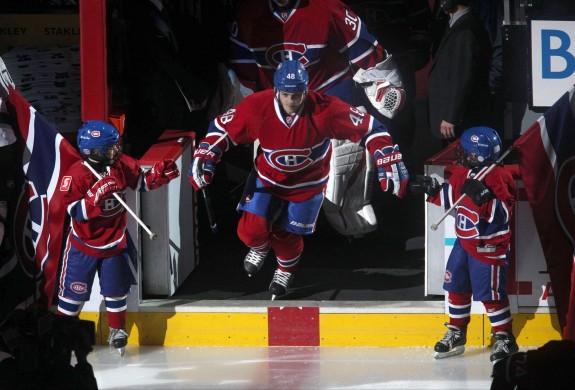 Speaking of Our New Home Run Hitter….
Now that we got that off of our chest, it's time to evaluate Marc Bergevin's body of work at this year's trade-deadline. First and foremost, the GM proved that he's more than just a smooth talker and a sharp dresser, and kudos to him for having the sense needed to seize the moment and conquer likely the biggest fish in this year's "scoring forwards sea". Moreover, after battling through adversity for much of the season, I cannot think of a better way to reward your players and coaching staff that have kept this club above water all year long. Although it has not paid dividends yet (it will!), a move of this magnitude sends positive shockwaves throughout the dressing room, something that every team wants going down the stretch. Believe me folks; the players on your Montreal Canadiens team are thrilled to have been given this vote of confidence.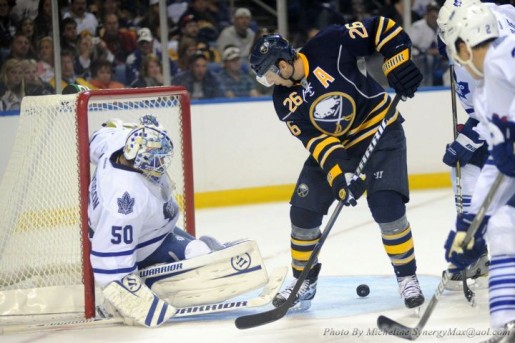 Why is the acquisition of Thomas Vanek such a good one?
Another reason why the Vanek acquisition is such a positive one for the Habs has much to do with this year's wide-open Eastern Conference. I mean, if there was ever a year to take a risk and load up for a potentially lengthy playoff run, you'd have to think that this year is the one. Realistically speaking, apart from Boston and Pittsburgh, who in my opinion are NOT unbeatable (upsets happen all the time), the Habs are in the same boat or better off than any other eastern conference club. So why not take a chance this year? Maybe it doesn't work out, or maybe with strong goaltending, and if some stars align you win a round or two. Who knows, maybe you're that next surprise Stanley Cup finalist like the New Jersey Devils were in 2011 (most recent example). Or maybe, just maybe, you're the spitting image of your 1993 self, and you miraculously win hockey's biggest prize, the Stanley Cup.
Did the Montreal Canadiens give up too much to get Vanek?
As for what Marc Bergevin gave up in order to acquire Thomas Vanek's services, Sebastien Collberg has unquestionably shown upside since being drafted 33rd overall by the Montreal Canadiens in 2012. But with the growth that Jacob De La Rose (Selecte 34th overall by Montreal in 2013), this deal is more than digestible. Considering the offensive production that Vanek will undoubtedly add to the Habs lineup, even if he's just a rental, it is a risk worth taking given how "possible" things look in the Eastern Conference this year. And if that doesn't provide a good enough reason, Vanek has 30 goals and 61 points against the Boston Bruins in his career, a detail that just might endear him to fans of the CH.
What is Thomas Vanek's game plan after the season? Will the Habs be able to retain his services?
According to a couple people I've spoken to around the league, it is believed that Vanek will definitely be testing free agency. Someone close to the New York Islanders organization actually told me they'd be shocked if Vanek did NOT sign with the Minnesota Wild as a free agent in July. Right now however, he is a Montreal Canadien and to Habs fans I say this: enjoy the ride with Vanek in your lineup, and everything will play our one way or another at seasons end. Furthermore, if Vanek and the team have success (especially in the postseason), you never know how a player's mind can change. Remember Alex Kovalev? Remember he was acquired by then GM Bob Gainey as a rental player back in 2004? Well, remember how the Habs upset the Boston Bruins that year in round one, and in the process Habs fans fell in love with "l'artiste"? Turned out that he loved this city back because he signed a 4-year deal with the Canadiens that summer. Maybe the same happens with Vanek, or maybe it doesn't. As with most things, more will be revealed over time.
Keep it real, Habs nation!
David is currently a second year Arts student at McGill University and aspires to have a career as a sports journalist one day. When he's not covering the Montreal Canadiens for THW, he is the sports producer for TVMcGill and the host of his very own show called "On The Line with David Stein." He is also a frequent contributor to the McGill Tribune.