The Blackhawks received some good news and bad news as they are currently embroiled in a dogfight for the Central Division lead.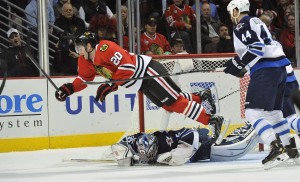 Forward Brandon Saad did not make the trip to Philadelphia as his team will take on the Flyers on Tuesday. As Chicago slips further away in the standings from the division-leading St. Lois Blues, they're hoping the injury isn't serious. Saad had not missed a game all season and he is tied for first on the team with a plus-29 rating and he is sixth in scoring on the Blackhawks– with 19 goals and 25 assists in 68 games.
Saad sustained the upper-body injury in the second period of the Blackhawks' 4-1 win against Detroit on Sunday and did not return to the game. Blackhawks coach Joel Quenneville said he believes the injury is not serious and that Saad will be re-evaluated next week.
There's no disputing that Saad's absence will be felt and the Blackhawks might have eased their pain – no pun intended – when Marian Hossa returned on Sunday. Hossa had missed the past five games with an injury he sustained against the Pittsburgh Penguins on March 1 in the final game of the Coors Light NHL Stadium Series.
Hossa showed no signs of rust and collected a goal and two assists and helped his team snap a two-game losing streak. Even at 35-years-of-age, Hossa changes the complexion of the team. However, with St. Louis playing well – the addition of Ryan Miller has them looking like Stanley Cup favorites – it will not be an easy road to a repeat championship for Chicago.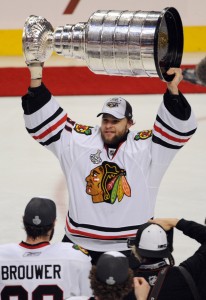 All season long, the Blackhawks have been searching for an identity – another year with no permanent second-line center, juggling lines as players have been injured, Kris Versteeg continues to play as he recovers from ACL surgery in his knee, and the list goes on – and with Hossa coming back all seemed fine in the Windy City. The Blackhawks better prey and hope that Saad can come back sooner than later. Saad was on track to score 25, or more, goals this year while playing primarily on the third line, not bad for a 43rd overall pick. Not to mention, his play on the defensive end has been stellar and he has become one of the NHL's best one-on-one defenders. Also, he is possibly the fastest skater on the team and his speed will be missed.
http://espn.go.com/chicago/nhl/story/_/id/10620395/brandon-saad-chicago-blackhawks-leaves-game-injury
With 14 games left, the Blackhawks still have a shot at securing home ice in the playoffs. Although, with players in and out of the lineup – and with St. Louis going 8-1-1 in their last 10 games and in the process they have gone up nine points on Chicago for first in the Central  – the Blackhawks might need to turn their focus to building chemistry rather than chasing first overall.