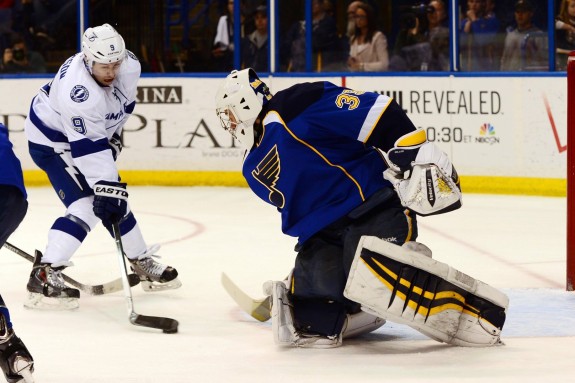 Prior to landing Ryan Miller ahead of the trade deadline, the St. Louis Blues were already among the NHL's top teams. Jaroslav Halak had done a majority of the heavy lifting, and the Blues didn't
need
an upgrade in net. They went out and got one though, and the effect of securing an elite goaltender has rippled throughout the organization over the last few weeks.
Forward T.J. Oshie recently spoke to Louie Korac of NHL.com about Miller's calming influence and had this to say about the goalie's disposition:
It seems like [Miller] never is panicking in the net. It's like he's always right there on every save. He gloves the puck so calmly and covers it so calmly. It's nice to see that confidence in him and that poise.
That "poise" is where the Blues truly upgraded. While Halak and backup Brian Elliott have been a strong regular-season tandem over the last few seasons, that success has never translated in the playoffs. General manager Doug Armstrong clearly believed he needed to make a change in goal, and he did. Miller has rewarded the GM for his confidence by going on a historic winning streak for the Blues.
.@RyanMiller3039 is the first goalie in Blues history to record at least one point in each of his first eight starts (7-0-1). #stlblues

— St. Louis Blues (@StLouisBlues) March 18, 2014
That run has allowed St. Louis to become the new leaders in the Presidents' Trophy race and gives them a good shot at winning the Central Division. There's more to the Miller effect than simple wins and losses though.
Game-Closing Ability
While the Blues have had a lot of success since the calendar flipped to March, it isn't like they've been steamrolling everyone in their path. They've played a number of tight contests, and it's in these games that Miller has proven his worth. There was always the feeling with Halak that he might allow a bad game-tying goal as the clock wound down. It's a tough thing to quantify, but you just get a different vibe when the Blues have a one-goal lead in the third now that Miller is in town.
Maybe that's not fair to Halak, but the stats speak for themselves.
Ryan Miller is now 7-0-1 with a 1.61 GAA and .933 SV% since joining the #stlblues

— Lou Korac (@lkorac10) March 18, 2014
St. Louis' March 6 game against the Nashville Predators sticks out as the defining contest for Miller's short career with the Blues. He was coming off of a tough outing against the Tampa Bay Lightning that saw him yield two goals on just 17 shots. Nashville was getting Pekka Rinne back for the first time since October 22 and they were clearly fired up for the contest.
The Blues held a 2-1 lead heading into the third period and the Predators made a big push to tie the game with less than five minutes remaining in the period. It was then that Miller's ability to close out games became clear. On paper, Nashville came away with only five shots on goal in the closing frame, but they were buzzing in the offensive zone as the contest came to a close.
Where there might have been a question mark in net with Halak, St. Louis seemed poised and in control with Miller making the big stops when he was called on. That sort of confidence has a widespread effect on a team as a whole. In particular, defensemen play with a bit more jump and can have faith that their goalie will be there to bail them out on a botched pinch.
Offensive-Defensemen Free to Pinch
This is still a Ken Hitchcock team. With or without Miller, he isn't a head coach that lets his horses go very often. Still, the Blues posses a few of the best offensive-defensemen in the NHL and with a top-end goalie like Miller behind them, they seem much more comfortable pinching in when the time is right.
They were able and willing to activate with Halak in goal, but there seems to be more confidence now and it shows on the scoreboard.
St Louis Blues are the first team in the NHL with 3 Defensemen with 30 or more Assists. #stlblues

— STL Blues History (@STLBlueshistory) March 18, 2014
To reiterate, you probably aren't going to see Alex Pietrangelo try to make any end-to-end rushes ala Erik Karlsson or P.K. Subban. You will see plays like this happen more frequently though.
That's a monster pinch by Pietrangelo. It isn't often you'll see a defender freed up to slide that far down into the slot, but he took advantage of the chance there. Sure, the Blues pretty much had the Edmonton Oilers put away by that point, but that's usually when Hitchcock's teams turtle up and protect the net.
Yet the goals just kept coming against Edmonton.
Like the "game closing ability," it's impossible to quantify a defenseman's confidence in his goalie with a stat line. The good ol' Brian Burke naked-eye test will tell you that St. Louis' top defenders are more comfortable jumping into the play now that than have been in the past though. With guys like Pietrangelo, Kevin Shattenkirk and Jay Bouwmeester on the blue line, that faith in Miller could be the difference between winning and losing a tough one-goal playoff game against the Los Angeles Kings or San Jose Sharks.
High Compete Level
You'll hear the top coaches in the NHL speak about a high compete level. The desire to win 50/50 battles for pucks, to drive turnovers and to do everything possible to win hockey games. It's the difference between a lottery draft pick and a playoff spot—see Patrick Roy and his Colorado Avalanche for evidence. When a team comes out flat and isn't skating hard, the compete level isn't there and it's obvious. It can be tougher to spot in a goalie, though Miller has always been one of the most vocal and competitive masked men in the NHL.
Halak could win hockey games, but his visual compete level simply wasn't at the same level as Miller. His posture was different. His body language was different. One of the first things Miller talked about following the trade was how important playing hard would be. As per The Associated Press:
It's definitely humbling and flattering that they would make that kind of move and bring us in with the intention of giving them some help to push for a Stanley Cup. We're excited for the opportunity there. But also, it's about the responsibility we have to that organization to show up and get up to speed and compete as hard as we can to live up to the trade.
St. Louis' captain David Backes also spoke to the AP about what Miller brought to the table following the trade, and pointed out how the goalie elevated his game during important contests:
Ryan Miller is an all-world goalie that has shown it time and time again. I've seen it in a couple of Olympics where he's as good as anyone in the business.
That is a contagious thing—stepping up during big games and making elite plays. Even when your goalie is just vocal and calling out forecheckers, it helps. When you have a vocal veteran like Miller in the locker room, it's a positive.
********
It's not difficult to look at Miller's stats and understand that he is an upgrade over Halak when it comes to save percentage and GAA. There's more to St. Louis' addition than simple goal differential though. They changed the way that their team is composed at the molecular level. Miller was not brought in because he was better than Halak by a small increment.
Miller was brought to St. Louis because he changes the complexion and outlook of the team as a whole. There's no measure for that sort of impact, but the difference will be evident once the playoffs are on, the Blues are leading an elimination game by a goal and a guy like Corey Perry suddenly swoops in on a breakaway.
That difference—the gap between "oh no, he's going to score!" and "Miller has got this save"—is monstrous and can't be underestimated.