Kompanion-Naftogaz have become the winners of the Ukrainian ice-hockey championship. The title of champions has not been an easy task for the team, which had to go strong both through the regular season and through the play-offs. The truth must be said: in the conditions of extreme turbulence – social, political and economic – just playing in the Ukrainian ice hockey championship without interruptions has been a feat by itself.
The finals between Kompanion-Naftogaz (Kyiv) and Biliy Bars (Bila Tserkva) took place between March 3 – March 11, 2014. They took the whole five games to determine the winner, who had to reach three victories' mark. The first two games took place in Kyiv in Kompanion's home arena – ATEK. The advantage of the home ice played a major role so that Kompanion registered two victories: 3:1 on March 3 and 2:1 on March 4.
After two days of rest and moving to Bila Tserkva town, located 90 km south of Kyiv, Biliy Bars showed that it had a strong desire to win games and eventually the whole championship. Both on March 7 and March 8 the team from Bila Tserkva won with the same score – 3:1.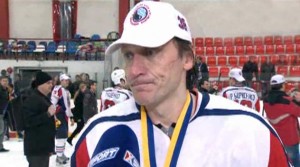 The last game of the series took place in Kyiv and the home-ice advantage proved instrumental again: 2:1 victory by Kompanyon brought the team its first national gold. Vitaliy Lytvynenko, a 44-year old veteran of Ukrainian ice hockey, scored the decisive goal in the series. He complemented his team mates for the great combination after which he just had to "put the puck into the open net." The net of Kompanyon, on the contrary, stayed always very well watched by the goalkeeper Serhiy Zavyalov, who was later called the MVP of the finals.