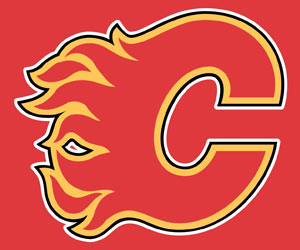 The Calgary Flames unveiled new head coach Bob Hartley to the local media at a press conference at the Scotiabank Saddledome early Thursday afternoon. General manager Jay Feaster was full praise, not only for his long-time friend Hartley, but for the head of his former club. Feaster explained that Zurich's ZSC Lions gave Calgary until June 1 to get a deal done with Hartley and agreed late on Wednesday on compensation for losing their coach.
Feaster explained that while the three-person search committee (himself, assistant GM John Weisbrod and assistant to the GM Craig Conroy) had a few people left that they had hoped to speak with, the time constraints placed on them by the Zurich organization didn't change their decision-making.
"We looked at candidates saying, 'if we can get permission, we'd like to interview this candidate.' We did the research that we would do as if they were a candidate. We talked about them and said do we believe that if we wait two weeks and interview someone else, do they move ahead of one of the top three guys we have? The determination was made that they would not move ahead," said Feaster.
While associate coach Craig Hartsburg and goaltending coach Clint Malarchuk remain under contract with the hockey club, Feaster noted that the new head coach will sit down with both of those men and "see if there's a fit." The ZSC Lions also released long-time Hartley assistant coach Jacques Cloutier from his contract, but he has not joined the Flames as of yet.
Feaster noted that Abbotsford Heat head coach Troy Ward was a strong candidate for the job in Calgary. While Ward didn't get the job, Feaster indicated that he felt the continuity in approaches and coaching styles in Calgary and Abbotsford will be a boon for the franchise. Feaster had a lot of praise for his AHL bench boss.
"It was a great interview," shared Feaster. "His knowledge of the game, his ability to teach, his ability to communicate, it's outstanding. Again, when we're ticking off the boxes [of requirements for a head coach], Troy had an awful lot of them, but Bob had more."
Feaster indicated that Hartley's NHL experience put him ahead of Ward for the position.
"For this group, I think having a more veteran guy is a good thing," added Feaster.
Hartley noted at the press conference that he's already begun contacting players right away to familiarize himself with the hockey club, beginning the process with captain Jarome Iginla, and hopes to speak with all of the players by the end of the weekend.
Ryan Pike has covered the Calgary Flames and the NHL Draft extensively since 2010 as a Senior Writer for The Hockey Writers and Senior Contributing Editor of FlamesNation.ca. A member of the Professional Hockey Writers Association, he lives in Calgary.