It has been 40-plus years since the California Golden Seals played their final game in the National Hockey League. In the minds of most young fans, they are nothing more than a footnote in history but for some, they still hold a special place in their hearts. Near the top of said list is a Los Angeles-based television producer by the name of Mark Greczmiel.
1967-68 Oakland Seals ticket order form pic.twitter.com/jgCIFtnaCQ

— SportsPaper (@SportsPaperInfo) January 9, 2017
A lifelong hockey fan who was born in Canada but spent his formative years in the San Francisco Bay Area after relocating with his family at the age of seven, the 58-year-old made a decision a few years back to take a stab and doing something he always wanted to do. After spending somewhere in the neighbourhood of 1,000 hours working on a documentary about the team he started cheering for as a nine-year-old kid, Greczmiel has finally put the finishing touches on what can be viewed as nothing other than a labour of love.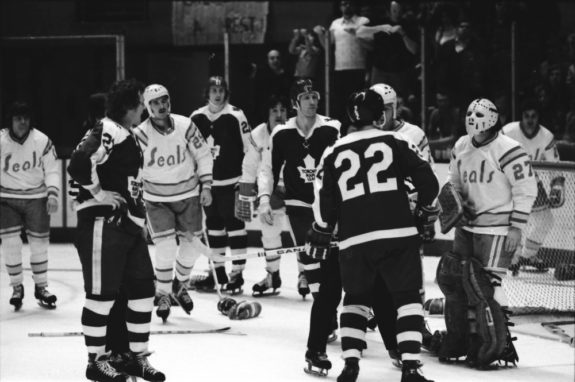 Seals Remain in a Class All Their Own
The California Golden Seals Story gives hockey fans everywhere an opportunity to get a peek behind the curtain of what was arguably the most dysfunctional and yet interesting franchise in league history. They may have only been in existence for nine years but the countless stories those years yielded will never be duplicated and the UCLA graduate is doing everything in his power to ensure they will not be forgotten.
"There was so much that went on in their history. It was so colourful and still affects the NHL today, so I thought it was a story worth telling," said Greczmiel. And what a story it is. Who could forget the Charlie Finely years and those Oakland A's themed uniforms? The countless publicity stunts, dreaded white skates and an unwillingness to pay players or key front office personnel in order to keep them in town are legendary but not necessarily newsworthy in 2017.
Bravo @SanJoseSharks for honoring infamous Oakland Seals this week, can we get @NYRangers to do a NY Raiders night? https://t.co/e70uCpifsT

— Joe Favorito (@joefav) January 6, 2017
That being said, the stories are truly endless and makes the workload Greczmiel put on his shoulders all the more commendable. "I did it on a micro budget. It was just me, my video camera, an audio kit, and lighting kit," he said. "I traveled on my own all over Canada and the United States and interviewed 31 individuals…from players, team officials, journalists, and fans. It was a lot a fun and an incredible experience for me to be interviewing all these guys I watched as a kid."
As great as it was to catch up on old times with the hockey heroes of his childhood, Greczmiel did have one name in particular on his interview wish-list he was hoping to secure…Wayne Gretzky. And after a bit of back-and-forth with representatives for the Edmonton Oilers legend, he managed to secure some time with No. 99 to talk about the Seals. Can you say cloud nine?
Who did Gretzky think was one of the best NHL players in the early 70s? A Calif. Seal.
Here's a preview clip:https://t.co/HfDgwJObYN

— Mark Greczmiel (@sealshockeydoc) December 21, 2016
"We met in Los Angeles and he could not have been any nicer. He knew the history of the Seals," said Greczmiel. He talked about Charlie Finley, the white skates and his connection to former Seals netminder Gary "Suitcase" Smith. He also shared what it was like to go to his first game at Maple Gardens and watching the Maple Leafs take on the Seals and just how good a goalie he thought Gilles Meloche was." An impressive get to be sure and one which played a key role in helping get the word out to the masses about the project.
"After the interview, Wayne was nice enough to not only take individual pictures with both myself and my assistant but he grabbed a Seals jersey to hold up in the picture as well. Posting that photo helped legitimize the film to people…it gave us some street cred." With much of the legwork completed, it was up to Vancouver native to find a way to have it all come together but it would not be easy…nor come cheaply.
Archival Footage Played Key Role
"Some of the rare footage I found is four minutes of old 16mm news film about the Seals that has sat for more than 40 years in a warehouse in the Bay Area," said Greczmiel. "These were old news stories that a local San Francisco TV station donated to a local university. It is incredible stuff and includes game highlights, old interviews, and Finley's press conference after buying the club. I also found some old 2-inch videotapes from a different source that included footage of the Seals playing in Oakland against the Atlanta Flames, Buffalo Sabres, and New York Rangers."
Not surprisingly, securing the rights to use archival footage would come at a cost and to his credit, Greczmiel came up with an innovative why to go about securing extra funding to help offset growing costs. "I had never had to raise money before and didn't really know how to go about it," he said. "I heard about Indiegogo and that it was a popular way for filmmakers to raise money." An interesting idea but not exactly a slam-dunk by any means.
The #Seals alumni arrive at #SJSharks game. Ernie Hicke, Bert Marshall, Norm Feeguson, Gary Simmons, Gilles Meloche and Dennis Maruk. #NHL pic.twitter.com/rCtedohH9L

— Brad Kurtzberg (@sealshockey) January 8, 2017
"I wasn't sure how it worked but I put together a short video with clips of the team and myself explaining why I wanted to do to the film and put it up on the site," said Greczmiel. "I didn't know what to expect or how it would work but I shared it through different hockey history groups on Facebook and started getting emails and suggestions from others to use twitter and before you knew it we had donations coming in".
As an added bonus, by reaching out to hockey fans for support with the documentary, the filmmaker was given an additional avenue to talk to other diehards. "People started to get a hold of me and tell me they were huge fans of the Seals from back in the day," said Greczmiel. "Some had photos from games, Seals Booster Club meetings, while others had home movies and mementos they graciously shared with me during the making of the film."
Seals documentary crowd-funding ends Jan 1. Still lots of perks available! Downloads, pennants, shirts, caps, etc. https://t.co/WIgueXagtP pic.twitter.com/ZkZ2IUU4aJ

— Mark Greczmiel (@sealshockeydoc) December 30, 2016
While the initial drive raised roughly a third of the total he was hoping to reach, his persistence paid off in the end. After running an additional drive roughly a year and a half later, Greczmiel was able to secure the remaining funds needed and used them primarily for licensing footage and paying for the services of a finishing editor. Not too shabby for a guy who was just hoping to get a chance to do his part in helping keep the memory of the California Golden Seals alive for hockey fans to enjoy for years to come…and what a job he has done.
* Currently available for pre-order via iTunes and released on February 6, 2017 *