The year is 1975.
A gallon of gas cost a meager 44 cents. Margaret Thatcher became Britain's first female leader of the Conservative Party. The Vietnam War had finally ended.
In the NHL, The Washington Capitals and now defunct Kansas City Scouts were the League's two newest franchises. The Philadelphia Flyers won their second straight Stanley Cup by defeating the Buffalo Sabres in six games. Bobby Orr's 135 points were enough to earn him the Art Ross Trophy as the NHL's leading scorer. It was the seventh consecutive season a member of the Black and Gold reigned supreme atop the scoring charts.
Forty years later, the Bruins have someone who may bring the Art Ross Trophy back to Boston.
Czech Me Out
David Krejci will not want to fondly remember the personal hell that was last season. The crafty center only played in 47 games while battling various injuries for the other 35. Through it all, he still managed to score 31 points and made a noticeable impact on the Bruins offense when healthy.
https://twitter.com/iancmclaren/status/653933279352090625
This year, a healthy Krejci has been far from the "passenger" some have accused him of being. In fact, he's the conductor of the runaway train that is the Bruins offense. The 29-year old center has factored in on 12 of Boston's 27 goals, scoring five times and assisting on seven more. His 12 points are tied for the League-lead with reigning Art Ross winner Jamie Benn and old friend Tyler Seguin.
Krejci has been on fire right from the start this season. He scored Boston's first goal of the 2015-16 campaign and has not stopped scoring since. The highest paid Bruins' forward is on a seven-game point streak including 10 in the last five games. Perhaps it's not a coincidence that Boston is 3-1-1 in that time frame after starting the year 0-2.
In addition, Krejci is averaging an astounding 5.36 points-per-60-minutes in all situations, according to war-on-ice.com. That is the highest number for any player with a minimum of 100 minutes played this season.
Power Play Points
Would you believe me if I told you that Krejci has only scored one of his 12 points alongside his linemates Matt Beleskey and David Pastrnak?
Well, the only time all three have recorded their names on the score sheet together so far was on Beleskey's first goal as a Bruin against the Montreal Canadiens back on October 10.
So David Krejci looks pretty good at the top of the #Bruins power play

— Matt Williams (@MattWilliams_SN) October 12, 2015
So, where is Boston's number 46 scoring all his points? The primary cause of Krejci's early season success is via the power play. His six points on the man advantage (two goals, four assists) are tied with Sabres forward Ryan O'Reilly for the League lead. In fact, Krejci has a hand in six of Boston's eight power play goals so far this season, playing a massive role in why the Bruins are the League's best unit on the man advantage (8/24, 33.3%).
It's incredible to think that Boston's second-line center has done most of his damage this season without the help of his wingers. However, that should change at some point this season which only bodes well for Krejci's point totals.
Sizing Up The Competition
So far, he's been the catalyst of the Bruins offense. As long as Krejci stays healthy, the Czech maestro has a legitimate chance to be the NHL's scoring king come April.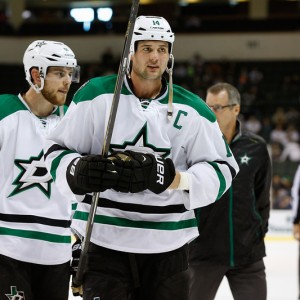 However, he has some stiff competition. The aforementioned Benn and Seguin are one of the best offensive tandems in the League. They are the driving forces behind a Stars' offense that is currently fourth-best in the NHL (3.38 goals/game). As long as they remain healthy, both players will hover around the top spot given they are a fixture on Dallas' top line under coach Lindy Ruff.
Right behind them is a collection of players with 11 points. Some of the heavy hitters include Patrick Kane, Henrik Zetterberg, Max Pacioretty, and last year's Art Ross runner-up John Tavares. It's scary to think that neither Sidney Crosby or Alex Ovechkin are in the top-15 at the moment but they are also a threat to put up points in bunches.
One of Krejci's fellow countrymen is also in the early running. Jaromir Jagr is drinking from the fountain of youth in South Florida, revitalizing the Panthers offense. The 43-year-old leads the Cats with 10 points from their first eight games and is a major player in coach Gerard Gallant's system. Jagr's mullet may not be the only thing that bears watching for Bruins fans this season.
Averaging 1.71 points/game so far this season, David Krejci is on a torrid pace to pile up 140 points at season's end. Considering his career-high for points was 73 back in his second season as a Bruin in 2008-09, fans would be content to see him find a happy medium between the two. Given the defensive struggles so far, Boston will have to rely on Krejci to keep up the pace on offense.
It will be a fun season on Causeway Street for Bruins Nation to watch one of their own contend for a title that no Boston player has had their name etched on for over 40 years; all while setting their sights on that 35-pound prize that is the Stanley Cup.