Despite a brief respite Friday night when the Canucks walloped the Blue Jackets, Vancouver has been mired in a deep slump that has dropped them out of the top eight in the Western Conference and out of a playoff spot.  It is still early enough for Vancouver to turn things around, but will they?  With 25 games played, there is enough evidence now to suggest that the Canucks may be who we think they are (to paraphrase Dennis Green).  Let's examine the data and make a guess as to whether the Canucks will miss the playoffs for the first time in six years.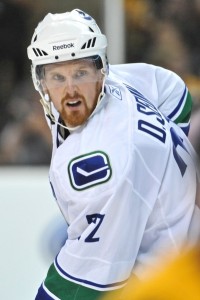 Forwards Not Performing
The Canucks greatest shortcoming has been a basic failure to generate goals.  Vancouver currently ranks 18th in the league in goals per game, averaging 2.6 goals per game.  Such a low mark seems unfathomable for a team that just three years ago was at the top of the table in this category, when they averaged 3.2 goals per game.
Ryan Kesler leads the team with 10 goals, which projects out to around 33 for a full season, a solid performance.  These numbers were boosted by a stint playing with the Sedins on the team's top line, an experiment that saw some success, but unfortunately left Vancouver with really only one scoring line, and a line that was playing humongous minutes each night.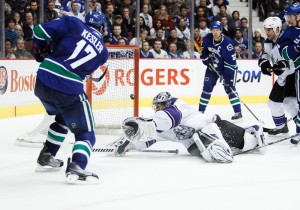 Daniel Sedin is second with 8 goals, which projects to 26 on the year, a far cry from the 41 he scored in 2010-11.  Chris Higgins is third on the team with seven goals, and Henrik has added six.  No other Canucks is on pace to score 20 or more goals on the season, a figure that typically denotes a player as a consistent goal scorer.
Mike Santorelli and Brad Richardson have been pleasant surprises with five goals each. But they have both been quiet lately.  Zack Kassian also has five, but his play is so inconsistent that he has a hard time earning extended minutes, and he was back in the doghosue in the most recent game against Chicago.  Jannik Hansen and Alex Burrows were expected to make bigger contributions, but both have been hurt, and they have scored just three goals between them, all by Hansen.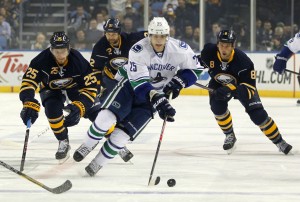 Defensemen Also Struggling to Score
It was expected that the defense would help offset a lack of scoring depth among the forwards, but that has not happened.  Perhaps the strongest sign of trouble is that Dan Hamhuis, more of a stay at home type player, leads the backline in goals with four.  Alex Edler, Jason Garrison and Kevin Bieksa have added three, two and one each.
Without more points from the Top 4, the pressure on the forwards will be even greater, and the talent just does not seem to be there to fulfill such expectations.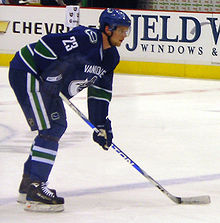 The Powerless Power Play
The biggest disappointment thus far has to be the dismal output by the Canucks' power play.  What was once a significant weapon for the team has turned into a debilitating weakness, with the team converting on only 11.5 percent of its opportunities, placing it 28th in the league.  The Canucks have only 9 power plays goals so far, with seven by the Sedins and Kesler and one each for Garrison and Bieksa.  With only the three forwards on the top unit scoring so far, it means the many different combinations of the second power play forward group has yet to score a single goal.
The inability of Garrison to score more with his booming point shot is puzzling.  When he tallied in the first game, many observers pointed at Alain Vigneault's unwillingness to play Garrison more on the power play as a major failing  in his final year as coach.  But Garrison has yet to score since then, perhaps vindicating Vigneault's lack of faith.
On the flip side, the Canucks' penalty kill has been excellent, ranking first in the league.  The Canucks' ability to fight off so many shorthanded situations has kept them in many games, but the lack of goals has prevented the team from taking advantage of this area of strength.
Luongo Steady but Not Spectacular
Vancouver stands in the middle of the pack in goals against, giving up an average of 2.48 goals per game. In his return to full time duty, Roberto Luongo has a 2.30 goals against average, 15th in the league.  He is keeping the Canucks in most games, but not really stealing many wins, either.  His save percentage has been slightly less solid at 91.4 percent, placing him 21st.
Eddie Lack has been a capable backup in limited appearances, a trend that will likely continue throughout the year.
In other words, the goaltending is not the root of the Canucks' difficulties this season, If the team was scoring more like it did in the past, Vancouver would have a winning record and be squarely in the playoff picture.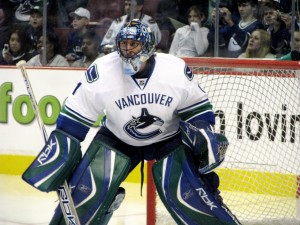 Any Reason for Optimism?
Admittedly, 25 games is still not enough to make a judgment whether the Canucks scoring slump is likely to be long-term.  However, when combined with last year's statistics, there is definitely cause for concern.  Last year, with very similar personnel at the top of the lineup (exchanging an injured Kesler for a healthy Burrows), Vancouver was tied for 19th in scoring, averaging 2.54 goals per game. Those numbers are very close to what Vancouver is amassing this season.
With last year's shortened slate combined with the partial season so far there are 73 games to evaluate, close to a full season. In these 73 games, Vancouver's offense is been slightly below average.  Is there reason to think this is going to change?  The Canucks do not have any scorers ready to step in and make a difference at the NHL level.  Bo Horvat and Hunter Shinkaruk are where they belong in juniors, and Utica (Vancouver's new AHL team) has been abysmal, with no players close to ready to step up and contribute.  Jordan Schroeder will return from injury, but is unlikely to make a big impact.  And with the team bumping up against the salary cap, it is hard to imagine landing a useful player via trade.
It does seem likely that the power play will improve, given the talent Vancouver has to throw out with the man advantage.  But will that be enough to make a real difference in the overall offensive output?
Best case would seem to be a slight uptick from the power play and maybe some improvement as Burrows and Hansen contribute more (hopefully soon).  In the far more competitive Pacific Division and Western Conference, that might be enough to get Vancouver into the playoffs as a bottom seed.  As Vancouver fans are well aware, it is not impossible for an eight seed to do some damage in the playoffs. But with goals even harder to come by in the postseason, it is not worth wagering a large sum of money that the Canucks will be making a deep run in the playoffs, even if they manage to squeak into the postseason tournament.
Glenn covers the Canucks for The Hockey Writers. Follow me on twitter @glennkuper for opinions about hockey, the Canucks, and Seattle sports.