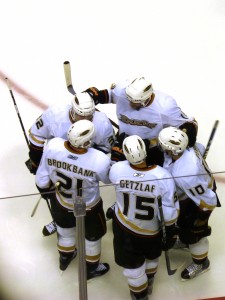 There are known knowns; there are things we know that we know. There are known unknowns; that is to say, there are things that we now know we don't know. But there are also unknown unknowns – there are things we do not know we don't know. — Donald Rumsfeld
It's almost a quarter of the way through the 2013-14 NHL season, and we're already starting to see the 'haves' separate from the 'have-nots', with a swath in the middle consisting of teams that have yet to set a clear direction either way. As an example, in the Eastern conference, Tampa Bay, Boston, Detroit, Pittsburgh and Toronto represent the wheat; Florida, Buffalo, Philadelphia and Columbus are, at least so far, the chaff. Of course, this doesn't mean there isn't time for things to turn in either direction, but the tendencies are fast becoming trends, making it less likely they will reverse without major changes occurring.
Turning to the Pacific division and Donald Rumsfeld's gibberish notwithstanding, a sample size of 16-20 games is enough to get a reasonable sense for each team's strengths and weaknesses. Some may be temporary due to slumps or injuries, others long-lasting, but at the end of the day, they can play major roles with respect to a club's chances this year. Therefore, with plenty of room for debate, we bring you the Achilles' heel of every Pacific division team so far this year.
Anaheim Ducks
The mallards have shaken off the disappointment of last year's first-round playoff exodus and flapped to a tremendous 15-4-1 start, thanks in large part to the inspired play of superstars Ryan Getzlaf (10 goals, 12 assists) and Corey Perry (11 goals, 10 assists). They are perfect at home (8-0-0) and nowhere near a l'orange on the road, either (7-4-1). Offensively, their attack is the NHL's third-most potent, while at the same time, the defense has held opponents to the eighth-lowest per game average. Other than the traffic, the sweltering summers and bubble-busting real estate patterns, there's really not much to complain about in Orange County this year.
Achilles' heel: Although scoring depth is a concern and despite Jonas Hiller's pedestrian numbers, special teams has to be the Ducks' primary weakness. Anaheim's 11.3% success rate on the power play is a mere 27th overall, and the penalty kill has been making a gigantic sucking sound as well. As evidenced by their record, neither have hurt them so far. However, both will do exactly that come playoff time if they aren't solved. Quack!
Calgary Flames
Rumor has it Moses' stone tablets were etched with proclamations that Calgary would have a rough season in 2013, so clearly it would be blasphemous to argue the point. Even though the Flames started fairly well, they've begun to slide into the abyss, going just 2-7-1 over their last ten games. Jiri Hudler has been great (19 points) and the defense hasn't been all that bad (15th in shots allowed, third in blocked shots), but as preordained, there are holes up and down the lineup.
Achilles' heel: When former fourth-round 2006 pick Reto Berra sports the club's best save percentage — and that percentage is a paltry .900 — you know that goaltending is your most pressing concern. Even Mike Vernon and his cane would be an improvement.
Edmonton Oilers
Man, did I peg the Oilers all wrong. With a 4-13-2 record, the playoffs are already a distant dot on the frozen horizon and getting dimmer with each passing game. Young guns Jordan Eberle, Ryan Nugent-Hopkins, and the recently-activated Taylor Hall have been effective when they've been on the ice, but that's just not been enough to overcome the myriad problems the team has.
Achilles' heel: Although I have it on good authority from a ginger die-hard Oilers fan that team defense is a big part of the problem, it remains a fact that Edmonton's goaltending has been very consistent this season — consistently bad, that is. Devan Dubnyk's goals' against average needs to be divided by its square root to look not terrible, and unless Superman flies really fast around the Earth to reverse time to last year when he was seemingly on the rise, it's going to be another long year in the hinterlands of Edmonton.
Los Angeles Kings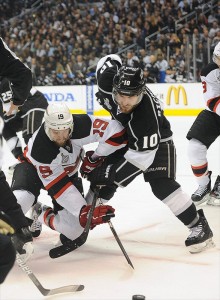 The Kings ignore the distractions of buxom Hollywood babes and pizza joints on every corner to do a lot of things well, including shooting the puck (3rd) and limiting shots against (3rd). The special teams are pretty good, and only Ottawa throws the body more frequently than L.A.'s 563 hits. Stalwarts Mike Richards (5 goals, 12 assists), Anze Kopitar (4 goals, 13 assists) and Justin Williams (7 goals, 6 assists) lead the way offensively, with the injured Jeff Carter tied for second on the team in goals. The blue line is one of the league's best, an enviable blend of power, speed and offense.
Achilles' heel: Speaking of offense, the team's consistently inconsistent attack has to be the primary issue once more in the City of Angels this season. Ask me again in a few weeks after the extent of Jonathan Quick's groin injury is fully understood.
Phoenix Coyotes
Seemingly held together by duct tape and bailing wire every year, the Coyotes continue to impress, going 13-4-2 so far this year. There is a ton of offensive balance in the desert: nine players have ten or more points this year, and unlike the Kings, they seem to get the most out of their shots on net. Mike Smith channels the ka of Ron Hextall now and again, but despite the eccentricities, his .917 save percentage is more than respectable.
Achilles' heel: At 27th overall in shots allowed (35.0 per game), it's pretty clear what the biggest problem in the desert is. I think I understand why Smith's right eye twitches during post-game interviews.
San Jose Sharks
A few weeks ago, San Jose looked unbeatable. After losing six of their past ten games, though, their shark is starting to appear worse than their bite. Granted, when you look at the stats, they've got everything: a great offense (3.61 goals/game), a terrific defense and goaltending (2.17 goals allowed/game), top-ten special teams, and they even win the draw at a high rate (53.5%). Joe Pavelski, Joe Thornton, Patrick Marleau, Logan Couture, Thomas Hertl and the injured Brent Burns make for an explosive top-six group of forwards, even though Thornton is allergic to shooting the puck. And yet, they aren't even leading the Pacific at this point.
Achilles' heel: The team's play after the first sixty minutes is the Sharks' biggest problem by far this year. They've only lost two in regulation, but seven overall. You do the math.
Vancouver Canucks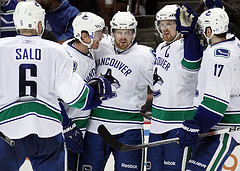 With impossibly high expectations every season, the Canucks have had to go 6-3-1 over their last ten games just to rise to the level of mediocrity at the quarter pole. They are right in the middle of the rankings both offensively and defensively, although they do put the puck on net and hold the shots down with the best of them. They aren't the most physical team, but are sixth in blocked shots with 291. The Sedins are their usual selves (37 points between them) and Ryan Kesler leads the team with nine goals, but there's a big chasm in production after that. Roberto Luongo doesn't seem to steal many games, but isn't blowing too many, either.
Achilles' heel: Depth. With eight players making more than $4 million (by contrast, the Kings have five), the Canucks have had to squeeze as much value as possible out of their remaining roster. Looks like Phoenix isn't the only team held together by duct tape and bailing wire.
Walter McLaughlin is a Los Angeles Kings correspondent for The Hockey Writers. He is an avid sports fan, having followed the Kings since living in L.A. in the mid-1970's, as well as suffering through Seattle sports teams' general futility. He has a Bachelor's degree in Finance and has worked in community banking for over 25 years, specializing in SBA loans. He is married and has two daughters.