It's hard to figure out what you've got in Benoit Pouliot.  On any given night – or shift, for that matter – you can never be sure which Pouliot will show up.
Will it be the one who blew a defensive assignment to allow a scoring chance against the Red Wings?  Or will it be the one who made an amazing one-handed backhand centering pass to set up Derrick Brassard for the game-winning goal in overtime?
The latter is who the Rangers were counting on when they signed the 27-year old Ontario native to a one-year, $1.3MM contract in the offseason.  So far, that hasn't always been the Pouliot they got.
A Brief History of Benoit
A first-round draft pick of the Minnesota Wild, Pouliot never found his footing in the land of 10,000 lakes.  In parts of four seasons there, he found his way into just 65 games, scoring seven goals and ten assists.
In 2009, he was dealt to Montreal for fellow underperforming winger Guillaume Latendresse.  Pouliot found his scoring touch in Montreal, netting 15 goals in 37 games. It looked like he'd finally be able to live up to his potential.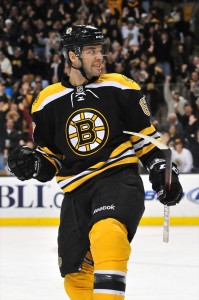 He regressed the next year, scoring just 13 times over the course of the season, which wasn't enough to earn him a new contract in Montreal.  Instead, he made a heel-turn and signed on with the rival Bruins in the summer of 2011.
In Boston, Pouliot reached the 30-point mark for the third straight season (16-16-32).  While he was a solid third-line contributor, his effort wasn't enough to convince the club to extend his stay.  He was dealt at the draft to the Tampa Bay Lightning, where he went 8-12-20 in 34 games over the shortened 2012-13 season.  Despite a solid season in Tampa, the club opted not to tender a qualifying offer, making Pouliot an unrestricted free agent.
Once again, as the calendar turned to July, Pouliot was busy sending out change of address notices and packing boxes.
Benoit Comes to Broadway
The Rangers were heading into the 2013-14 season with a new coach, a new philosophy, and two gaping holes in their lineup.  With Ryan Callahan and Carl Hagelin expected to miss the start of the season, the club needed to bulk up its forward ranks.
Benoit Pouliot contract: 1 year / $1.3M with Rangers. #RDS

— Renaud Lavoie (@renlavoietva) July 5, 2013
Enter Pouliot, a reasonably-priced free agent with loads of potential.  It was a solid signing, even if only as a stop-gap or spare part. But there was also the chance that he could finally become the player he was always expected to be – a player whose performance could justify his being selected fourth overall.  Perhaps New York would finally be where it all comes together for Pouliot.  Or perhaps not.
He's certainly had flashes of brilliance.  His third-period game-winner against the Islanders – a give-and-go with Hagelin – was a thing of beauty.
His moments against the Wings and Isles were highlight moves.  The problem is that they also account for nearly all of his scoring.  He posted a goal and assist against Detroit, the game-winning goal on Long Island three days later, and an assist on Carl Hagelin's goal against the Carolina Hurricanes on November 2.  That's it.  He's avoided the score sheet in 15 of the Rangers' 18 games.
Actually, that's not entirely true.  Pouliot's taken some mind-numbing penalties along the way.  His 31 penalty minutes are second on the Rangers (26th in the NHL), behind only Derek Dorsett (who, of late, has had a stronger presence on the ice, and has matched Pouliot's scoring output of two goals). Amazingly, opposing teams have only scored once with Benoit in the box.  His teammates have bailed him out there, though the Blueshirts are 3-6 when Pouliot takes a penalty.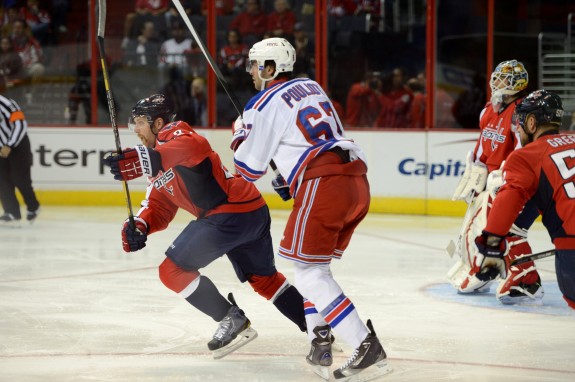 Pouliot's current goals-per-game (0.11) and points per game (0.22) are both career-lows.  His shots per game (1.44) are his lowest since he left Minnesota. Those numbers are going to be tough to improve upon if Pouliot doesn't start making the most of his chances.
With Hagelin and Callahan both healthy and back in the lineup, he's had even fewer opportunities and less ice time.  Once Nash return, they'll drop even further – assuming Nash's return doesn't bump him from the lineup altogether.  Pouliot was averaging more than 14 minutes per game over the first 14 games.   In the past four, he's averaged less than nine minutes per game.  His recent play – scoreless in six straight – isn't helping make a case for him to be out there.
Talent vs. Consistency
Benoit Pouliot is a top-four pick with top-six talent who's been on five teams in five seasons. That tells you something.  His abilities are there, but he doesn't bring them to the rink every night.  Inconsistency is the albatross around his neck that will curse him to a career of one-year deals and unpacked suitcases across North America.  He knows that.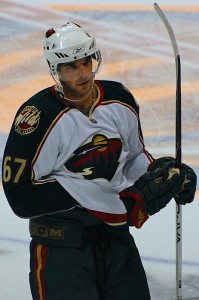 "The thing is just being good and showing up every day. It's always been like that for me. It's not a specific thing," said Pouliot, via NorthJersey.com
There's still time for him to put it together, right?  He can still live up to his potential, can't he?  Probably not.  People have been waiting for it to happen for years.
When he went to Montreal, that was the time. It wasn't.
In Boston, he'd finally put it all together. He didn't.
He finally found his comfort zone in Tampa. He hadn't.
It sounds like a broken record.  A record that has become symbolic of Pouliot's career, skipping each year to a new team.
"You only get so many kicks at the can here, and you only get so many teams. Obviously a guy like Ben – high pick, high skill level – you see it now and you go, 'Wow. Whether you want to call it consistency or whatever is not there on a regular basis?  That's a question that we're trying to figure out with him, that obviously he's aware of. 

I've been very, very direct: 'Ben, you need to figure this out here.' Because you see it and I see it. I mean, the high end skill. It's not from game to game sometimes, it's from shift to shift. And he needs to – in his preparation, in his sitting on the bench and getting ready for the next shift – he needs to figure it out here. If he figures it out, he's gonna be able to have a good career. If he doesn't, I don't know how many kicks you get at it."  – Alain Vigneault, via the Daily News

At age 27, with as many chances as he's had, the Pouliot you see is the Pouliot you get. Expect fleeting moments of magic interspersed between stupid penalties and stretches of invisibility.  As a third-line winger or a fill-in player on a one-year deal, the Rangers can live with that.
Just don't expect much more.  And unless things change dramatically, expect him to once again be changing addresses this summer.
Josh is a life-long hockey fan. He grew up as a fan of the New York Rangers, but thanks to their general mismanagement and years of mediocrity, has developed a great appreciation for every team across the league.
He's been writing about hockey on various sites since 1995. In addition to his work at The Hockey Writers, he also keeps tabs on the referees over at ScoutingTheRefs.com.