James Reimer leads the NHL in save percentage. He is top 10 in goals-against-average for a team that allows the most shots on goal per game. He is playing some of the best hockey of his career. For those reasons I believe he should be considered for Team Canada at the 2014 Sochi Olympics.
I am not saying he should start for Canada at the Olympics. I am not even saying he should make Team Canada. I am simply saying he deserves some serious consideration, something which as far as I can tell isn't happening, at least not in the mainstream media.
https://twitter.com/Hope_Smoke/status/394475860058996736
I just gotta say it..if the Canadian Olympic team doesn't consider Reimer they're out to lunch..he's just as good if not better than Price

— 💙Blue&WhiteChick💙 (@JillianMcLeod05) November 24, 2013
First, the negatives: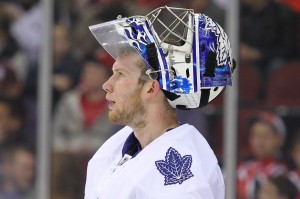 1) Reimer has limited playoff experience. The Olympics is all about playing in pressure situations, and with one-game elimination, there is no room for error. There is no room for third period collapses. There is no room for blowing a three-goal third period lead. Whether last playoffs were his fault or not, it doesn't look good on your goaltending resume. Zero playoff series victories immediately puts Reimer behind the rest of the pack (Luongo has won four series, Price one, Holtby one, Smith two and Crawford and Fleury each have a ring).
2) Reimer has only played 10 games this season. Although he has played superbly, it is a small sample size. Ask yourself this: Ben Scrivens, who is second in the NHL with a .946 SV% and has played 11 games this season; should he be considered for Team Canada? In my mind no, certainly not.
There is nothing Reimer can really do right now about being in a timeshare. All he and Carlyle care about is winning games for the Toronto Maple Leafs and odds are he will continue to split time with Bernier because it's working.
The positives:
1) He's on fire right now. Yes, Scrivens has this going as well, but it is important to note that the Olympics has a lot to do with riding a streak. You only have to be "in a groove" for two weeks in order to succeed.
However what gets you on the team in the first place is a strong start to the season, something that Reimer has certainly done. Can he continue it in December? The 2010 Olympic team in Vancouver was announced on December 30th, 2009, meaning Reimer will need to have a good month of December. Leading up to the Olympic announcement in December of 2009, Roberto Luongo posted a 9-3-1 record to go along with a .935 SV%. For someone who lacks the pedigree of some of the other Team Canada invitees, Reimer's play this December becomes that much more vital.
(On a side note, a strong December is important but not entirely necessary. Fleury, who was brought along as the third stringer, had just a .912 SV% in December of 2009. In Fleury's case though, he was brought along because of his cup ring, something Reimer doesn't have.)
2) He has been incredibly consistent ever since he stepped foot in the league.
Only 10 goalies really rank higher than Reimer statistically since he entered the league http://t.co/vSH7rgIvB3

— James Mirtle (@mirtle) November 24, 2013
Take a look at other goaltenders on the list and you can see Reimer should definitely be in the mix. Three Canadian goaltenders rank above him in career SV% since he entered the NHL (at least 100 games played). And rightly so, all three have been invited to Orientation camp.
Consistency is, in my opinion, what separates the good goaltenders from the great ones. Consistency is likely what gets Luongo and Price on the team. So why not Reimer? (For the record I do not agree with the above tweet stating Reimer is better than Price…)
Forecasting
Do I think Reimer will continue to play well in December? Yes, but not this well. I think he will play well enough to deserve the third and final spot on Team Canada but I don't think general manager Steve Yzerman will choose him. In the rare case that Reimer is still sporting a .940+ SV% at the end of December, then he may be forced to, but even then I find it doubtful with such a small body of work (likely 15-18 games by the time the roster is announced).
However, if Reimer is the third goalie in Sochi, does he need to be a starter on his NHL team? Not really. So Yzerman would do well to seriously consider him. I mean c'mon look at these saves…
Nathan Kanter covers the Vancouver Canucks and Toronto Maple Leafs for The Hockey Writers. He received his master's in journalism from Western University in May of 2015 before serving as the first ever Digital Managing Editor at Western's university newspaper, The Western Gazette, in 2015-16. From 2016-18, he served as the radio play-by-play voice of the Battlefords North Stars in the SJHL. His work has been published in The Hockey News, at Sportsnet.ca and at Dobber Prospects.