All indications point to a changing of the guard in the Arizona Coyotes goal crease. Since leading his team to the Western Conference finals nearly four years ago, Mike Smith, considered among the more productive goalkeepers in the NHL, has had a declining rate of fortune.
Now sidelined as a result of stomach surgery, Smith is not due back in uniform until mid-to late February. By that time, Louis Domingue could emerge as the current net-minder as well as the goalie of the future. In two starts just before Christmas, Domingue shut out the Islanders and defeated the Leafs in a tight, one-goal game. For his purpose, Domingue says he is ready for Prime Time, and assures listeners his confidence level continues to rise.
All of which leaves Smith, approaching 34-years-old (on March 22) in a precarious position. After redeeming a dreadful season a year ago by helping Canada win the World Championships last May, Smith, in training camp, said he felt renewed and ready to restore his glamour of the past.
Despite a strong start, Smith pulled a stomach muscle during a game in Montreal on Nov. 19, and ignored signs the injury was serious. After dropping a 4-1 decision at St. Louis on Dec 8, and the injury more aggravating, Smith elected to have the surgery. Now out until late February, Domingue stepped into the crease and showed he could handle the future.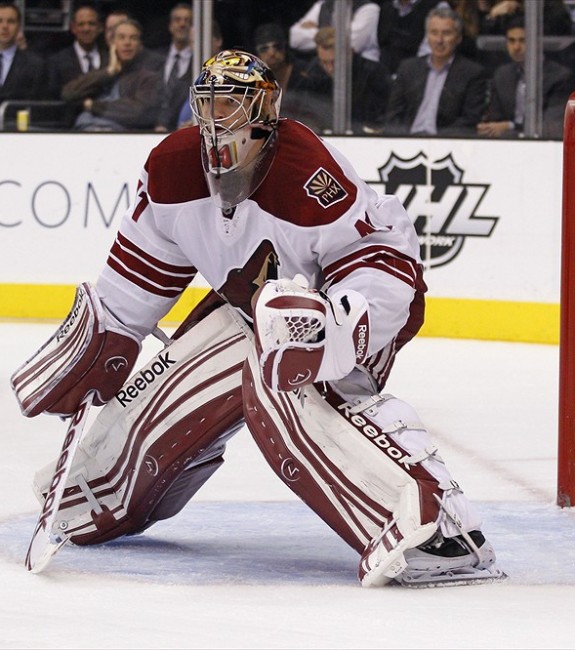 With the Coyotes for seven games last season, Domingue recorded a 1-3-1 mark and then dispatched back to the AHL Portland Pirates. Recalled after Smith went down after the contest in St. Louis, the 23-year-old native of St-Hyacinthe, Que. turned in three creditable games, and now could be coach Dave Tippett's go-to goalie.
Playing in three straight games from Dec. 19 to Dec. 26, Domingue registered five out of six standing points for his team, and showed a penchant for playing his position soundly.
"The difference between last year and now is his maturity," Tippett said after the Coyotes dropped a 4-3 decision to the Kings in overtime Saturday night at home. "It's also the way he handles himself around the team, and his presence."
One hint to Domingue's latest prominence and perhaps future stature was his use by Tippett. After the Christmas holiday, the Coyotes resumed their scheduled with back-to-back games at home against the Kings and at Denver against the Avs the next night. After Domingue defeated the Leafs Dec. 22, Tippett was asked about his goalie rotation for these back-to-back games. "Both will play," he said, but did not indicate whether Domingue nor Anders Lindback would start against which team.
The fact that Tippett started Domingue against the Kings Saturday at home indicated the rise in his distinction and importance to the team. Coming into play Saturday, the Kings topped the NHL's Pacific Division and stood eight points ahead of the Coyotes in the division.
For his part, Domingue said the difference between his brief stint last season and success thus far is developing a comfort zone. There is more familiarity and ease, and Domingue is the first to bring this dimension forward.
"Last season, I didn't know what to expect," he said. "Now, I know what's involved and I am in a better position to prepare for game."
Coming into the third period against L. A., Domingue held a 1-0 lead, but fell subject to a potent Kings power play. Scoring three times in less than 6 minutes, including two tallies within 2:06, the Kings seemed to have solved Domingue. Yet, the Coyotes responded.
After the Kings' Jake Muzzin was whistled off with a match penalty at 13:20 of the final period, Antoine Vermette and Oliver Ekman-Larsson each scored on power play within 30 seconds to send this one into overtime. Only when Anze Kopitar danced around the Coyotes' Viktor Tikhonov in front of the Arizona net and put a back-hander in 26 seconds into overtime did Domingue lose that one point in the standings for his team.
"We got a little out of game," Domingue said in reference to the Kings' two-goal lead. "We found a way to bounce, and that was a huge point for us. It felt like a playoff game, and thought we had a good comeback."
If there might be a clue to his early success, it is Domingue's ability to anticipate and to aggressively play his position. If he continues to play smart, intelligent hockey, Domingue could easily challenge Smith later this season, and into the future.
Match Penalty
Just past the mid-way of the final period Saturday, the Kings were up 3-1 when Jake Muzzin lowered his upper body into the head of Boyd Gordon. After the collision, Gordon was motionless on the ice, and slow to get rise to his skates.
Muzzin received a match penalty on the play and the Coyotes responded with two power goals while he was off. That tied the game, but Kopitar netted the game-winner in overtime. After the game, Gordon's condition was uncertain and his status for Sunday's game against Colorado in Denver was not clear.
"The hit was pretty nasty," was the way Tippett described the contact. "I have not spoken to the medical staff, and I'm not sure if he will play in Denver."
After Tippett addressed the media Saturday, Gordon's condition was updated. The veteran forward did not travel to Denver for Sunday's game.
Mark Brown is a former sports editor for daily newspapers in the Philadelphia and Cincinnati markets. He was named Best Sports Columnist, honorable mention 2004 by the Associated Press Society of Ohio. He is a contributor to major daily newspapers, including the Chicago Sun Times, Philadelphia Inquirer, Honolulu Star-Bulletin, Milwaukee Journal, Arizona Republic, Nashville Tennessean and the Associated Press. He was a Featured Columnist for bleacherreport.com and covered the Arizona Coyotes.